Go on to   Part Eight
Return home to   Gentle Giant Tour History
Gentle Giant Tour History
*** Part Seven ***
*** A Change of Direction ***
(mid 1977 - 1979)
new information will be in RED
            The English music scene went through some radical changes in 1977, with the rise to prominence of punk rock.  Progressive acts were quickly falling out of favor and found themselves under extreme pressure to simplify their music.  John has claimed that Gentle Giant was being pressured by the record label to commercialize their music, while Derek has denied this.  Ray stated at the time that he did want the band to make a bigger impact with radio listeners.  There may have been a myriad of contributing factors but, whatever the reasons, the group did begin to write and record somewhat simpler music that year.
May ?            Giant's ninth album, THE MISSING PIECE, was recorded at Relight Studios in Hilvarenbeek, Holland in relatively little time.  One source has the dates of the recording sessions as May 6 - 16, while Gary remembers the group spending two weeks in Holland and Record World reported that the album was recorded in 12 days.  Recorded were the four songs they had debuted live earlier in the year, though Winning had been rearranged considerably.  These were all in a fairly progressive style, but they also recorded a number of more mainstream rock songs which startlingly contrasted with their earlier material.
June 17         Koln, Germany                           Mungersdorfer Stadion          
                              GIANT DID NOT PLAY.  Giant canceled out of this stadium date the morning of the concert.  It was billed as an "Open Air Festival" and Genesis was scheduled to headline.  Four bands were booked and advertised as playing at this event with the German band Lake opening, Giant probably slated second, Manfred Mann's Earthband third, and finally Genesis.  Since Giant did not play, a couple of the other bands simply extended their sets.  The reason for Giant's absence is not known, but one possible explanation that was given at the time was that they were too busy working on their newest album, THE MISSING PIECE.  This album was recorded in May, so final mixing and other preparations may have put demands on the band's time in June, but this is far from definitive.  Curiously, a newspaper review of this festival, apparently written by a less than diligent reporter, gave the impression that Giant had played when, in fact, they had not.
June 19         Offenbach, Germany                  Stadion am Bieberer Berg      
                              GIANT DID NOT PLAY.  Sadly, Giant was again a no-show at this, another date of the German "Open Air Festival".  The same four bands were booked as in Koln two nights earlier.  After Lake finished their set on this night, an announcer took the stage and informed the crowd that Giant would not be appearing.  No reason was given, but many in the crowd were disappointed.  John Miles ended up playing, as a substitute act.  As it turned out, it was an even more disappointing day, as it rained relentlessly.  One source seems to recall a GG show with this same lineup of bands taking place in Munster, Germany, but Munster was not on Genesis' tour itinerary.  No evidence has surfaced that Genesis and Giant ever played together at any other time.  In fact, there are no indications of any other GG gigs at all in the summer of 1977.
<![if !vml]>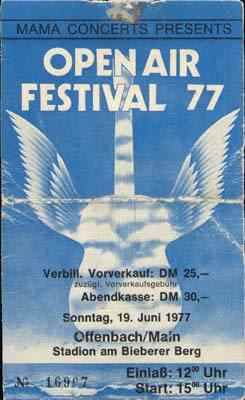 <![endif]>        <![if !vml]>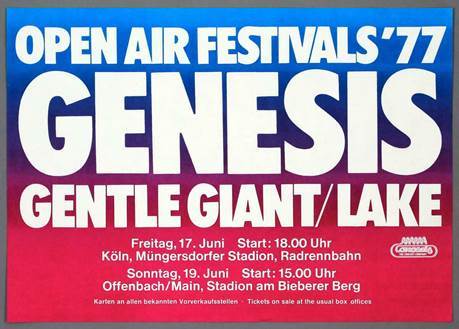 <![endif]>        <![if !vml]>

<![endif]>
Two canceled German "Open Air Festival" dates    June 1977
July 29          Derek Shulman appeared on a late-night Detroit TV program entitled Afterimage, sharing time on the broadcast with a Moog synthesizer demonstration and an employee of the newly opened CN Tower in Toronto.  Details of Derek's segment are unknown.
Aug. 22         Giant had originally decided to end their practice of recording radio sessions for the BBC by the second half of 1975.  However, evidence has come to light that Giant recorded one last BBC session in 1977 that included new versions of Mountain Time and Who Do You Think You Are?  Although it is not confirmed this session was ever actually broadcast, it was recorded on Aug. 22 for the radio program It's DLT OK!.  This afternoon program was hosted by famed BBC announcer Dave Lee Travis.  It also appears the session still exists, as the BBC includes it in a catalog of audio materials available for licensing to international customers.  Of course, there could be some sort of mistake or misinformation in the catalog of BBC holdings but, barring that possibility, it seems that Gentle Giant may have indeed recorded one last BBC studio session much later than originally thought.
<![if !vml]>
<![endif]>
It's DLT OK! Listing in BBC sessions catalog    Aug. 22, 1977
Aug. 26         THE MISSING PIECE album was officially announced to be released on this date in England by Chrysalis.  However, as was so often the case, the reality of what happened is not so straightforward.  Very credible evidence points to the new album being available in some locations a few days to even two weeks earlier, even though Aug. 26 may have remained the official date of release.  Older contrary evidence had indicated the album was actually pushed back until Sep. 16, although this now seems less believable.  Whatever the case, it does seem clear that some UK fans were enjoying this new album as early as mid August.
<![if !vml]>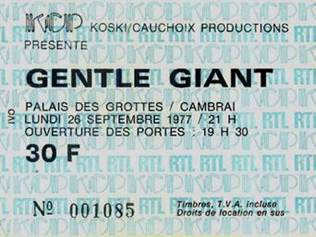 <![endif]>
Chrysalis promotional flyer with original UK release date of THE MISSING PIECE album    1977
???               At a BBC Studio in London, England, the group made a promotional film for the song I'm Turning Around, their single release from the new album.  The film was intended to be aired on the BBC's Top of the Pops TV program, but it is not known with certainty if the film was ever shown.  Interestingly, while filming, an interview with former British Prime Minister Edward Heath was being filmed in a studio across the hall.  This promo is probably the film that Derek alluded to in an interview he did in New York City with Trouser Press magazine around the time of the new album's release.  He claimed the band was planning on recording backing tracks for the tune, then mime to them while he sang the vocal track live.  He also claimed that, as a joke, the band would pretend to play the wrong instruments.  Then again, in the same interview, he also stated that GG would appear on several daytime American TV talk shows and even planned on playing in Las Vegas.  None of these later claims was true.
Sep. ?           THE MISSING PIECE saw release on Capitol in America during September.  Cash Box gave a date of Sep. 12, although another source suggests it may have been delayed until Sep. 20.  Even though the band's change in direction ultimately failed to have a huge commercial impact, this particular album was reported to have generated considerable sales on US college campuses.
Sep. ?           Prior to the start of the European tour, the group practiced for a week or two on the top floor of an industrial building in Portsmouth.
The band once again took to the road in the fall for their MISSING PIECE tour.  First in Europe then followed by North America, they finally went out strictly as headliners.  At their shows, they made room in the set for quite a few of the songs from their new album, perhaps in an extra effort to promote its more accessible music.  Their record label, for its part, also put somewhat more effort into promoting the album than it usually did.
TYPICAL SETLIST  (Fall 1977)
Intro/Two Weeks in Spain - The recording of the final movement of Bach's Brandenburg Concerto #4 was again played before the show, this time leading into the intro tape known as Intro 74 used on the Fall 1975 tour.  This, in turn, led into a brief prerecorded Spanish-flavored instrumental featuring a quote from the well-known piece Espana Cani by Pasqual Marquina Narro, often associated with bullfights and flamenco dancing.  Finally, this instrumental was used as the actual intro for the opening song.
Free Hand
On Reflection
I'm Turning Around - Gary had designed some sort of slide presentation to go along with this number, but it proved too complex and did not come to fruition.
Just the Same/Playing the Game
Memories of Old Days - The keyboard Giant intro was deleted.
Betcha Thought We Couldn't Do It
Funny Ways - John still got to do his comedic introduction.
The Face - This was the new home for Ray's violin solo which, in turn, led directly into the 5-man drum bash.  A small instrumental snippet of Plain Truth served as a bridge before and after the violin solo.
For Nobody
Excerpts from Octopus - still used as the encore.  It was sometimes preceded by a short instrumental blues jam.
Mountain Time - This was frequently used as a second encore.
During performances on this tour, the band again utilized the neon "giant's head" that had been damaged once or twice during the early 1977 tour.  Evidently, repairs had again brought it back to workable condition.  Other new stage gimmicks were also put into play for this tour.  One of the band's roadies, possibly the keyboard roadie, would don a rubbery Gentle Giant mask and walk around on stage, carrying a liquor jug.  He supposedly also appeared behind John Weathers at one point, most likely and appropriately during the drum solo in The Face.  It's believed, though not certain, that the rear projected closeup film of the same type of mask, first employed in early 1977, was again used on this tour.  It's been said that, on this tour, the movie screens would turn blue during On Reflection and lights would twinkle around these screens.  According to one of the roadies at the time, the band's projectionist left at some point during this tour, unfortunately bringing to an end their use of rear projection.
Sep. 26         Cambrai, France                         Palais des Grottes - Jardin Public
<![if !vml]>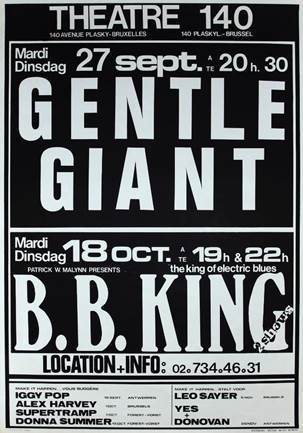 <![endif]>
Cambrai ticket    Sep. 26, 1977
Sep. 27         Brussels, Belgium                      Theatre 140
                              This 600 seat venue was said to be quite crowded on this evening.
<![if !vml]>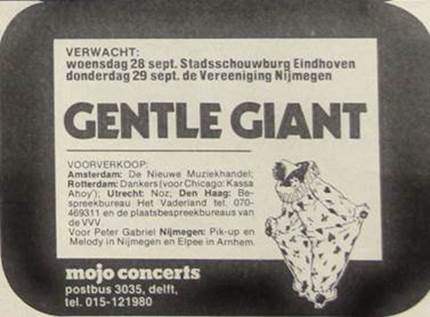 <![endif]>
Brussels poster    Sep. 27, 1977
Sep. 28         Eindhoven, Holland                    Stadsschouwburg                  
                              Next, GG played two concerts in Holland.  Existing ticket stubs indicate there were support acts on both nights but do not give the names.  An eyewitness remembers that at the soundcheck for this show, the band played the Derek and the Dominoes song, Layla.  During the concert, GG played a tongue-in-cheek bit of a "new song", consisting of nothing more than raucous noise.  John then announced, in derogatory terms, that it was their latest "punk hit", thereby making fun of the new style of rock in vogue at the time. 
<![if !vml]>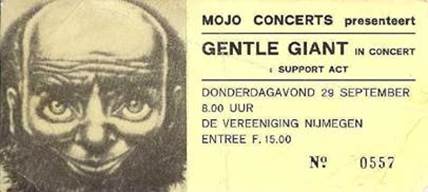 <![endif]>
Ad for Dutch concerts    Sep. 1977
Sep. 29          Nijmegen, Holland                       De Vereeniging                       
                              It's believed that Playing the Game was not performed on this night, for some reason.
<![if !vml]>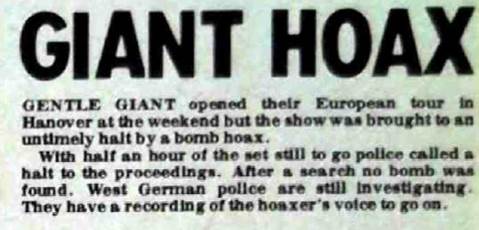 <![endif]>
Nijmegen ticket    Sep. 29, 1977
Oct. 1            Hannover, Germany                   NDR-Sendesaal                      
                              Giant did not get to complete their set on this occasion as someone called in a bomb scare, causing police to end the concert about a half hour early.  Fortunately, after a search, no bomb was found.  All six of the scheduled October German shows were advertised as including an unidentified opening act.  However, nothing is known about the opener at this particular show and details are sketchy for the others.
<![if !vml]>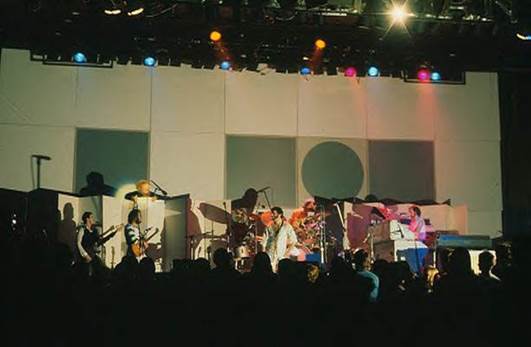 <![endif]>
Hannover bomb scare article    Oct. 1, 1977
Oct. 2            Berlin, Germany                         Eissporthalle                          
                              CANCELED.  This date in a well-known Berlin ice rink was canceled, probably due to lack of ticket sales.
Oct. 3            Offenbach, Germany                  Stadthalle                               
                              This show was marred early on by technical difficulties, with Derek's microphone cutting in and out and Kerry's keyboards emitting an annoying electronic squeal.  Eventually, the band and roadies managed to fix things, but only after Derek had knocked over Ray's violin.  For the remainder of the set, the acoustics were not ideal, but the fairly rowdy crowd seemed appreciative, nonetheless.  One attendee at this gig is not sure there was any opening act at all.
<![if !vml]>
<![endif]>      <![if !vml]>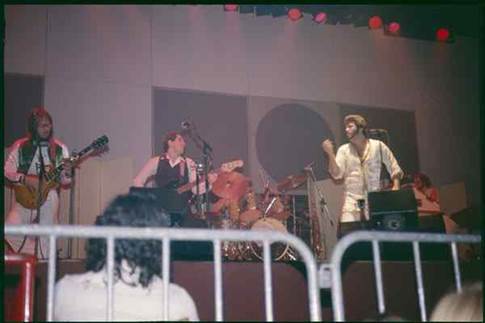 <![endif]>
Offenbach - includes roadie in rubber Giant mask behind screen    Oct. 3, 1977
Oct. 4            Munich, Germany                       Circus Krone Building            
                              A capacity crowd of about 3,000 listeners were in attendance.  One of them remembers a three man bluegrass band opening.
<![if !vml]>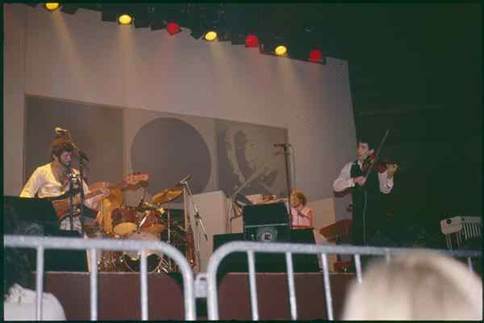 <![endif]>      <![if !vml]>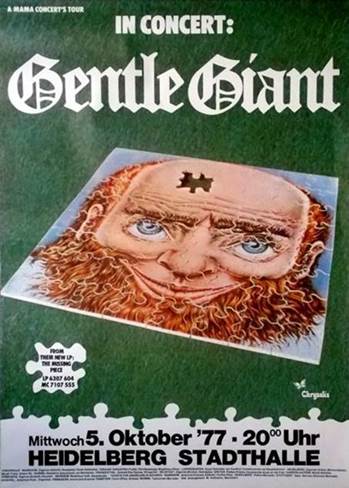 <![endif]>
Munich    Oct. 4, 1977
Oct. 5            Heidelberg, Germany                  Stadthalle                               
                              A tape exists of this concert.  A crowd of around 1,500 was in attendance, making the show nearly sold out.  On this occasion, a fan remembers a lone singer/acoustic guitar player opening the show.
<![if !vml]>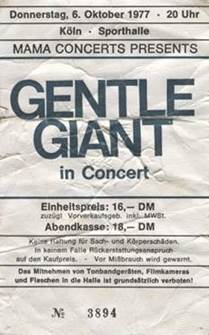 <![endif]>
Heidelberg poster    Oct. 5, 1977
Oct. 6            Koln, Germany                           Sporthalle                               
                              Here, an audience member recalls a two-man folk act by the name of Itchyfoot opening the show. 
<![if !vml]>
<![endif]>
Koln ticket    Oct. 6, 1977
Oct. 7            Zurich, Switzerland                    Volkshaus
<![if !vml]>

<![endif]>          <![if !vml]>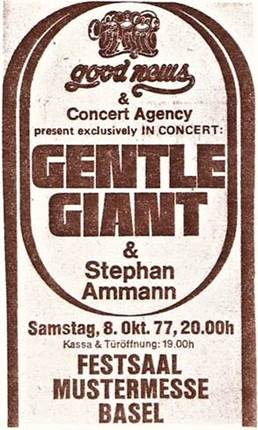 <![endif]>
Zurich    Oct. 7, 1977
Oct. 8            Basel, Switzerland                     Festsaal Mustermesse            
                              Two separate tapes, made by different members of the audience, are known to exist, although only one is available to collectors.  During John's Funny Ways intro, he invited a fan named Freddy onstage with him and proceeded to comment on the fan's tee-shirt.  Opening at this gig was the Swiss virtuoso keyboardist Stephan Ammann, who had played with the Basel progressive band Circus.  After Ammann's half hour set, the crowd wanted an encore, but time constraints made that impossible.  One press review noted that the sound was somewhat poor on this evening, as well as overly loud, causing some in the audience to cover their ears in discomfort.
<![if !vml]>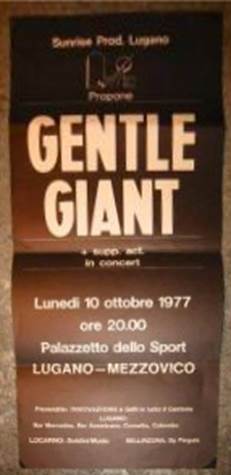 <![endif]>
Basel ad    Oct. 8, 1977
Oct. 9            Feldkirch, Austria                       Stadthalle
Oct. 10          Mezzovico, Switzerland             Palazzetto dello Sport            
                              Mezzovico is a small town about 15 kilometers outside of the larger city of Lugano.  Flyers from this show announced that there would be an opening act but did not specify who.  Attendance is said to have been between 2,000 and 3,000.
<![if !vml]>
<![endif]>
Mezzovico flyer    Oct. 10, 1977
Oct. ?            Essen, Germany                                                                        
                              UNCONFIRMED.  There was possibly a show in Essen during the first half of October, though it is not certain.  Such a show was not on the originally advertised schedule.  The Grugahalle would have been the most logical choice of venue, but that venue no record of a 1977 GG concert there, although they admit their records are incomplete.
Oct. ?            On either Oct. 21 or Oct. 28, Vertigo released the band's second compilation album, entitled PRETENTIOUS - FOR THE SAKE OF IT.  Oddly enough, it covered material from the band's first six studio albums, just like the previous Vertigo compilation, the 1975 GIANT STEPS album, had.  In fact, some songs appeared on both albums.  Like that previous compilation album, this one was released in England and at least part of Europe, but not in America. 
For the support slot on their late 1977 North American tour, Giant made the unusual move of choosing the U.K. punk/pub rock band Dr. Feelgood, a band which Derek claimed to admire.  Although gaining widespread popularity in England, punk rock was definitely not easily accepted by American fans of progressive rock in 1977.  It seemed that whenever Dr. Feelgood took the stage, they found themselves the constant source of jeers and derision, sometimes being chased completely off the stage by an intolerant audience.  Near the end of the scheduled dates, Dr. Feelgood had had enough and left the tour, intent on picking up gigs on their own as best as they could.  Giant, who themselves often faced overly rambunctious crowds on many stops of the tour, had to find replacement support acts to finish out their scheduled dates.
<![if !vml]>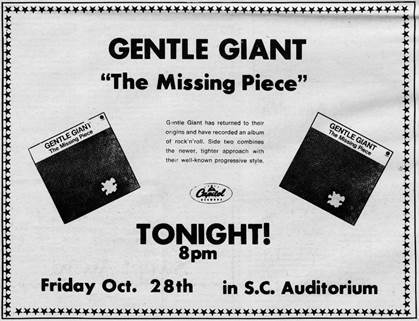 <![endif]>
Record World ad for North American tour    late 1977
Oct. 28          Blue Bell, Pennsylvania              Montgomery County Community College                                         
                              At this college just outside of Philadelphia, the band played in a theater which doubles as a Science lecture hall.  The size of the crowd is the subject of conflicting reports.  900 tickets were put on sale, with the college's student newspaper reporting a "near-capacity" crowd.  Another report has only 400-500 originally attending, with many of them leaving before the show even started, due to the fact that the band was running quite late.  The trucks with their equipment had accidentally gone to a town called Blue Ball in the Amish part of Pennsylvania.  After finally arriving in Blue Bell, the band rushed through a hasty soundcheck held behind closed doors while the audience members listened in.  The show itself, originally scheduled to start at 8:00, finally got underway around 10:30.  The band did not use its own lighting equipment, relying instead upon the theater's own minimal lighting and the normal fluorescent lights present in the lecture hall.  No spotlights were used.  According to one eyewitness, the group, playing on a very low stage close to the audience, had a bit of trouble getting themselves together at the beginning of the show, but had things running smoothly after a while, with the exception of periodic audio glitches here and there.  Nonetheless, the audience was very appreciative, giving the band numerous standing ovations.  Dr. Feelgood was supposed to play in support but they did not, for unknown reasons.  As an interesting stunt, the college held a dance a couple weeks later and advertised that anyone presenting a ticket stub from the Gentle Giant concert would be admitted free.
<![if !vml]>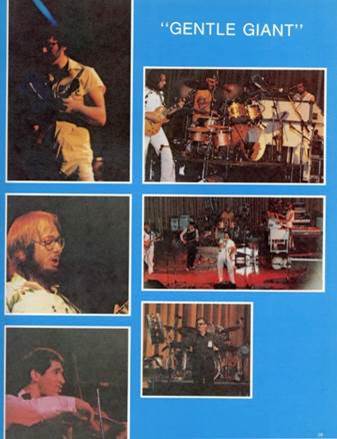 <![endif]>        <![if !vml]>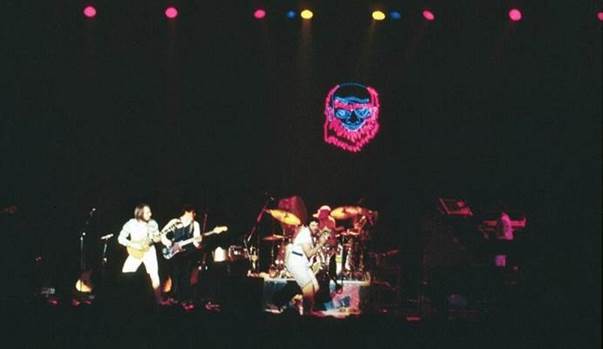 <![endif]>
Blue Bell - ad and college yearbook page    Oct. 28, 1977
Oct. 29          Upper Darby, Pennsylvania        Tower Theater                        
                              Close to 3,000 tickets were sold for this evening's concert, making it a sellout.  Dr. Feelgood did open this show and a number of their fans were seated up front and left before Giant took the stage, thus allowing more of Giant's fans to move forward.  Other fans in attendance disagree on how well Dr. Feelgood was received, reports ranging from polite acceptance to downright intolerance.  During the GG set, John wore a Philadelphia Flyers hockey jersey which Derek mistakenly referred to as being from the Philadelphia Eagles, the local football team.  Many audience members tried to correct him.  Later, while up front for his comedy bit, John picked up on the mistake and corrected it himself in a fit of hysterics.  At this time, he also commented on what he believed to be a meager crowd by asking, "where is everybody, home watching Kojak or something?", referring to a popular television show.  It's been hypothesized that the lights in his eyes made it difficult for him to see the true size of the crowd.  Still, he did thank the audience for what he claimed was one of the band's best receptions in a while, especially after what he described as a cold reception on their German dates earlier in the month.  During the violin solo, screaming again erupted from some in the audience.  Ray turned his back on the screamers while playing, causing much applause from the rest of the crowd.  The band's soundman had several problems on this evening.  For one thing, the quadraphonic effects during Ray's solo were not functioning.  As another example, Kerry's microphone was not working during a recorder section.  Oddly, one newspaper review portrayed Giant as a totally unknown band, even though this was not the first time they had headlined here. The reviewer did think they had a chance for a successful future, pointing out the audience's call for two encores.  A tape exists of this show, as supposedly does a small portion of silent 8mm film.
<![if !vml]>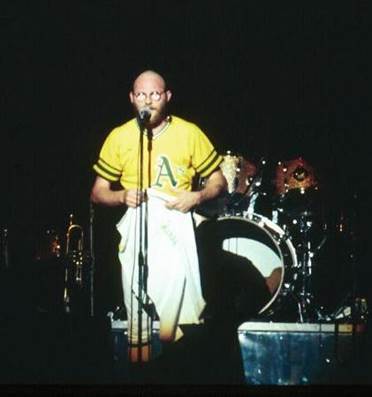 <![endif]>      <![if !vml]>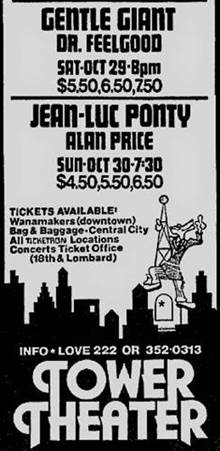 <![endif]>      <![if !vml]>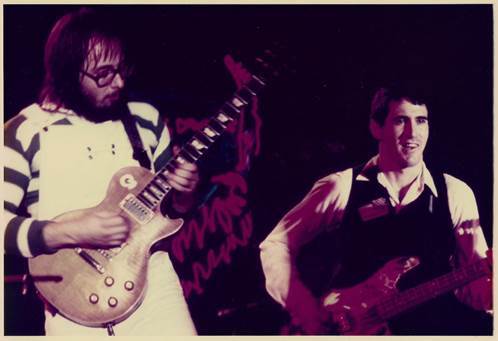 <![endif]>
Upper Darby    Oct. 29, 1977
Oct 30           Guelph, Ontario                          University of Guelph - Athletic Centre                                          
                              Dr. Feelgood was originally scheduled to open this show, but the opener was changed to a band called Garfield.  It was reported that about 1,800 fans showed up in this 2,200 seat venue, yet the University still lost $2,000.  The roadies for the band showed up to the University late, so they enlisted some fans who arrived early to help them set up.  In return, those fans were allowed to watch the soundcheck and were given front row seats to the show, which also started a bit late.
 <![if !vml]>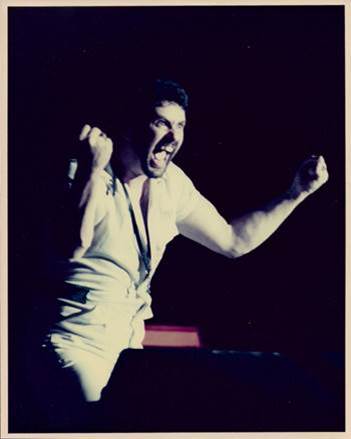 <![endif]>       <![if !vml]>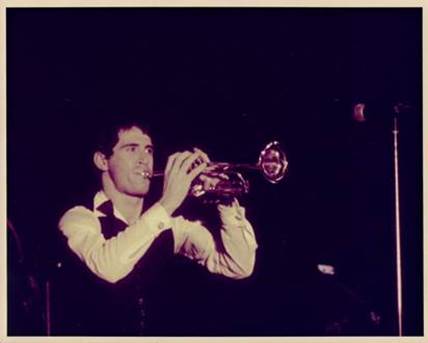 <![endif]>       <![if !vml]>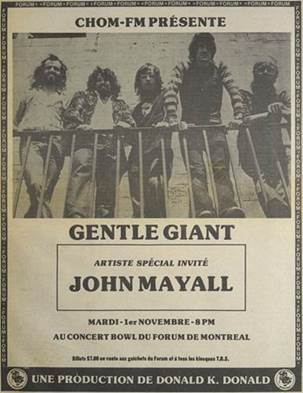 <![endif]>
Guelph    Oct. 30, 1977
Nov. 1            Montreal, Quebec                        Montreal Forum                      
                              This time, rock legend John Mayall was the opening act and was very well received by the appreciative audience, even though he had to work with a faulty sound system and minimal lights.  On a tape that exists of GG's set, Ray can be heard having his own equipment problems during his violin solo in The Face.  The Forum was set up in "Concert Bowl" formation, which meant only half the facility was in use, with a curtain drawn across the middle.  There were about 6,000 people in the crowd.  Apparently, this gig was originally scheduled to take place on Oct. 31 with Dr. Feelgood again playing in support.  Gary, who grew up with an appreciation for the music of John Mayall, has commented that he thought it backwards that such a blues legend should have opened for Giant.  In its review, Le Devoir agreed with Gary as to Mayall's higher standing, while finding Giant uninspired and boring.  On the other hand, the review in Post Script was absolutely giddy in its amazement at GG's wonderful performance.  While in town, the band purchased three acoustic guitars from up and coming Quebec area guitar maker Normand Boucher.  They later thanked his company Norman Guitars on the sleeve of their GIANT FOR A DAY album.
<![if !vml]>

<![endif]>      <![if !vml]>

<![endif]>      <![if !vml]>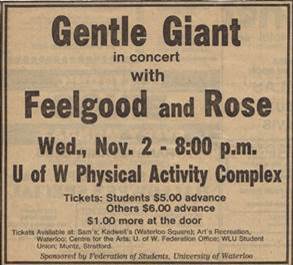 <![endif]>
Montreal - ad and discouraging headlines    Nov. 1, 1977
Nov. 2           Waterloo, Ontario                       Waterloo University - Physical Activity Complex                           
                              CANCELED.  This venue seated 5,000, but the concert was canceled, due to only 200 tickets being sold, an unusual occurrence for the band in Canada, where they were enormously popular.  A possible explanation could be the fact that Waterloo, where this Wednesday night concert was scheduled, is only about a half hour from Guelph, where the group performed just three nights earlier.  Giant still apparently received a $3,000 cancelation fee out of a $5,000 plus percentage contract.  The University ended up losing $4,500 total.  The opener was again supposed to be Dr. Feelgood along with a local Ontario band called Rose.
<![if !vml]>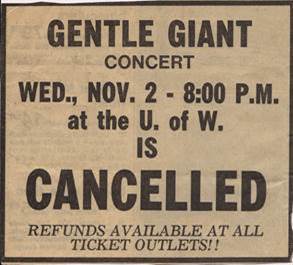 <![endif]>        <![if !vml]>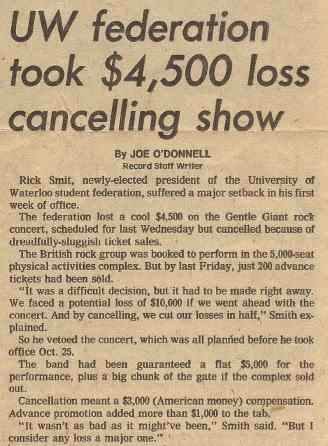 <![endif]>
<![if !vml]>
<![endif]>        <![if !vml]>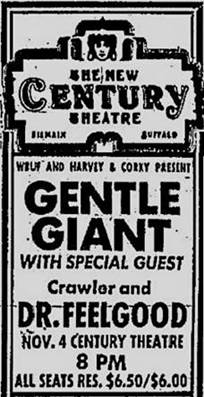 <![endif]> 
Waterloo - ad and eventual cancelation    Nov. 2, 1977
Nov. 3           Albany, New York                       Palace Theater                       
                              Dr. Feelgood did open this somewhat poorly attended show.  One report has them receiving their typical poor reception from the crowd, while another report has them receiving no response at all, even when they were finished.  During John's spoken intro to Funny Ways, someone in the crowd yelled out, "Are you the giant?"  John's response was, "No, I'm the drummer.  Are you the giant?"  Early on, this concert had been incorrectly advertised as being on Oct. 30.
Nov. 4           Buffalo, New York                      New Century Theatre             
                              The band Crawler opened the evening with Dr. Feelgood and headliners Giant following, at this nearly sold out performance.  Dr. Feelgood once again was very poorly received, at one point calling the audience members an obscene name.  They also had a number of beer cans on stage with them, which they proceeded to shake before opening them and spraying the crowd.  This got the audience even angrier.  When GG was on stage, Derek called the audience the same obscene name and even sprayed them with beer but, this time, it was all in jest.  Still, a local college newspaper reviewer mercilessly voiced his disgust over the Giant fans' poor treatment of Dr. Feelgood.  A reviewer for the Buffalo Evening News, on the other hand, was not impressed with Giant, curiously describing them as "a scrambled, reconstituted Genesis with a side order of ham".
<![if !vml]>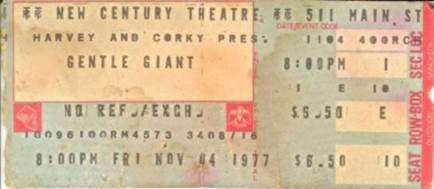 <![endif]>          <![if !vml]>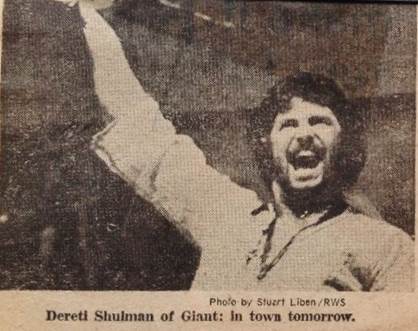 <![endif]>
Buffalo ad and ticket    Nov. 4, 1977
Nov. 5           New York, New York                   Palladium                               
                              The Palladium was the renamed Academy of Music.  Dr. Feelgood and Crawler were the openers at this near-sellout gig, with Dr. Feelgood once again booed off the stage, at times quite harshly.  They once again resorted to spraying beer at the audience, as they did the night before in Buffalo. This incident was singled out in reviews in Billboard, Variety, and the Daily News, all of which took the audience to task for their harsh, unfair treatment.  Giant started their set late, beginning with a slight glitch in their intro tape, causing the band to lurch in a couple beats early.  On an existing tape of this gig, Derek can be heard trying to defend the openers, joking onstage something to the effect of "back in England, we open for them".  As it turned out, GG also had to endure more than the usual amount of rude behavior from the particularly noisy crowd.  For some reason, Ray's violin solo on this night was extremely slow and plodding, almost sounding like an attempt to purposely frustrate the audience.  One member of the crowd did apparently get frustrated, yelling out "you suck!"  Ray remembers this exact same thing occurring at this same venue on Jan. 18, 1975.  More technical problems caused a delay before Funny Ways.  Because of this, John's spoken introduction to the song was quite long, and included a humorous story based on Preparation H, the hemorrhoid medicine John frequently joked about at this point in the show.  He also made his own commentary on how noisy the crowd was and their tendency to boo.  All this talk further frustrated some impatient members of the audience.  One person repeatedly interrupted by yelling out the song title.  Finally, in exasperation, John yelled back, "up yours!"  However, all was soon forgiven as Kerry's vibraphone solo during that number's solo garnered some of the heaviest applause of the evening.  In fact, one fan recalls the crowd enthusiastically cheering the older numbers while giving only a lukewarm reception to the newer songs.  During On Reflection, while the band sang "all around, all around, all around", the rear speakers came on, creating a quadraphonic effect similar to that used during Ray's violin solo.  One fan in the balcony remembers many sitting there being greatly amused by this effect.  Ever since the band's early days, Derek was known for conducting the instrumental bits with his waving arms.  On this night, he is remembered for standing next to Kerry during his Just the Same solo and imitating his double keyboard playing.  Then, while introducing the band members, Derek actually referred to himself as Simon Dupree.  A second audience recording, taped by someone else, has also surfaced.  It includes John's Funny Ways introduction which is absent from the first tape. 
<![if !vml]>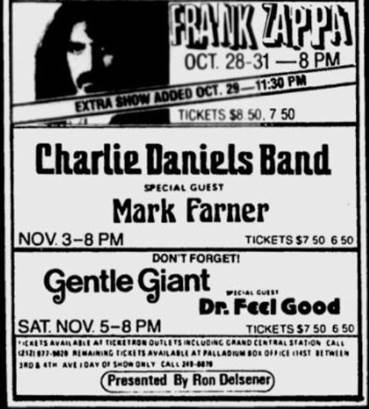 <![endif]>          <![if !vml]>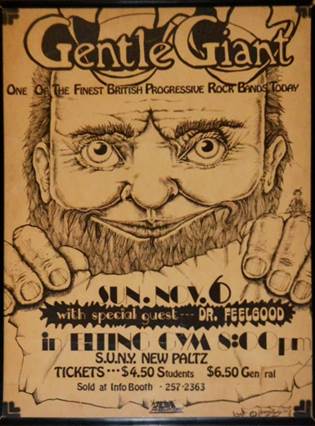 <![endif]>
New York's Palladium    Nov. 5, 1977
Nov. 6           New Paltz, New York                  New Paltz College - Elting Gym                                                    
                              Dr. Feelgood opened this general admission show and was greeted with more booing.  However, this same crowd was reportedly enraptured with Giant, responding with "ooh"s and "aah"s after many of the songs.  The sound quality at this show was supposedly excellent, no small feat considering it took place in a gymnasium.  This gig was mentioned in the 2007 book Secrets of the Mysterious Valley, in which author Christopher O'Brien recounts his experiences attending the show.  He got the date wrong in the book but he did enjoy the show tremendously, although he was a bit puzzled by John's hemorrhoid jokes during the intro to Funny Ways.  Another source recounts how John also joked about the small town they were in, describing it as "New Paltz - 5,000 bars and a Post Office!"  Originally, notices in the press wrongly listed this venue as New York University in New York City.  Coincidentally, Malcolm Mortimore was working on a totally unrelated musical project at the time in nearby Woodstock, New York, so he almost attended this concert, but work commitments prevented it.  It would have been the first time he'd seen his former bandmates since 1972.
<![if !vml]>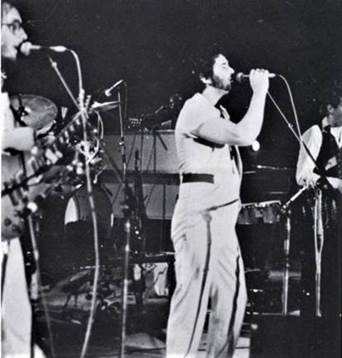 <![endif]>          <![if !vml]>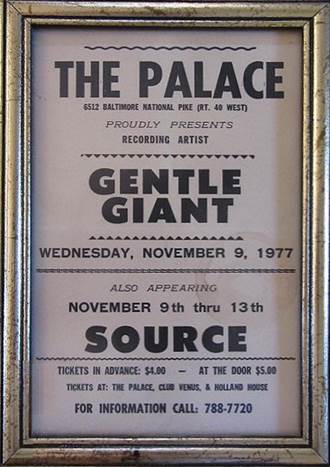 <![endif]>
New Paltz - poster and yearbook photo   Nov. 6, 1977
Nov. 8            New Haven, Connecticut             Yale University - Woolsey Hall           
                              This was a general admission show on a very cold and rainy night.  The Dingoes, an Australian band then living in America, took the stage first as a replacement for Eddie Money who canceled.  They suffered from very poor sound and a lukewarm reception.  Dr. Feelgood played next and suffered the same fate.  Fortunately for Giant, their sound was far better and they were very well received by what a local college newspaper described as a "tiny but delirious crowd".  A tape exists of this concert.
Nov. 9           Ellicott City, Maryland                Hollywood Palace                   
                              Source was the opening act.  Source, who were just beginning a five-day stint at the club, were a disco oriented group with a horn section and they were not well received by the Giant crowd.
<![if !vml]>
<![endif]>
Ellicott City poster    Nov. 9, 1977
Nov. 10         Bailey's Crossroads, Virginia     Louie's Rock City                   
                              A pomp/prog band called Face Dancer opened this show, followed by Dr. Feelgood who had to endure yet more booing.  At one point, Dr. Feelgood's lead singer, frustrated at the crowd's clamoring for the headliners, yelled out, "you'll get your bloody Giant!"  Even when Giant took the stage, the crowd continued to be a bit on the rowdy side.  Originally, GG planned to play at the Warner Theater in downtown Washington D.C. on this evening but ended up at this nearby club instead.  Louie's Rock City was a fairly large club seating 700 and it was sold out for this concert.  There is a small dance floor directly in front of the stage and some patrons were making use of it during the evening.  Gary commented later that it was the first time the band had played for a dancing audience.  An incomplete tape of the show exists, recorded directly from the mixing desk.  A second incomplete tape has also surfaced, this time recorded by a member of the audience.  This second tape, although quite short, does include a little music not present on the first recording.  It also shows Ray running his distorted voice through his quadrophonic speaker system during his The Face violin solo.  It has been said that the group pulled out a song from IN A GLASS HOUSE for a surprise final encore at the very end of the night, dedicating it to a friend in the crowd who had been clamoring for it.  Unfortunately, neither incomplete recording sheds any light on this claim.
<![if !vml]>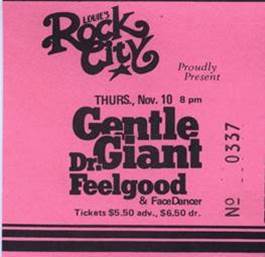 <![endif]>        <![if !vml]>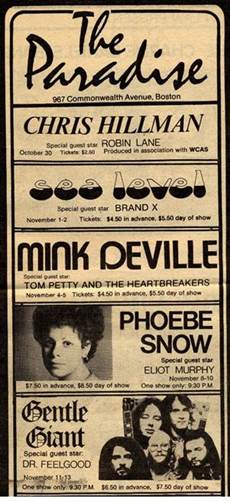 <![endif]>
Bailey's Crossroads ad and ticket    Nov. 10, 1977   
Nov. 11         Boston, Massachusetts              Paradise Theatre                    
                              This was a very small club near Boston University and the concert was general admission.  Although originally scheduled to play in Boston only on Nov. 11, GG ended up playing three consecutive nights at this venue.  Dr. Feelgood opened on this first night and was again booed off the stage about twenty minutes into their set, after spitting on the front tables and being pelted with ice cubes from the audience.  In fact, the entire crowd was described as a bit "raucous", even during Giant's set.  At one of these three nights at the Paradise, Gary is known to have commented about the initials DVS that Derek had sewn into the white jumpsuit he wore on stage.  Pronouncing it as "devious", Gary joked that it showed Derek's true nature.
Nov. 12          Boston, Massachusetts               Paradise Theatre                    
                              A tape exists from this second of the three general admission Boston performances.  At one point, Derek mistakenly referred to the venue as the Orpheum, though it was definitely the Paradise.  Derek also commented during this show that the band was playing without its usual stage setups, projection screens, etc.  More than likely, this was the case at all three of the Paradise shows.  It's unknown if the band downsized their stage show at other club dates in late 1977.  Dr. Feelgood again opened the show.
Nov. 13         Boston, Massachusetts              Paradise Theatre                      
                              A heckler in the crowd tried to give Derek a hard time at the beginning, but the band didn't seem to let it affect their performance.  A tape exists of this evening's general admission performance, also.  Like on the previous two nights in Boston, Dr. Feelgood was the opening act.  By this third consecutive night, the crowd began heckling Dr. Feelgood as soon as they began their set.
<![if !vml]>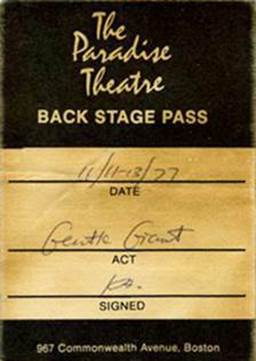 <![endif]>          <![if !vml]>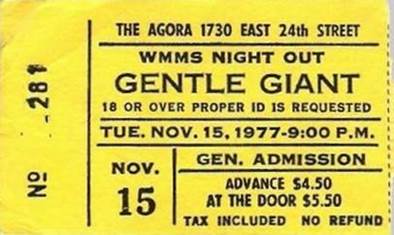 <![endif]>
Boston - ad and backstage pass for three-night stand    Nov. 1977
Nov. 15         Cleveland, Ohio                          Agora Ballroom                      
                              This gig, which is said to have been sold out, was sponsored by Cleveland's WMMS Radio as part of their Night Out series and was recorded by the station.  It was broadcast in an edited form, probably a few days later, but exactly when is unknown.  A few humorous incidents took place during this performance.  During Betcha Thought We Couldn't Do It, John broke the head of his snare drum.  At the conclusion of the song, he pretended to cry while yelling out what had happened.  The head had to be replaced during his comic speech that followed.  At another point in the show, a fan seated near the front called out for Ray to give him his bass.  Without missing a beat, Ray responded, "tomorrow".  Additionally, one overzealous fan repeatedly yelled out at the top of his lungs for the band to play Knots.  He finally got his wish by the first encore.  A tape of the complete performance, recorded by a fan in the audience, also exists, showing that John actually sang during the blues intro to Excerpts from Octopus, although this was not part of the radio broadcast.  Dr. Feelgood was scheduled to open but did not.  Instead, the Cleveland Plain Dealer announced that they had canceled and the Dingoes were brought in to take their place, similar to what happened in New Haven on Nov. 8.  One differing report has a guitarist from Cincinnati named Sandy Nassan actually opening the show, but this claim lacks corroboration.  The entire radio broadcast, sourced from an off-air recording, appeared officially on THE MISSING FACE released by Glass House in 2002.  For Nobody from this radio broadcast also appeared as a bonus track on the 2005 MISSING PIECE 35th anniversary CD reissue.  The entire broadcast was again officially released on the 2013 MEMORIES OF OLD DAYS compilation.  As was the case with the Jan. 27, 1975 Cleveland Agora broadcast, it's believed that the gentleman who ran the Agora at the time still owns the master tape of this broadcast or, possibly, the entire unedited show. 
<![if !vml]>
<![endif]>        <![if !vml]>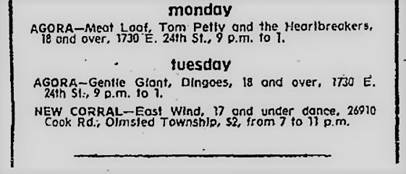 <![endif]>       <![if !vml]>

<![endif]>
Cleveland ticket and ads with changing support act    Nov. 15, 1977
Nov. 16          Hempstead, New York                 Calderone Concert Hall          
                              Dr. Feelgood, in what would be their last bill with Gentle Giant, was the opening act and was again not well received.  For that matter, during many of their songs, even Giant had to endure a lot of talking and shouting from ill-mannered members of the audience.  During his Funny Ways introduction, John Weathers alluded to this "aggressive" behavior of the crowd and lightly chastised them for the poor treatment they gave the support band.  As Derek had done at the Nov. 5 New York concert, John joked that back in England, "we open for Dr. Feelgood."  In contrast, one grateful fan presented him with a drawing of a couple of the band's album covers.  Impressed, John read the attached note to the crowd, then placed the drawing on the front of his bass drum, where it stayed for the remainder of the show.  A soundboard recording of this gig, previously owned by a band member, was released on vinyl only as part of the FRONT ROW CENTER boxset in 2022.  The original tape included an incomplete section of the final encore Mountain Time, but that was edited out of the box set release.  In quite a startling typographical error, Rolling Stone magazine advertised this and most of the following American GG concerts as being Steve Miller concerts.
<![if !vml]>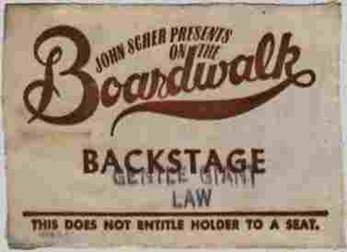 <![endif]>
Hempstead ad    Nov. 16. 1977
Nov. 17          Asbury Park, New Jersey            Convention Centre - Paramount Theater                                                                                         
                              The Paramount was a grand movie theater from the 1920's.  This was the first gig after Dr. Feelgood left the tour.  Taking their place as openers was a funk/rock quintet called Law.  This general admission show was not well attended, possibly due to a bad rainstorm that took place on that day.  One estimate put less than 200 in the crowd, with GG inviting everyone to come up to the front when their set began.  Strangely, the balcony only contained couches, rather than standard seats so some fans chose to stretch out up there to enjoy the music.  One fan at the show had some sort of big, home-made green flag, possibly with a MISSING PIECE design, and John ended up with this flag, waving it around the stage.  Reportedly, much of this tourist town was shut down for the upcoming winter and even the roadies were forced to stay in a run-down hotel and had trouble finding a decent restaurant.  One newspaper ad listed this gig as being planned at one time for the Capitol Theater in Passaic, New Jersey, but that may have been a misprint.
<![if !vml]>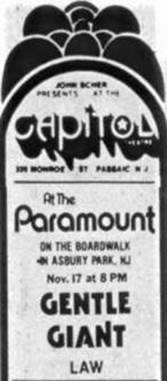 <![endif]>        <![if !vml]>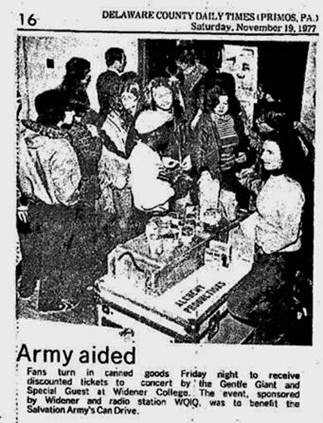 <![endif]>
Asbury Park backstage pass and ad   Nov. 17, 1977
Nov. 18         Chester, Pennsylvania                Widener College - Schwartz Physical Education Center                                                             
                              This time, Dr. Feelgood's replacement as opener was the Pennsylvania band Baby Grand, who later evolved into the Hooters.  The Hooters gained international recognition when they opened the televised Philadelphia Live Aid concert in 1985.  At this Widener College concert, all who brought canned goods with them to be donated to the local Salvation Army charity drive received a discount on the admission price.  During the acoustic guitar portion of Excerpts from Octopus, Gary played a small bit of Peel the Paint several times, while teasing the audience to guess its title.  During John's vibraphone playing, one fan recalls him acting the wild man and repeatedly raving at the crowd.  In fact, while John was singing at the vibraphone during On Reflection, a few eager fans playfully tried to distract him.  In retaliation, he spit beer at the offending fans before laughing and running back to his drum kit.  The rest of the crowd was certainly receptive enough and quite polite, remaining seated the entire time.  This allowed one member of the audience to repeatedly run to the front, camera in hand, to take a series of close-up photos.  In several of them, it is revealed that Derek not only dressed in his legendary white jumpsuit, but was also not above occasionally unbuttoning it down to his navel, making quite the fashion statement.  Although held in the University's gymnasium, the sound quality on this night was fairly decent, due to the band's hanging huge black curtains all around the room.  A soundboard recording of this show was in a band member's possession for many years but has now been included in the UNBURIED TREASURE boxset and again in the 2022 vinyl-only FRONT ROW CENTER boxset.
<![if !vml]>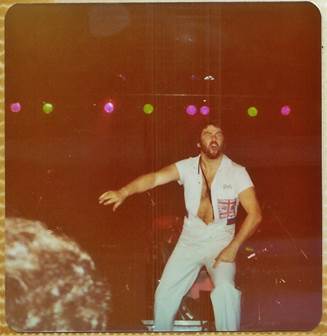 <![endif]>          <![if !vml]>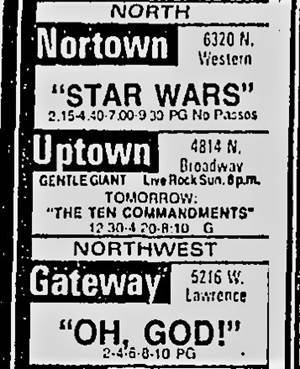 <![endif]>
Chester – includes Derek's white jumpsuit    Nov. 18, 1977
Nov. 20          Chicago, Illinois                         Uptown Theater                      
                              Law again played support and were surprisingly well-received by the GG audience, an unusual occurrence during this tour.  In fact, in an interview before the show, Gary professed anger at the intolerance Giant fans had shown towards Dr. Feelgood and other opening acts on many stops of this tour.  According to one eyewitness, the audience on this night was very well-dressed and mostly well-behaved, more resembling a classical audience.  Reportedly, though, the crowd did boo a bit during Bethcha Thought We Couldn't Do It.  Another uncomfortable moment came when, during a quiet guitar section, an unruly audience member near the front loudly voiced his impatience by yelling out "do it, you jerk!".  Gary looked out, with his pick in his mouth, but Ray responded with a derogatory finger gesture.  The audience cheered at this, the dramatic effect heightened when a light operator put a spotlight on the finger.  During his introduction to Funny Ways, John told Kerry, who wrote the song, that he didn't particularly enjoy playing it night after night.  Although no doubt tongue-in-cheek, the band probably were tired of that particular song by this point.  An audience member remembers the group playing Who Do You Think You Are? and even seems to recall Derek acting out some of the lyrics while singing them, although none of this is confirmed.  This was Gary's birthday and he was presented with a birthday cake during the show.  In the brief celebration of the moment, the cake was almost dropped but the crowd did get to sing Happy Birthday to Gary.  The theater was an old building which seated over 4,000 and was Ray's favorite venue in Chicago.  At this show, a little under 3,000 were said to be in attendance.
<![if !vml]>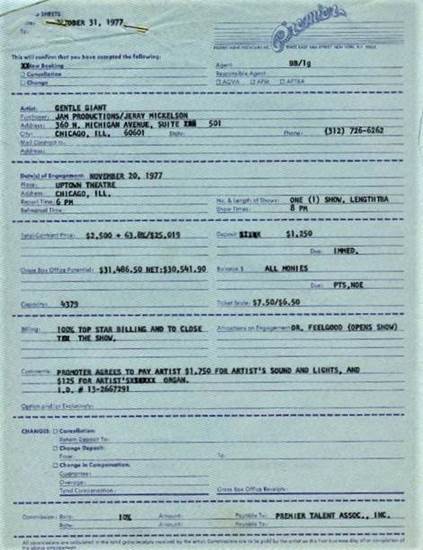 <![endif]>        <![if !vml]>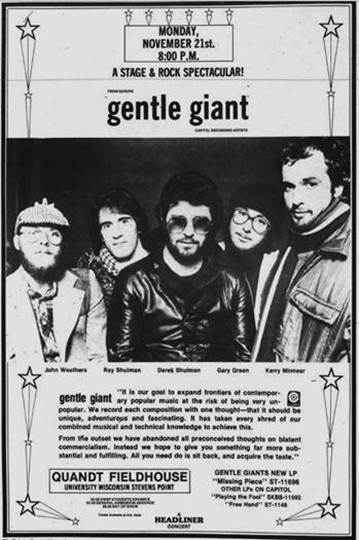 <![endif]>      
Chicago - ad and contract    Nov. 20, 1977
Nov. 21         Stevens Point, Wisconsin          University of Wisconsin - Quandt Fieldhouse                                                                        
                              Law was the opening band.  The University's Athletic Department sponsored the concert as a fundraising event.  Fortunately, even though only 475 were in attendance out of 4,000 available seats, the Athletic Department received an up-front fee while the promoters had to absorb the financial loss.  The concert was about 35 minutes late beginning and the interval between acts was lengthy because of electrical issues.  The University's student newspaper The Pointer was unkind to GG but was very impressed by Law's performance.
<![if !vml]>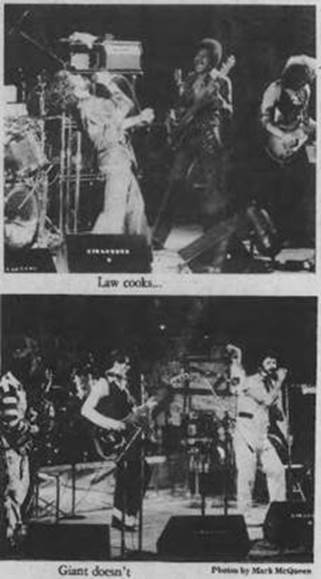 <![endif]>          <![if !vml]>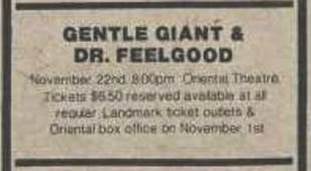 <![endif]>
Stevens Point - ad and unflattering captions    Nov. 21, 1977
Nov. 22         Milwaukee, Wisconsin                Oriental Landmark Theater    
                              It had been believed this very interesting show was changed to Dec. 3, but it did occur on Nov. 22, as originally scheduled.  Law played in support.  A review in the Milwaukee Sentinel stated that, although Giant's quieter numbers could be heard with clarity in the venue, louder pieces were quite distorted.  One person in the audience at the show managed to get Derek's attention by constantly yelling out for the band to play the Allman Brothers' Whipping Post.  While singing I'm Turning Around, Derek had money pinned to his clothing.  When he reached the line, "where's the love that you once promised?", he tore off a bill and sang to it, eliciting a chuckle from the audience.  It's interesting to note that there are two separate reports that the band played Who Do You Think You Are? during the show, which can be added to the same rumor from the night before.  If these reports are true, it would have made for quite an unusual occurrence, as that song is not confirmed to ever have turned up in any other concert.  Whatever the case, it is known that the band did perform a snippet of the Abba tune, Money, Money, Money at one point during this concert.  They did occasionally play Abba music during their soundchecks, Abba being a band at least a couple band members professed to admiring.  Since this was the final gig of the tour, the band handed out prizes to the roadies during the show, an event which Derek has since recalled with embarrassment.  These gifts included a gold-painted kitchen mixer presented to the band's sound mixer.  Also, towards the end of the show, John made fun of Milwaukee's heritage as a beer-producing capital, claiming American beer to be substandard, compared to British beer.  To drive home his point, he walked right into the audience handing out bottles of Guinness Extra Stout.  This show was held in a 2,100 seat theater, but had an actual attendance of only around 800.  This was the only Milwaukee show GG ever headlined.
<![if !vml]>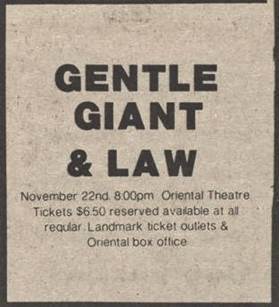 <![endif]>        <![if !vml]>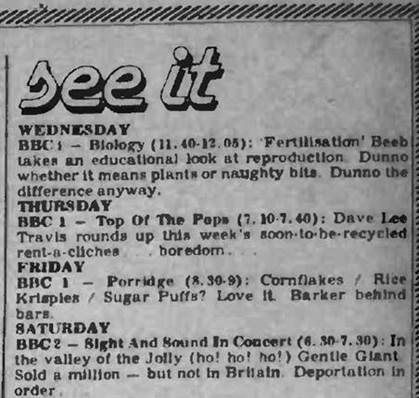 <![endif]>
Milwaukee - ads with incorrect and correct opening act    Nov. 22, 1977
Dec. 1           WBTS Radio in Boston broadcast an interview with Giant as part of a program entitled Another Green World.  The program was promoted as a "new show featuring experiments in progressive music".  It's not certain but, more than likely, the interview was recorded while the band visited Boston between Nov. 11 and Nov. 13.
            Somewhere around this time period, the band dropped Chrysalis as their management, with Derek Shulman himself taking over as manager.  They had started having some issues with Chrysalis anyway, plus Derek, who always had a good sense for business, finally felt up to the task.  The band remained signed to Chrysalis as their record label in the UK.
            1978
Jan. 5            The BBC filmed Giant at the Golders Green Hippodrome in Golders Green, England.  The concert, probably filmed in the afternoon, was intended for broadcast on the Sight and Sound TV program later in the month.  This was the first time the group had played in England since the spring of 1976 and it was also the last time they ever played there.
Jan. 21          The BBC Sight and Sound TV program, filmed on Jan. 5, was broadcast on BBC 2, introduced by Pete Drummond.  It was also simulcast on Radio 1 in both quadrophonic and compatible stereo, the only episode at the time to be offered in quadrophonic.  This concert appears on quite a few official Gentle Giant releases.  Most of this performance appears on the 1994 IN CONCERT album, while all of it is included on OUT OF THE FIRE and again in the MEMORIES OF OLD DAYS compilation.  The entire performance appears yet again, in both audio and video formats, on the GG AT THE GG DVD where it can be accompanied by a commentary track by all five band members.
<![if !vml]>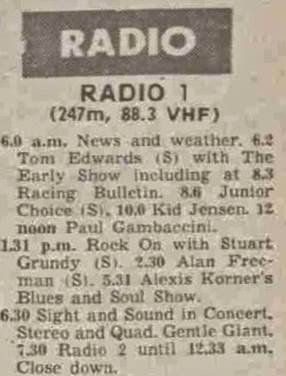 <![endif]>        <![if !vml]>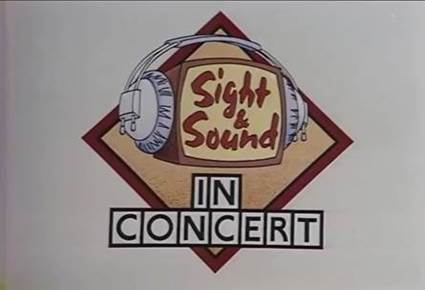 <![endif]>        <![if !vml]>

<![endif]>
BBC "Sight and Sound" - TV listing, radio listing and opening titles    Jan. 21, 1978
Apr. - May     The band continued its musical redirection by recording its tenth album, GIANT FOR A DAY, mostly at Ramport Studios in Battersea, England, though parts were done at Maison Rouge Studio and Scorpio Sound.  The album featured more straight-ahead rock songs, and many today consider the album somewhat of a failure.
Aug 13          Beginning in 1978, WKSU-FM, the college radio station at Kent State University in Kent, Ohio, broadcast a weekly music interview program called Industrial Wasteland.  On Aug. 13, the guest was Ray Shulman.  It was a fairly lengthy interview during which Ray talked about the upcoming GIANT FOR A DAY album.  He also spoke quite candidly about the band's change in musical direction and their need to have more commercial success.  This interview was so well received by the station's listeners that it was re-broadcast on July 25, 1979.
Aug. 19         The audio from the BBC Sight and Sound TV program, recorded in Golders Green on Jan 5, was rebroadcast on Radio 1's In Concert program, this time introduced by Brian Matthew instead of Pete Drummond who had appeared on the original Jan. 21 broadcast.  The video portion was not rerun on BBC television at this time, while the audio was aired in a slightly different edited form, with a different running order and omitting Funny Ways.  This rearranged version of the performance had been issued on a BBC Transcription Disc in April and that disc is what was used for this broadcast.  This same version of the show is also what was used to create the band's IN CONCERT album in 1994.  It also turned up on American FM radio on the BBC Rock Hour at some unknown time, again narrated by Brian Matthew.  Versions of this concert continue to appear on various BBC rebroadcasts to this day, and the entire film was even rebroadcast on Australian TV on January 5, 1981.
<![if !vml]>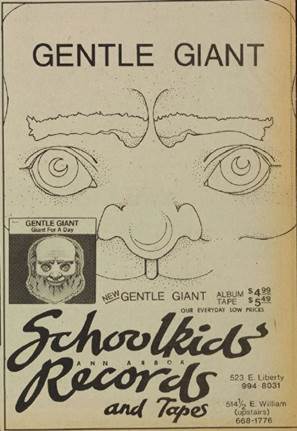 <![endif]>
BBC "In Concert" radio listing    Aug. 19, 1978
Sep. ?           The date that Chrysalis released the GIANT FOR A DAY album in England has not been confirmed.  The UK magazine Record Business printed a date of Sep 8, but another source indicates a release on Sep 29.
Sep. 11         GIANT FOR A DAY was released in America by Capitol Records.  Although the date is not definitive, it was probably on Sep. 11.
<![if !vml]>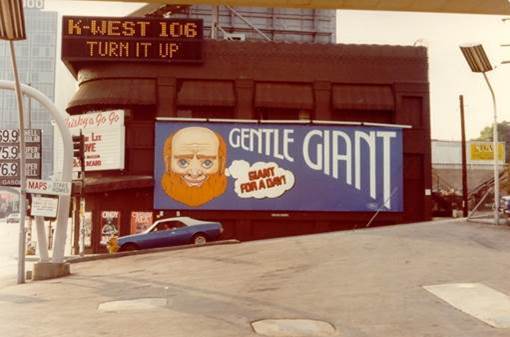 <![endif]>        <![if !vml]>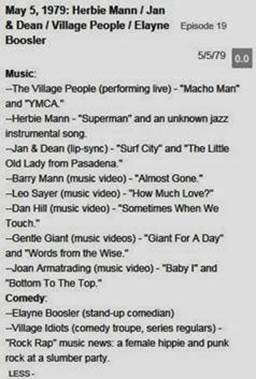 <![endif]>
GIANT FOR A DAY - record store ad and West Hollywood billboard    late 1978
???               The group made lip-synched promotional films at Capitol Studios in Los Angeles, California, for three of the songs on GIANT FOR A DAY.  These songs were Words From the Wise, Thank You and the title song, Giant For a Day.  The Words From the Wise film is included, as a video bonus track, on the 2005 GIANT FOR A DAY 35th anniversary CD reissue, while all three films are included on the GG AT THE GG DVD.
            For the first time, the band organized no tour in support of their current album. Instead, they decided to take a long overdue break from live appearances, not performing live at all for most of 1978, all of 1979, and the first few months of 1980.  Some promoters had made offers of tours, including one in Portugal and possibly one at the Montreux Jazz Festival in Montreux, Switzerland, but the band declined any and all offers. 
            1979
???               The date is not known, but one or more of the band's lip-synched promotional films from the GIANT FOR A DAY album were shown on Osaka TV in Japan in either 1978 or 1979.
May 5            The promotional films for the songs Giant For a Day and Words From the Wise were broadcast on this date on the NBC TV program, Don Kirshner's Rock Concert.  Other acts on this same broadcast included the Village People, Jan and Dean, Joan Armatrading and Leo Sayer.  The film of Thank You does not appear to have been shown.
<![if !vml]>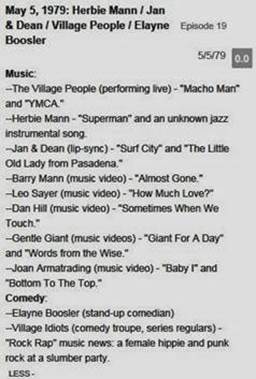 <![endif]>
Complete lineup of Don Kirshner's Rock Concert episode    May 5, 1979
???               Sometime in mid 1979, John wrote and recorded a demo of the song You Haven't a Chance for possible inclusion on the band's next album.  This did not come about, but the song finally appeared on the UNDER CONSTRUCTION album.
???               At some point in 1979, the band held some rehearsals in Atlanta, Georgia, at the home of radio consultant Lee Abrams who assisted on their next album.  At least one new untitled composition was recorded at these rehearsals and surfaced on the UNDER CONSTRUCTION album.
Aug. - Nov.   After as many as nine months of songwriting and rehearsal, the group's eleventh and final album, CIVILIAN, was recorded mostly at Sound City in Van Nuys, California, with some overdubs at Bijou Studio in Los Angeles, California and Wessex Studio in London, England.  By this time, their musical change of style was complete.  The songs they included on this album bore little resemblance to the progressive body of work they had produced earlier.  Although the recording of this album was spread out over a few months, the group's total amount of time in the studio was actually quite limited.  It is also known that the band spent about five months together living in Los Angeles in 1979, an experience not enjoyed by all members.
Go on to   Part Eight
Return home to   Gentle Giant Tour History