Go on to   Part Seven
Return home to   Gentle Giant Tour History
Gentle Giant Tour History
*** Part Six ***
*** Still Plugging Away ***
(1976 - early 1977)
new information will be in RED
            1976
            After the success of FREE HAND, Giant felt poised to continue their commercial ascent.  However, things did not go as smoothly as they would have liked.  They kept on working and touring hard around the world, but they made no new headway and their rise more or less leveled off.  Their star did not dim, but neither did it glow brighter.
Jan. 28          A slightly edited version of the Stockholm show from Nov. 12 was re-broadcast over Sweden's Radio 3 as part of the Tonkraft series.
Feb. - Mar.    The band's eighth album, INTERVIEW, was recorded at Advision Studios in London.  They only had about three weeks to write and record the whole thing, taking from mid February to March 12, so the band found this to be a difficult album to record.  It has been said that, musically, it was very much a pale rehash of their previous album.  During the mixing process, they did have time to produce a quadraphonic mix, as well, but that was not released until a 2012 Chrysalis reissue of the album.
Apr. 23          Various notices in the UK press originally had the date for the English release of the INTERVIEW album as being April 30, with one source listing a date of May 2.  However, it seems to have been pushed forward to Apr. 23, possibly to precede the start of the UK tour.  This adjusted date did appear in later press advertisements.
Apr. 24          The group made lip-synched promotional films for the title song, Interview, plus the songs Give It Back and I Lost My Head from the INTERVIEW album.  Contrary to earlier reports that these were made in Hannover, Germany, these were actually filmed at ITN House, a studio belonging to a major British news organization in London.  All three films are now available on the GG AT THE GG DVD.
            In the early spring of 1976, Gentle Giant put on an undetermined number of shows in Europe, but nothing is known about them.  There were probably very few, though.  For one thing, Gary Green was married on April 14.   After Europe, they returned right back to the U.K. again at the very end of April but they had, by now, become very disillusioned with the lack of progress they were making there, and it proved to be their last tour of their native land.  From that point on, they decided to concentrate their live efforts in Europe and North America.  No live 1976 recordings before early June have yet surfaced, but the setlist used during this time period has been confirmed.  They debuted some material from their new album, but the biggest surprise was the deletion of Funny Ways, played at possibly every previous concert since 1970.  Plain Truth, another long-time staple of their live shows, was also dropped, though Ray's violin solo was not.
TYPICAL SETLIST  (Spring 1976)
Intro/Just the Same - The opening song was preceded by yet another prerecorded instrumental intro.  This intro appears on UNDER CONSTRUCTION, with the title Intro 76.
Proclamation/Valedictory - Proclamation was played in a slightly different arrangement that concluded with the tail end of Valedictory.
Interview - This one began with the "interviewer" recording taken from the beginning of the new album.  The voice was that of Melody Maker writer Chris Welch.
On Reflection
The Runaway/Experience
So Sincere
Excerpts from Octopus
Give It Back - This tribute to reggae music was reportedly put into the set specifically to replace Funny Ways, of which the band had grown tired.  Like Funny Ways, the live arrangement of this song included a solo on vibraphone by Kerry.
Timing - the new home for Ray's violin solo
Free Hand
Peel the Paint/I Lost My Head - It's not been confirmed, but there's a possibility that the entire I Lost My Head may have been performed as the encore in the UK in late April and May.  However, at least by the Italian dates in late May, this mini-medley was the encore with only the second half of I Lost My Head being included.
<![if !vml]>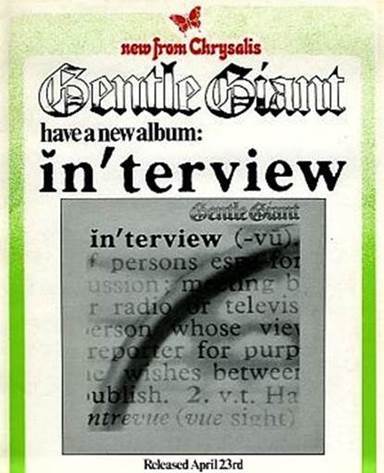 <![endif]>
Chrysalis promotional window sticker with UK tour dates    Spring 1976
Apr. 29          Derby, England                            King's Hall                                This was, at one time, intended as the first gig of the UK tour with Solution scheduled to open.  However, the gig was canceled for unknown reasons.
Apr. 30          Cambridge, England                    Corn Exchange                         Solution opened the show and one fan in attendance believes Giant opened their set with Proclamation.  Although Apr. 30 is the Cambridge date listed in the band's UK tour program and in other sources, there are several eyewitnesses who swear that this show actually took place after the May 1 Southend-on-Sea show, but the Apr. 30 date seems definitive.  It was a Friday and that is the only day of the week the Corn Exchange hosted concerts.  The rest of the week, it served as a roller skating rink.
<![if !vml]>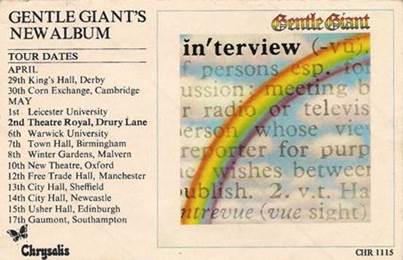 <![endif]>
Cambridge flyer    Apr. 30, 1976
May 1            Southend-on-Sea, England           Kursaal Ballroom                      Solution opened the show.  GG was originally scheduled to play at a University in Leicester, England on this date, but that show was canceled.  The Kursall Ballroom, actually part of a larger amusement complex, was originally built for ballroom dancing and had a sprung floor, which would bounce and give along with the movements of the audience.  This gave the crowd the feeling of being on a choppy sea, but also caused concern for the road crew, as the PA system would wobble along with the crowd.  Also on this night, the band had numerous technical problems, with the PA and monitors cutting in and out at times.  The band was seen mouthing directions and making hand gestures to the crew in an attempt to work through these problems.  At one point, while replacing an instrument of his own, Derek accidentally knocked two of Gary's guitars off a wooden pegboard from which they hung.  As roadies assessed the damage, the band had a quick huddle on stage then went straight into their five-man drum bash.  Gary appeared quite angry and actually broke his drumsticks during the bash.  Additionally, it's believed that the song Proclamation, generally included in their set at this time, was not performed at this particular concert.
<![if !vml]>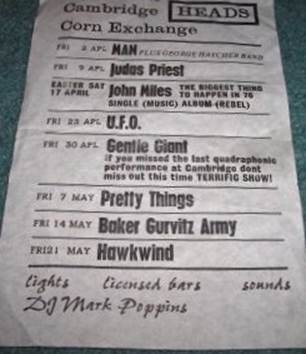 <![endif]>
Southend-on-Sea ad    May 1, 1976
May 2            London, England                          Drury Lane - Theatre Royal                   Solution opened this show.  A Record Mirror review gave the impression that at one point in the middle of the show, Kerry played a keyboard interlude of some sort while the rest of the band left the stage.  Sounds published a review of the show in which they used the line "Gentle Giant is a band that's going to magnetize", ironic when considering the hall on this evening was only a third full.  This line was later quoted in some of the band's advertisements in the English music press.  During the concert, the band jokingly alluded to another Sounds article in which John Weathers had apparently been elevated to the status of a "sex symbol".
May ?            INTERVIEW was released in America in the month of May, possibly on either May 4 or May 10.
May 5            Norwich, England                         University of East Anglia           Solution opened the show.  This date was not always included in the band's promotional materials for this tour.
May 6            Warwick, England                        Warwick University - Rootes Hall          Solution opened the show.  The concert was held in a large carpeted hall with the stage only six inches off the floor and the entire audience sitting on the carpet.  It is known that the show was not sold out.
May 7            Birmingham, England                   Town Hall                                 Solution opened the show.  One report has the acoustics being rather poor in this venue.  After the opening band finished, Roy Wood of the band Wizzard snuck into the Hall to watch.  Kerry confided to an audience member after the show that Roy was indeed a fan of the band.
May 8            Malvern, England                         Winter Gardens                        This was a multi-purpose venue rather than an actual concert hall.  Therefore, the audience stood for the entire performance, there being virtually no chairs.  Because of this, the crowd was quite noisy.  Solution opened the show.
<![if !vml]>

<![endif]>
Malvern - unusual advance sale ticket    May 8, 1976
May 10          Oxford, England                           New Theatre                             Solution opened this show, which was definitely not full.
May 11          Manchester, England                   Palace Theatre                         There was no GG concert held here on this night.  However, there may have originally been one scheduled, with Solution set to open.  This would have been along with, or instead of, the second Manchester appearance at a different venue the following night.  Although a gig at the Palace did not take place, a photograph of the venue was used for the cover of the band's 1977 live album, PLAYING THE FOOL.
May 12          Manchester, England                   Free Trade Hall                         This gig definitely did take place, with Solution opening.  BBC personality Stuart Maconie was at this concert and claims that Derek introduced the band as Led Zeppelin.  Sadly, Ray's violin solo was cut short due to some electrical glitch.  A roadie actually brought Ray a screwdriver on stage, but to no avail.  Attendance was poor, a fan at the show recalling there being numerous empty seats.  This venue is today an upscale hotel.
May 13          Sheffield, England                        City Hall                                   During Interview, the title song to the new album, Derek's microphone failed, so the song ended up being mostly an instrumental.  One fan recalls them possibly playing Empty City, although this is unconfirmed.  Solution was again the opening act.  The City Hall was barely half full on this evening, pointing out once again the trouble Giant had gaining any real commercial success in the UK.
May 14          Newcastle, England                     City Hall                                   Solution opened the show.  It's been said that Ray was sporting a striped bass strap which matched the colors on the INTERVIEW album cover.
May 15          Edinburgh, Scotland                     Usher Hall                                Solution opened the show.
<![if !vml]>

<![endif]>
Edinburgh ticket    May 15, 1976
May 17          Southampton, England              Gaumont Theatre                         At this 1500 seat theatre, Solution was scheduled to open again, but did not.  Instead, the New Zealand band Split Enz opened the show, this being their very first UK gig.  In fact, they were introduced from the stage as having "just gotten off the boat."  After a slow start, this support act ended up being very well received, even though they had a problem with persistent feedback from the piano microphone.  Nevertheless, Giant was impressed with the Split Enz set and subsequently lent a hand in helping them secure their UK record deal with Chrysalis Records.  One published Split Enz source describes this gig as some sort of Chrysalis showcase event, perhaps implying personnel from Chrysalis were present to see the openers.
May 21          Breda, Holland                             Turfschip                                  Dutch band Kayak was the opening band.  They were also one of the support bands on Giant's previous visit to this venue on May 5, 1974.
May 22          Delft, Holland                               Stadion DHC                             GG participated in an open-air event advertised as the "Oor Festival" or as "Popfestival 76".  This all day concert was billed as including between nine and eleven hours of music and took place in a large venue capable of holding more than 10,000, although it's not known how many actually attended.  Others sharing the stage with Giant included 10cc, Nils Lofgren and an English comedy rock band called Alberto y los Trios Paranoias.  One fan reports there were some technical problems with GG's sound this night.  Press reviews for GG's performance were mixed, with one newspaper singling them out as the highlight of the festival, while another believed that the subtleties of the band's music were lost in an outdoor stadium, being better suited to an indoor venue.
<![if !vml]>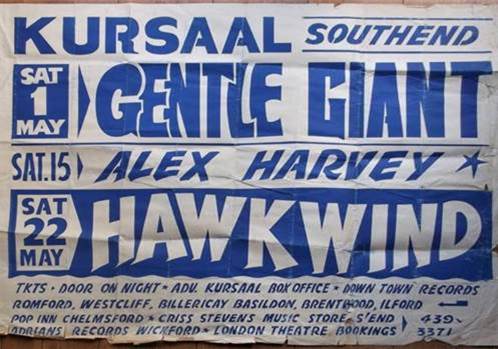 <![endif]>
Delft ad    May 22, 1976
May 25          Lille, France                                 Le Palais Rameau                     A fan joked that this show was played "in a glass house", since the building had lots of windows.  The sound at the show was described as "church-like".
<![if !vml]>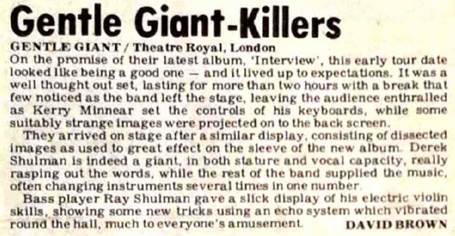 <![endif]>
Lille    May 25, 1976
May 26          Lyon, France                               Bourse du Travail                     originally scheduled for May 28 but moved ahead two days
May 27          Grenoble, France                         La Patinoire de Grenoble           This concert, the only one the band ever staged in Grenoble, was held in the smaller of two skating rinks used for that city's hosting of the 1968 Winter Olympics.  This particular rink, with a seating capacity of 3000 - 4000 spectators, had no official name, being simply known in the area as La Patinoire de Grenoble, translated as "the Skating Rink of Grenoble".  About 2000 to 3000 fans enjoyed the concert, although it was raining outside that evening.  One fan in attendance seems to think there may have been no support act.
May 29          Bordeaux, France                        Theatre de 'Alhambra                The May 1976 issue of Best Magazine announced this gig as May 28, but other sources and an existing ticket stub prove the date was May 29.
???                Copenhagen, Denmark                 Hard Rock Cafe                        A show was scheduled here probably in May, but possibly sometime in April.  It was canceled because the stage was too small.  The venue may be incorrect. 
The following few dates were scheduled in Italy.  However, unlike what happened in April 1974, when the band's time there was cut short due to riots and unrest, most of these concerts went on as planned.
<![if !vml]>

<![endif]>
Italian tour ad    May - June 1976
May 31          Torino, Italy                                 Pallazzo dello Sport                   Attendance was reported as 5000.  There is a rumor that a tape of this concert may exist.
June 1           Brescia, Italy                               Pallazzo dello Sport
June 2           Milan, Italy                                   Paladido                                   This show is known to have been canceled.
June 2           Italian television broadcast a segment on Gentle Giant during their TV dei Ragazzi program.  This program was geared towards young people and featured family fare, cartoons and some popular music performers of the day.  The segment on Giant was entitled Baroque n' Roll and showed the band doing a live performance of Excerpts from Octopus filmed at the Mar. 16 London concert, but it also included interviews with all five band members, complete with an Italian translator.  It is unknown when or where this interview was filmed, though John Weathers can be heard stating that he had been in the band for "three years."  This would imply that, unlike the live music, the interview was filmed sometime during the first half of 1975.  The segment was broadcast in black and white in Italy, even though the same footage was shown in color at other times in England and Germany.  Baroque n' Roll now appears on the official GIANT ON THE BOX DVD. 
<![if !vml]>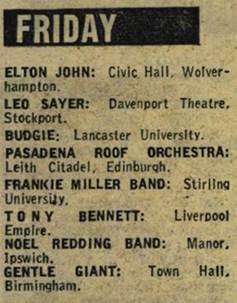 <![endif]>
Italian "Baroque and Roll" TV listing    June 2, 1976
June 3           Cantu', Italy                                 Pallazzo dello Sport                  
June 4           Reggio Emilia, Italy                      Pallazzo dello Sport                  
June 5           Rimini, Italy                                 L'Altro Mondo                           .  An existing tape of this concert documents an enthusiastic crowd watching the band play an equally enthusiastic show.  Ray got into another of his shouting matches with the audience during his Timing violin solo, while John playfully interacted with the audience frequently, even leading them in a short chant before bringing the band into the song Free Hand.  On this night, John was introduced as "Giovanni Catastrophe" while Derek introduced himself as his old friend Elton John.  Elton had briefly played with Simon Dupree back in 1967 while still going by his given name of Reginald Dwight.  A professional Italian bass player named Tiziano Ricci recalls his band Bingo opening for Giant at this gig.
June 6           An interview with the band appeared on Scotland's Radio Clyde on a program called Stick It in Your Ear, hosted by Brian Ford.  This was a fairly experimental, cutting edge program in which portions of the interview were mixed in with snippets of the band's music.  Since it was not a live broadcast, the actual date of the interview remains unknown.  Others appearing on this episode were Billy Swann and Bruce Johnston.
June 7           Rome, Italy                                  Palazzo dello Sport                   The band graciously donated their profits from this concert to relief efforts for recent earthquake victims in the Friuli region of northeast Italy.  In its review, L'Unita remarked how the audience was well-behaved and the concert was relatively uneventful, an unusual occurrence in the volatile Italian concert scene at the time.
<![if !vml]>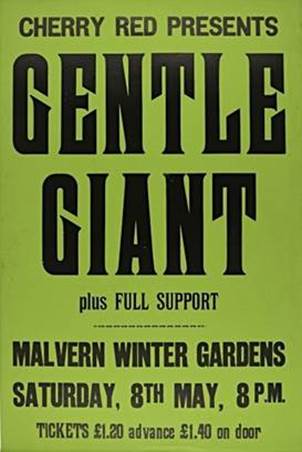 <![endif]>
Rome ticket    June 7, 1976
            The Bicentennial summer of 1976 found the band on tour in North America, a tour which, judging from early promotional material, underwent a number of date and venue adjustments before being finalized.  Although they did headline some gigs, they still had to play a support role part of the time.   During some huge stadium dates with Yes, they sometimes had to appear third or fourth on the bill.  How well GG was accepted by the crowds at these stadium dates is in question.  A number of reports have surfaced saying that there was much indifference and even booing at some of these shows.  It is difficult to ascertain the truth in this matter but with the huge numbers in attendance, it is indeed possible, even likely, that segments of the audience did not appreciate Giant.  It must also be remembered that Peter Frampton, who shared some of these bills, was riding a massive wave of commercial popularity at this time.  It is reasonable to assume that large numbers of fans were not present to hear the progressive rock of Yes or Gentle Giant.  These legions of Frampton fans may have had different musical tastes and this could explain the indifference found in areas around the venues.  Logically, one could also assume that the progressive Yes/GG fans probably behaved similarly during Frampton's set.
<![if !vml]>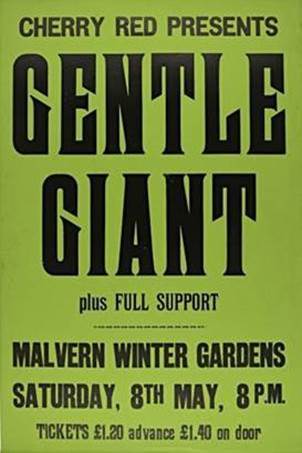 <![endif]>
JEM Import Company flyer with North American tour dates    Summer 1976
TYPICAL SETLIST  (Mid 1976)
Intro/Just the Same - The Intro 76 prerecorded tape was still used to start the evening, but a portion of the album version of the song Talybont from FREE HAND was also played before the concert began.
Proclamation/Valedictory
On Reflection
Interview
The Runaway/Experience
So Sincere
Excerpts from Octopus
Give It Back - played sporadically until late July, when it was dropped for good, never to return
Timing
Free Hand - During the first few weeks of the North American tour, many shows ended with this song, with no encore following.
Peel the Paint/I Lost My Head - This mini-medley was played as an encore at some shows during the first weeks of the tour, but more consistently by late July, after Give It Back was dropped.
June 17         Upper Darby, Pennsylvania       Tower Theater                             Starcastle was the opening act.  Giant managed to draw around 2700 fans to this show which was no small feat, considering that Yes was playing to around 100,000 in nearby Jersey City on the same night.  Some early printed tour material had this gig incorrectly listed as being on June 19.  The Tower was a venue with excellent acoustics in which Giant appeared several times during their career.  It's been said that at one of those gigs, John Weathers appeared wearing only a huge diaper.
<![if !vml]>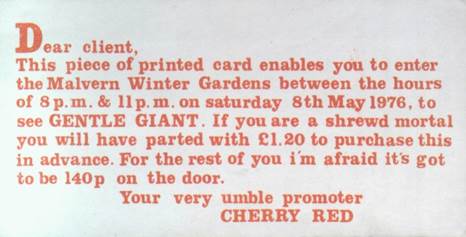 <![endif]>
Upper Darby    June 17, 1976
June 18         New York, New York                    Central Park - Wollman Rink                 This was a general admission concert at an outdoor venue.  It was part of Central Park's annual "Shaeffer Music Festival", a series of summer concerts sponsored by Shaeffer Beer.  Prior to the show, John Weathers was seen running down the line of people waiting to get in, eliciting much applause.  Starcastle was the opening act and there are conflicting reports as to how enthusiastically they were received.  The New York Times reviewer believed Starcastle was as well accepted by the audience as was Giant and had more rhythmic drive to their music than did the headliners.  A tape of Giant's full set exists.  On this night, Derek introduced himself as Barry Manilow.  One spectator in attendance recalls a humorous moment as the band members slammed into each other as they rushed to switch instruments during one of the songs.  Reportedly, the PA system was a bit underpowered for this particular venue and there were several equipment problems during the show.  For instance, there was a small glitch with the "coin spin" tape used to introduce Excerpts from Octopus.  In the encore slot was the Peel the Paint/I Lost My Head mini-medley, not a common occurrence this early in the North American tour.  Although it ended up not being needed, ticket purchasers were informed that June 20 was set aside as a rain date.
<![if !vml]>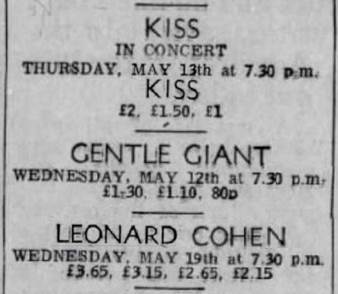 <![endif]>        <![if !vml]>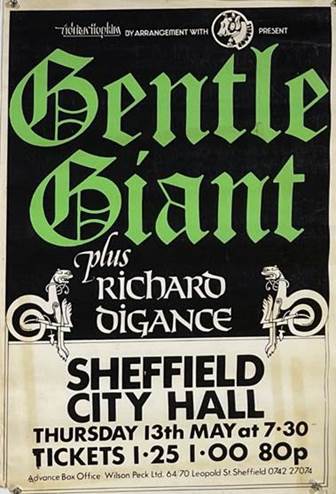 <![endif]>
New York - "Shaeffer Music Festival"    June 18, 1976
June 19         Ellicott City, Maryland                  Hollywood Palace                     The rumor once was that a local pop group by the name of the Pez Band may have opened, as they often served as a house band for other events at the venue.  However, multiple reports have Giant playing alone on this particular night.  It's been said that this venue, just outside Baltimore, was really far from being a "palace", but was actually more like a "large bar".  The place had tables for around 150 patrons and a dance floor in front of the stage.
June ?           Buffalo, New York                        New Century Theatre                This gig with Starcastle again opening is completely unsubstantiated, although one fan claims to still have his ticket stub.
June 22         Springfield, Massachusetts          Civic Center                             Here, Giant played second on a triple bill, following Derringer and preceding Todd Rundgren's Utopia.  Derringer, which was Rick Derringer's group at the time, was only added to the bill about a week before the show.  Rick lived nearby and was well known in the area, so he may have been brought on board to bolster lackluster ticket sales.  Even so, the hall was far from full, with the Springfield Union citing a "modest crowd of 1,866" in an 8,000 seat venue.  After Derringer's set, a black curtain was pulled back, revealing GG's stage setup.  When the band began, things went very well but, when they began playing some of their softer material, certain portions of the crowd became a bit restless and the occasional call for "rock and roll" could be heard.  Some band members appeared annoyed at this, particularly Kerry.  By the end, the audience was again responding well, but Giant's set was still relatively short.  Then, the Utopia set was plagued with electrical problems towards the start, resulting in a lengthy delay.  A local newspaper had earlier advertised that Derringer was to open for Giant at the Civic Center in Providence, Rhode Island on June 22, but that's not what happened.
<![if !vml]>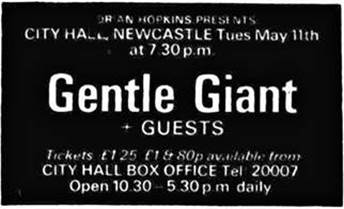 <![endif]>
Poster for Canadian gigs with Starcastle    June 1976
June 24         Moncton, New Brunswick             Moncton Coliseum                    Getting to this concert proved very difficult for Giant.  Due to a Canadian air traffic controller strike, the band was unable to take the commercial flight they had originally booked.  They ended up driving for two days to get to Moncton after the Springfield gig listed above.  After the show, their promotor arranged for a private charter flight to take them to Quebec City for the next night's gig.  Of course, this incurred additional expense for the band and may have continued to be a problem for the other dates on this Canadian leg of the tour.  Starcastle was the opening act at this general admission concert held in a hockey arena.  It seems to have been a pretty sizable crowd, although one unsubstantiated report has surfaced claiming only 640 people were in the audience.   Other more credible accounts place the night's attendance at around two thousand, with floor seating full and plenty of others sitting up higher.  A couple fans remember that during the quadraphonic violin solo, Ray repeatedly pointed with his bow at the various locations within the hall where the next echoes would appear.  On this night, a rumor circulated that an associate of the band, perhaps a roadie, died shortly before the gig.  This supposedly necessitated the band performing with only half of their normal stage set-up at the show.  When asked about this more recently, Gary expressed doubt that the band would perform with much equipment missing.  He also recalls nobody connected to the band passing away.  One early report had the band scheduled to play in Trois Rivieres, Quebec on this evening but those plans obviously changed.
June 25         Quebec City, Quebec                   Colisee                                     Starcastle was the opening act.
June 26         Ottawa, Ontario                           Lansdown Park - Civic Center Arena                                               Starcastle was the opening act and was given a decent reception.  Although possibly not full, it was nonetheless a very good sized crowd of about 5,000.  One local newspaper reviewer was unkind to GG, using the headline "Gentle Giant: Boredom on a Colossal Scale", while another was a bit more gracious, describing the band's performance as "Tricky but Rewarding".
June 26         The VARA TV Network in the Netherlands broadcast a 50 minute Gentle Giant concert.  It is not known if this was a newly filmed performance, or a re-broadcast of some earlier film, such as the March 16, 1974 London concert previously shown in Germany, England and Italy, or the German ZDF-TV Sonntagskonzert program first aired on Aug. 10, 1975.  For the record, this Dutch concert's length of 50 minutes does match up with the length of the ZDF-TV program.
June 27         Toronto, Ontario                          Massey Hall                             Starcastle was the opening act.  The venue, which seats around 3000, was virtually sold out.  One happy fan kept yelling out to Gary, "are you an onion?"  The exact meaning of this question isn't clear, but it did elicit giggles from Gary.  It was apparently quite hot in the venue, causing Derek to remove his shirt for the final encore.  An audience recording of GG's performance once existed but, sadly, the original tape is now missing.  However. copies made by the taper early on for friends are rumored to still exist.  A tape of Starcastle's set has surfaced, lending further credence to the possibility of Giant's recorded set being out there somewhere.
<![if !vml]>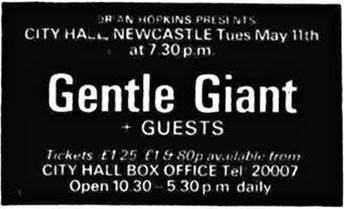 <![endif]>
Toronto    June 27, 1976
June 28         Montreal, Quebec                        Place des Nations                     held in an outdoor open-air venue with between 10,000 and 12,000 in attendance.  Although not needed, a rain date was planned for the next night.  Starcastle was the opening act.  According to a newspaper report published the next day, things got off to a rocky start.  Just prior to the show, about 300 gatecrashers tried to violently force their way in.  Bottles were thrown, while police wielded batons and used patrol dogs to restore order.  There were several injuries as well as arrests.  Fortunately, things quieted down and, for the rest of the evening the band enjoyed a rapturous reception by the enthusiastic audience.  However, that was not the end of the unrest as, while the band was performing, tragedy struck outside the venue.  The theft of a leather jacket led to the stabbing death of a youth.  The band only found out about this afterwards but, although the police established the crime's occurrence in close proximity to the concert was purely coincidental, the band was nonetheless quite distressed by the event.  During a radio interview Derek did the next day on the city's CHOM radio station, this unpleasant subject never came up.  As was the case with the Toronto show from the night before, a tape of Starcastle's set has surfaced, but not Giant's, although it is rumored to exist.  As yet another example of how GG tour schedules were often rearranged on the fly, Los Angeles was at one time advertised as being the planned location of this concert.
<![if !vml]>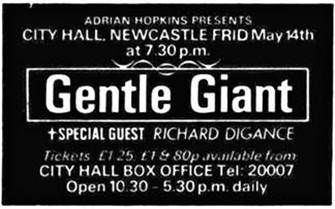 <![endif]>
Montreal ad    June 28, 1976
June 30         London, Ontario                           London Arena                           the last 1976 show for which Starcastle was the opening act.  Starcastle has claimed to have very much enjoyed their concerts with Giant.
<![if !vml]>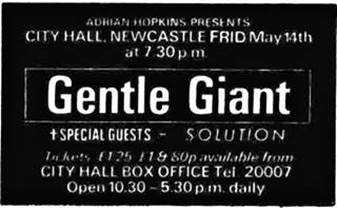 <![endif]>
London, Ontario ticket    June 30, 1976
July 1            Binghamton, New York                 Broome County Veterans Memorial Arena                                          opened for Todd Rundgren's Utopia.  An early report had GG headlining this show at a club called The Bijou, but that was wrong.
July 2            Rochester, New York                   Masonic Temple - Auditorium Theatre                                             This show was a theater gig at which Ritchie Blackmore's Rainbow headlined before about 1500 people.  Thin Lizzy was originally planned as Rainbow's opening act during June and July.  However, due to illness, Thin Lizzy pulled out of the entire tour, causing Rainbow to sign various alternate support acts as they went along.  On this night, Giant played in the middle of a triple bill, after Angel and before Rainbow.  They were also well enough received to return to the stage for an encore or two.  In a published interview in 1980, Ray recalled this concert fondly, proudly claiming GG upstaged Rainbow.
<![if !vml]>
<![endif]>
Rochester    July 2, 1976
July 3            Hempstead, New York               Calderone Concert Hall                This show was broadcast live on New York City's WLIR radio as part of that station's Bicentennial celebration.  It appears to be the longest broadcast the band ever did.  At one point between songs, Derek joked that he would "make peace" with the Americans for "dipping the tea in the water" and "kicking Britain out of Boston".  Following the usual encore of Peel the Paint/I Lost My Head, the band again returned to the stage and, as midnight approached, played In the Midnight Hour as a surprise second encore, during which Gary had a little trouble playing his part.  This was followed by yet another surprise, a version of Happy Birthday, dedicated as a July 4 birthday tribute to the USA.  Fan recollections originally conflicted regarding whether Happy Birthday was actually performed on this night, but it's been confirmed by a partial audience recording that recently surfaced comprising just the three final encores, none of which were part of the radio broadcast.  A number of people at the show have sworn that they saw no support act.  However, it's now been verified that the Mick Ronson Band did play on this date, though perhaps not as an official opening act for Giant.  Ronson's drummer explains that his band played quite early on, before most of the crowd even arrived, with their set mainly meant for record executives in attendance.  Over the years, more and more music from this radio broadcast started to appear on official releases.  Most, but not all, of the broadcast, was first released by Glass House on the IN'TERVIEW IN CONCERT CD in 2000 but that release is of notably inferior sound quality.  Next, two songs were released on 35th anniversary CD reissues.  Just the Same is included on the FREE HAND reissue, while the song Interview appears on the INTERVIEW reissue.  In 2011, the Alucard reissue of OCTOPUS included Excerpts from Octopus from this gig as a bonus track.  Finally, an excellent quality source of the entire live broadcast was released by the band in 2014 on the LIVE AT THE BICENTENNIAL CD, with Excerpts from Octopus from this CD appearing yet again on Alucard's OCTOPUS reissue in 2015.  Both the official release and earlier bootlegs of the concert show that the band omitted their recorder rendition of Yankee Doodle during Excerpts from Octopus.  Not surprisingly, the official release edited out spoken bits from the radio announcer but, for some reason, it also edited out the section where Derek introduces himself to the crowd as Donny Osmond.
July 5            Elyria, Ohio                                 The Joker                                 A tape of this show exists.  Early ads listed Ethos as the opening act, but by the beginning of July, the opener was listed as a British band called Upp who were produced by Jeff Beck and were on their first American tour.  The Joker was a low-ceilinged cavernous space nestled among the off ramps of a freeway exchange.  Earlier on, it had been a K-Mart Department Store.
<![if !vml]>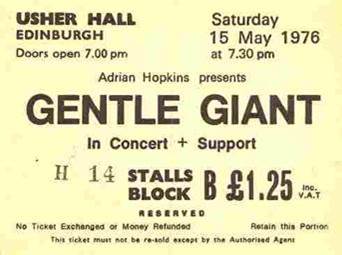 <![endif]>        <![if !vml]>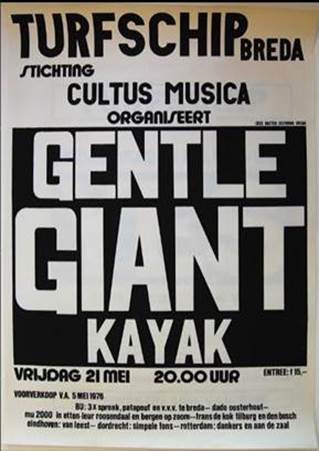 <![endif]>
Elyria ads - original and updated bill    July 5, 1977
July 6            Columbus, Ohio                           Agora                                       The Lantern described the audience as "small but dedicated".
July 7            Chicago, Illinois                           Riviera Theatre                         Felix Pappalardi's band Creation opened the show for GG and, according to a press report, was booed off the stage when they mistakenly returned for an encore.  The Riviera is an old refurbished 1930's movie theater on Chicago's north side, seating around 1800.  Giant's set was recorded by Chicago radio station WXRT, eventually being edited and broadcast on January 16,1977.
July 8            Detroit, Michigan                         Ford Auditorium                        GG was again supported by Felix Pappalardi's Creation, as well as a band called Natural Gas.  There is an unconfirmed report that this gig may have been canceled due to poor ticket sales.
<![if !vml]>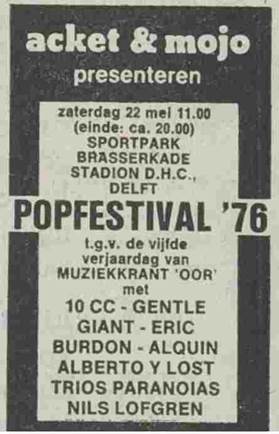 <![endif]>
Detroit ad    July 8, 1976
July 9            Terre Haute, Indiana                    Indiana State University - Hullman Center                                                    This was an event billed as a "Summer Jam" and was a general admission show.  Giant followed Starz and Wet Willie, all opening for headliner Ted Nugent before 4200 fans.
July 11          Dallas, Texas                              Electric Ballroom                      The Abilene Reporter-News noted that, for some reason, a large number of the audience paid no admission.  This was one in a series of free Sunday night concerts sponsored by Dallas radio station KZEW.  Even though many in the crowd were unfamiliar with Giant's music, most were very impressed.  At one point while the band was playing Knots, a large portion of the crowd suddenly rushed forward in delight towards the stage.  This slightly startled the band, but they kept going with no problems.  There were two opening acts at this gig.  The first is unknown, but the second was called Uncle Rainbow who were also well-received and were called back for an encore.  Even though they were basically a pop band, they surprised the audience with an encore of Weather Report's Man In the Green Shirt.  One interesting fan recollection has come to light stating that country rocker Charlie Daniels was in attendance at one of Giant's Electric Ballroom gigs and even joined them onstage.  GG played this venue more than once so it is not known to which show this fan was referring.
July 13          Austin, Texas                              Armadillo World Headquarters               The band has claimed that Austin was one of their favorite places to play and immediately after this show, Kerry, Ray and Gary told a fan that they thought this was one of their better played gigs.  The audience was very receptive.  The opening act was a band appropriately called Texas.
July 14          The BBC broadcast a portion of the Oct. 7, 1975 Ultrasonic Studio performance on its BBC Rock Hour radio program, hosted by Brian Matthew.  The songs broadcast were Intro/Cogs in Cogs, So Sincere, Free Hand and Just the Same.  Appearing on the same program was John Miles.
July 16          Santa Barbara, California             Arlington Theater                      An existing tape shows that, for some reason, before Excerpts from Octopus, they played a modified version of the intro tape played before their fall 1975 gigs.  Giant played alone at this show, with no support act.  There was a brief power failure during the concert, but GG quickly recovered.  There has been some dispute over this show's venue, but it definitely was the Arlington Theater, an architecturally dazzling venue which held about 2000 people.  Unfortunately, the concert had a poor attendance of only 800, possibly because southern California fans were gearing up the following night's stadium gig in nearby Anaheim.  The band also suffered from poor sound on this evening, but the crowd did give them a warm reception.
<![if !vml]>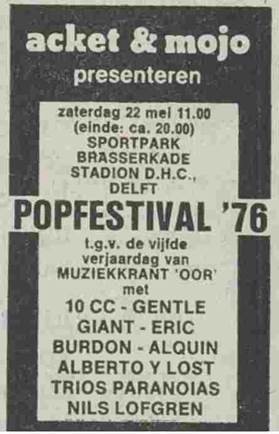 <![endif]>
Santa Barbara ad    July 16, 1976
July 17          Anaheim, California                      Anaheim Stadium                      The stage was set up in center field of this baseball stadium.  Fans filled the grandstand plus the entire infield was filled with more fans sitting on blankets.  Some estimates had as many as 70,000 in attendance, but figures printed in Billboard indicate that 55,000 tickets were sold.  In fact, this general admission show was sold out ten days in advance.  Even American President Gerald Ford's son Steve was in attendance, as was Danny Bonaduce of the Partridge Family.  Giant played first, beginning around 4:00 in the afternoon, followed by Gary Wright, Peter Frampton and headliners Yes.  Interestingly, weight-lifters, high wire performers and skydivers were used to entertain the crowd between the different musical performers.  Kerry thought the experience of being part of such a large event, easily one of the band's biggest gigs ever, was incredible.  On the other hand, Ray seems to recall not enjoying the show very much and Gary says he was a bit intimidated by the huge crowd.  Derek took this opportunity to joke with the crowd, starting off by announcing, "if you know us we're Gentle Giant, if you don't then we're Pink Floyd" and at another point telling the crowd to "pretend we're Led Zeppelin".  Considering it was very hot during Giant's set, the crowd was reportedly well-behaved, with the exception of a few people who booed and even threw things at the band.  One report has the drum bash during So Sincere being very well accepted by the audience.  On the other hand, Giant was the only act not called back for an encore.  Parts of Frampton's set this night are known to have been filmed, but there's no evidence that Giant's set was.  This was the first of several large stadium shows in which Giant participated in July of 1976.  A report has surfaced that Toots and the Maytals may have been included on one of these bills, but no other information is available, as of yet.
<![if !vml]>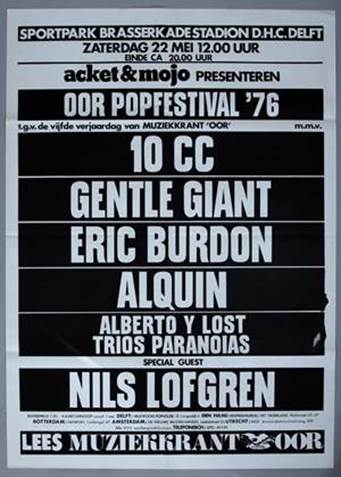 <![endif]>
Anaheim backstage pass    July 17, 1976
July 18          San Diego, California                   Balboa Stadium                         Opened for Gary Wright, Peter Frampton and Yes on a hot, sunny day.  Being first on the bill, GG hit the stage around 3:00 P.M. and the entire concert went on for a full seven hours.  During the approximately two hours of intermissions between acts, the crowd was again treated to a pastiche of circus acts, including skywriters and a skydiving exhibition by a team of 12 parachutists.  Not only was the 35,000 seat venue sold out, but the press reported that an additional 4,500 fans were milling about.  Police had a difficult time keeping order, as there were multiple reports of vandalism, as well as more than 90 arrests and multiple injuries, including three policemen.  An existing tape of this gig shows that they included no INTERVIEW material, instead relying on their more familiar songs from previous albums.  This is one of the shows for which different fan reactions have been reported.  Although the 5-man drum bash during So Sincere is said to have impressed most people, some say GG endured their share of heavy booing during their set, while others disagree.  The band did have problems with feedback and an uncooperative PA system that certainly did not help.  Whatever the case, the band themselves perceived their reception as being unfavorable, a point that Derek commented on the next time they played San Diego on Mar. 30, 1977.  A film of a portion of Gary Wright's set has recently been officially released but, as was the case the previous night, there is no evidence that GG's performance was itself preserved on film.
<![if !vml]>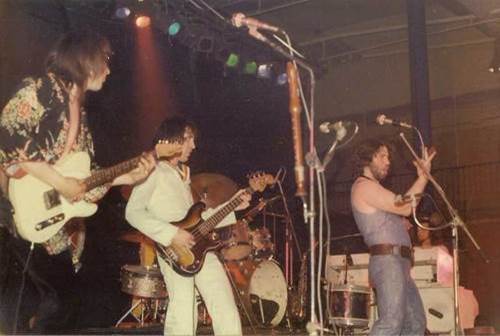 <![endif]>        <![if !vml]>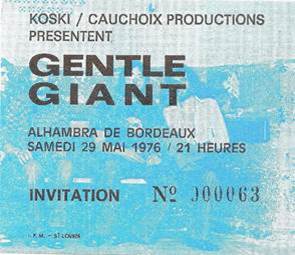 <![endif]>
San Diego - Yes' massive rig and press report    July 18, 1976
July 19          Fresno, California                        Selland Arena                           Yes was not on this bill, so Giant opened just for Peter Frampton.  One person in attendance claims Giant was booed quite a bit by some of the Frampton fans at this show, as well.  7,300 fans were in the crowd.
July 20          Daly City, California                     Cow Palace                              opened for Yes again to a packed house of 14,500.  Giant came out for a somewhat obligatory encore at this show, which would normally imply a very positive reaction from the crowd.  However, two fan reports have the band being booed yet again.  This could partially be explained by the fact that crowds at the Cow Palace traditionally could be heard "mooing" at many concerts, in honor of the venue's odd name and history of hosting national rodeo events.  Unfortunately, on this night, it appears there truly was some discontent in the crowd, a fact pointed out in an absolutely horrific, scathing review published in the Stanford Daily.  Phrases like "fell flat on its face", "worst synthesizer music", "bizarre songs", "overly contrived", "unimaginative", "inaudible" and "repetitive" run through what has to be one of the worst GG concert reviews to surface so far.  Of course, the reviewer's credibility must be called into question, seeing as how he also stated that Phil Shulman played bass at the show.  It is known that the sound for the band was sub-par this night, with their overall volume coming in considerably quieter than what Yes produced.  There were equipment problems, as well.  It took a roadie quite a while to get Ray's bass working properly as the band began their set.  At another point in the show, John went to play the vibraphone, only to find the instrument's microphones were dead.  He held his sticks up in frustration.  Derek told the audience that the band felt crowded on stage, indicating this may have contributed to their problems, but the reviewer took offense at this, as well.  As it turned out, Yes had its own share of troubles on stage.  Bassist Chris Squire had considerable problems with his instrument, causing him to actually throw it backstage in anger at one point.  It's believed that Yes was originally planning on playing in nearby Oakland, California on this particular night and there was discussion of Giant playing at a different venue altogether, but that is not how things transpired.  The bands did share the bill, although Giant was the only opening act, unlike most of their other dates with Yes.  There is a rumor that Yes' set may have been filmed but, once more, there are no indications that GG's set was.
<![if !vml]>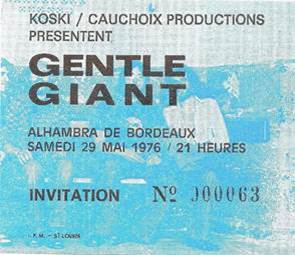 <![endif]>      <![if !vml]>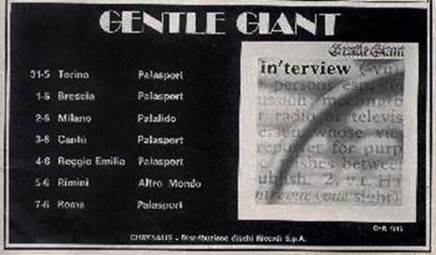 <![endif]>      <![if !vml]>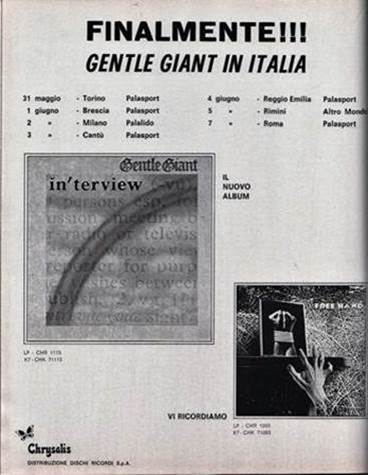 <![endif]>      <![if !vml]>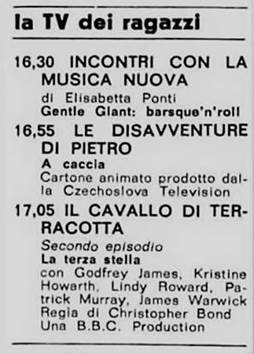 <![endif]>            
Daly City - horrible Stanford Daily review    July 20, 1976
July 22          Vancouver, British Columbia        Pacific Coliseum                       opened for Yes.  A tape of this gig exists and, once more, one fan remembers GG being booed, although another report has this behavior not being rampant, with most people enjoying Giant's set.  The local press agreed with this second assessment in their review, stating Giant was "well received".  Ray commented to this reviewer that, although the band preferred smaller audiences, they were currently trying larger places such as this one to "see what happens".  This particular venue was a 15,000 seat hockey arena but Giant had a very cramped space on stage in which to perform.  Nearly 12,000 were in attendance.
<![if !vml]>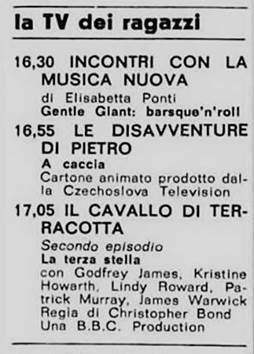 <![endif]>
Vancouver    July 22, 1976
July 23          Seattle, Washington                     Seattle Center Coliseum            opened for Yes before 15,000 fans.  While in town for one of the band's Seattle gigs, John and Gary actually did some shark fishing from their second floor hotel window.  They caught one and kept it in the bathtub for a time.  This odd behavior mirrors that which was first immortalized on an earlier Frank Zappa recording in which he refers to fishing out the window of Seattle's Edgewater Inn, possibly the same hotel Giant occupied while in town.  According to John, GG's fishing expedition took place either on this date, or when they next were in Seattle on Mar. 26, 1977.
July 24          Portland, Oregon                         Memorial Coliseum                   opened for Yes.  Billboard placed the official attendance at 7,871 but the local Oregonian newspaper reported a "sellout of 11,000".
July 25          Spokane, Washington               Spokane Coliseum                       About 6,500 people saw Giant open for Yes.
July 28          Denver, Colorado                         Auditorium Arena                      opened for Yes.  A member of Yes' road crew claimed disappointedly that only 3000 tickets were sold in this large arena.  However, that would be very unlikely at this point in Yes' career.  A fan in the audience remembers the crowd being much bigger than that, although the arena may not have been sold out.  On this night, there have been no reports of GG being booed.  In fact, although Giant did not perform an encore, their reception by the crowd was reportedly strong enough to merit one. 
???                Denver, Colorado                         Ebbets Field                             This is a very suspect show.  One account has the group playing another Denver gig at this small club between summer 1976 and spring 1977, supposedly with no opening act.  Although it cannot be positively ruled out, there are convincing arguments against it.  First of all, the band already had a 1976 Denver gig on July 28.  Second of all, an employee at the club has no recollection of a 1976 Ebbets concert.  Third, Ebbets was closed sometime in 1976, possibly before the summer.
            A fall 1976 European tour was next.  In an interview published in July, Derek said the group hoped to take the unusual step of working into this tour a concert in Poland and another in Israel, but these plans never came to fruition.  This was not the first failed attempt at performing in Poland, the group having tried to schedule a mini-tour there in June 1972.  Ultimately, the tour outlined below went ahead with very few setlist changes from the summer tour.  However, Give It Back was deleted and, as it turned out, all songs from the INTERVIEW album disappeared from concerts by the next year.
TYPICAL SETLIST  (Fall 1976)
Intro/Just the Same - Some of the European shows may have begun with a shortened Intro 76 in which the portion of Talybont was again left out.
Proclamation/Valedictory
On Reflection/Interview
The Runaway/Experience
So Sincere
Excerpts from Octopus
Funny Ways - This crowd favorite was put back into the set.
Timing
Free Hand
Peel the Paint/I Lost My Head
            The Italian band Banco was brought on board and was scheduled to open at many, if not all, of the shows on this European tour.  So far, it's been verified that they had to cancel a few appearances early on, but di open at all the German shows and at least two others.  During this tour, Giant recorded four of their concerts with the intention of sifting through them and compiling a live album.  Music from these four concerts did indeed make up the 1977 PLAYING THE FOOL live album. 
Sep. 16          Oslo, Norway                               Chateau Neuf                            A full house of around 1500 fans attended this concert.  Whether Banco opened or was scheduled to do so is not known.
<![if !vml]>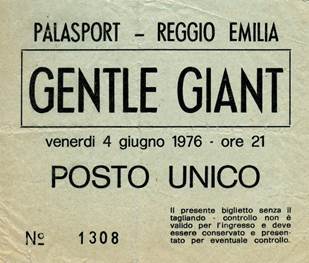 <![endif]>
Oslo    Sep. 16, 1976
Sep. 17          Gothenburg, Sweden                    Konserthuset                            A tape of this concert exists.  Banco had indeed intended to open this show, but had to cancel.  The newspaper reviews after the concert were lukewarm, at best.
Sep. 18          Stockholm, Sweden                     Konserthuset                            Again, Banco was the scheduled opener but, again, they canceled.
Sep. 19          Lund, Sweden                              University of Lund - Olympen                held in the University's big indoor tennis and handball court before approximately 700 fans.  Posters of the event listed Banco as the intended opener but, again, they canceled.  A tape of the entire concert was released in 2002 by Glass House with the title of ARTISTICALLY CRYME.  This recording shows that the band seemed to take their time on the songs, making this a longer than usual performance.  Peel the Paint/I Lost My Head from this gig can also be found on the MEMORIES OF OLD DAYS compilation.
<![if !vml]>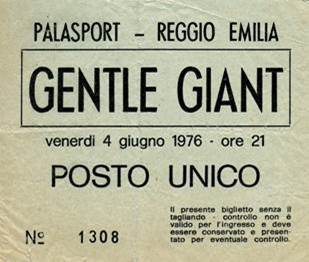 <![endif]>        <![if !vml]>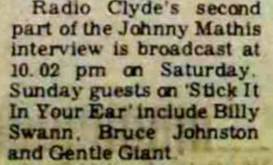 <![endif]>
Lund    Sep. 19, 1976
Sep. 20          Kiel, Germany                              Audimax                                   Banco opened the show.  One fan remembers seeing the band at Ball Pompos, a different venue in Kiel, though the year of this other gig is unknown.
Sep. 21          Hamburg, Germany                     Musikhalle                                Banco again opened the show.  According to a review in a Hamburg newspaper, about 1400 fans were in attendance, making the show not quite sold out.
Sep. 22          Berlin, Germany                           Philharmonie                             The band was scheduled to appear at this gig with Banco, but the entire show was canceled due to problems encountered getting equipment across the border between West and East Germany.  The members of Giant did manage to arrive in Berlin and were even interviewed for a local music newspaper, but they were unable to perform.
Sep. 23          Dusseldorf, Germany                   Philipshalle                               Banco opened the show.  This was one of the four concerts from the fall of 1976 that Giant recorded for use on a potential live album, the other three being the Munich, Paris and Brussels gigs.  When the PLAYING THE FOOL album was released, it included Intro/Just the Same, Proclamation and On Reflection from Dusseldorf.  The songs Interview and Timing, as well as Intro 76 from this show, appeared on the UNDER CONSTRUCTION album.  The mini-medley of The Runaway/Experience from this show appears on the 2000 CD reissue of IN A GLASS HOUSE.  This same mini-medley is also included on the 2005 35th anniversary CD reissue of the same album, where it's erroneously labeled as being just the song Experience.
Sep. 24          Mannheim, Germany                    Rosengarten Musensaal            Banco opened the show.
 <![if !vml]>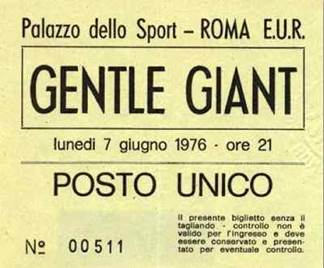 <![endif]>        
Mannheim poster    Sep. 24, 1976
Sep. 25          Munich, Germany                        Circus Krone Building               Banco opened the show.  According to the terms of their contract, Banco was not allowed to play encores on this tour.  However, the audience was quite vocal at this show in their support for the openers, so Giant reversed their decision and allowed an encore on this evening and on subsequent evenings, as needed.  This was another one of the four concerts recorded by the band for the PLAYING THE FOOL album, though only Funny Ways from this show appeared on that album.
Sep. 27          Ulm, Germany                             Donauhalle                               The band originally planned to play here with Banco but it was canceled at the very last minute.  Electrical issues in the venue were given as the reason, but a notice in the Sudwest Presse questioned whether sluggish ticket sales were a contributing factor.
Sep. 28          Offenbach, Germany                    Stadthalle                                 Banco opened the show and was well received, playing one or two encores.  During the show, Kerry greeted the fans by saying "hello Frankfurt", followed by howls of disapproval from the audience.  Offenbach is very near to Frankfurt but is not actually part of that larger city.  There is some evidence that the band may have also planned to record this gig, but it didn't happen.  Coincidentally, though, just as Derek was introducing the medley of The Runaway/Experience, someone in the crowd yelled out a loud "yeah!" sounding very similar to what appears at the same spot on the PLAYING THE FOOL album.
<![if !vml]>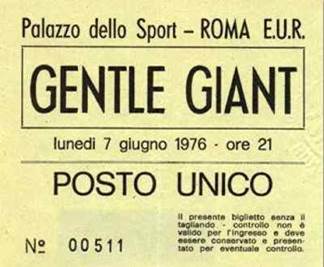 <![endif]>
Offenbach flyer    Sep. 28, 1976
Sep. 30          Zurich, Switzerland                      Volkshaus                                This is another gig that some evidence indicates the band may have originally intended to record, though it didn't happen.  However, a tape made by an audience member does exist.  It may have been unusually hot on stage that night, as Derek remarked that it felt "like a sauna bath" and joked that the band may have to start removing their clothes, which he said might "scare the girls".
Oct. 1            Neuchatel, Switzerland                 Temple du Bas                         A tape of this show also exists.  Banco opened the show, which was reportedly only the second major rock concert to be held in Neuchatel.  Temple du Bas was a beautiful old church that had just recently been renovated.  As a rider in their contract, the band had listed certain electrical requirements.  The promoter told them during soundcheck that he was unable to honor their request.  That evening, when he walked into the dressing room, the promoter saw the roadies dressed in the band members' stage clothes.  The roadies told him that, because of unsafe wiring, the group would not play and the roadies would take their places.  The promoter broke into tears, at which time the roadies admitted it was all a bit of English humor.  In actuality, the members of Giant were quite touched by the lavishly catered affair the promotor and his friends had provided them in their dressing room.  Derek was even moved enough to thank them publicly from the stage during the concert.  Apparently, the band played loudly enough this night to be easily heard outside in the street, where some fans stayed and enjoyed the music.
<![if !vml]>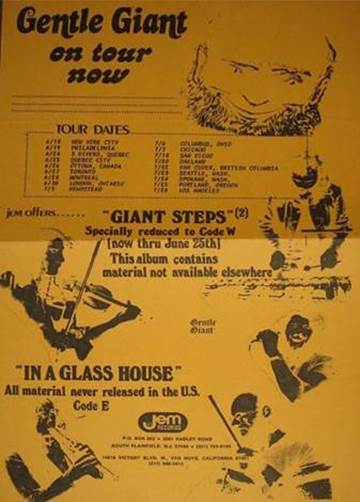 <![endif]>
Neuchatel - setting up the stage    Oct. 1, 1976
Oct. 3            Vaduz, Liechtenstein                                                                    the only known time the group ever played in this tiny European nation.  The date may have actually been Oct. 2.
Oct. 5            Paris, France                               Pavillon de Paris                       Banco opened the show.  This was another of the four concerts recorded for use on the PLAYING THE FOOL album.  Excerpts from Octopus, The Runaway/Experience, So Sincere and Peel the Paint/I Lost My Head on that album came from this concert.  John recalls a nerve-wracking moment that played out in Paris while he and Gary were doing some after dinner sightseeing along the banks of the Seine.  They noticed a student riot taking place on the river's opposite shore when suddenly, a portion of the rioters split from the group and ran across the bridge towards them.  As the students ran by, baton wielding police in close pursuit, John and Gary held their ground but yelled out, "Anglais!  Anglais!"  The police apparently understood and left them alone, continuing to chase after the rioters.  Relieved, John and Gary quickly returned to their hotel.  This could have taken place at the band's Nov. 29, 1975 Paris gig, but this one seems more likely, as they had a day off for sightseeing before moving on to Brussels.
<![if !vml]>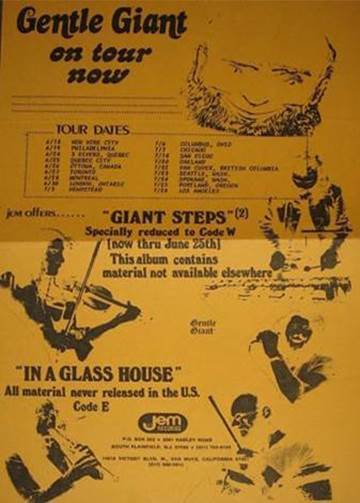 <![endif]>
Paris ticket    Oct. 5, 1976
Oct. 7            Brussels, Belgium                        Cirque Royal                            the last of the four concerts recorded by the band for use on the PLAYING THE FOOL album.  A total keyboard breakdown after just two songs led to a delay in the show, during which Ray and Gary played a few impromptu numbers.  One of them was a spontaneous improvisational version of the song Sweet Georgia Brown, a number the two of them had played on and off for years during soundchecks.  It appeared on the live album, retitled Breakdown in Brussels.  The keyboards were eventually brought back to half strength so the band could at least finish the show.  The song Free Hand from this concert also appeared on the live album.
Dec. ?           There is a rumor that Giant appeared on Brazilian TV at some point in the last month of 1976.  The song Free Hand was supposedly broadcast, but no information as to when or where it was filmed is known.  However, the Italian band PFM also allegedly appeared on the broadcast.  Gary recalls sharing a bill or two with this particular band, so this may be one of the occasions he remembers.
            1977
Jan. ?           Rehearsals for the next tour began in a public room in a pub in Portsmouth, England.
Jan. ?           Later in the month, they moved to a soundstage at Pinewood Studios in London, England for a week.  While there, they settled on a setlist for their next tour and even recorded a "run-through" of that set.  During the run-through, Derek simply hums on Memories of Old Days instead of singing it.  The song was new at the time and he may not have had a copy of the lyrics with him.  The entire "run-through" rehearsal now appears on the SCRAPING THE BARREL box set.  More recently, the entire rehearsal was also included in the MEMORIES OF OLD DAYS compilation where it, oddly, appears in an incorrect, shuffled running order.
Jan. 16          The July 7, 1976 Chicago gig that was recorded by WXRT Radio was broadcast by that station in edited form on this evening.  The broadcast was part of the station's regular Sunday night "Unconcert Series".  The series was sponsored by 7-Up, the soft drink then being promoted as the "uncola".  Normally, concerts were broadcast one or two months after being recorded, but this Giant broadcast took six months to air, for unknown reasons.
<![if !vml]>

<![endif]>
Chicago - "Unconcert" radio broadcast listing    Jan. 16, 1977
Jan. ?           There is information pointing to two different January dates for when the band released their live album PLAYING THE FOOL in America.  Some evidence indicates it was released on Jan. 18 while a press release advertising their upcoming North American tour said to expect the album on Jan. 24.  More clarification is needed.  The tracks on this live album were recorded in Dusseldorf, Munich, Paris and Brussels in September and October of 1976.  To come up with the title of the album, they modified the name of a 1975 bootleg of their material called PLAYING THE FOOLE.
Jan. ?           PLAYING THE FOOL saw release in England , probably at the end of January.  UK trade papers had listed original release dates of Jan. 14 and Jan. 22, but the date of Jan. 28 seems like a very real possibility.
???               At some point in early 1977, Capitol Records released a promotional record called GIANT EDITS.  Released in America, but not in England, it contained shortened versions of a number of the songs on PLAYING THE FOOL.  These all fit on one record, while the full live album was a double record.
Feb. ?           For its part, the Canadian branch of Capitol Records also released a promotional record, in that country only, entitled INSIDE GENTLE GIANT.  Released to radio stations in February, it was recorded at Thunder Sound Studios in Toronto and was used to promote both the PLAYING THE FOOL album and the early 1977 Canadian tour dates.  Exactly when it was recorded is not known, but immediately before the start of the February tour would be a reasonable bet.  The hour long record included interviews with Derek and Ray, as well as studio and live tracks.
            Continuing their long held tradition of heavy touring, the group hit the road again in North America during February and March in support of their new live album.  At last, the group was able to headline most of their concerts in North America.  However, they did share some dates with Renaissance, the two bands switching off the closing spot on the bill.  Promoter John Scher, in a Rolling Stone interview, confirmed that the two groups played twelve dates together but, instead of characterizing this as two bands alternating as headliners, he oddly described Giant as "opening for eight and co-headlining for four".  Available evidence does not exactly coincide with these numbers.  Plans may have changed as the tour went along, or Scher may have simply been mistaken.   He explained that he wanted Renaissance to headline in places where they were already strong and co-headline in places where they were less well known.  It is clear that there was tension and frustration between these two bands.  Scher, in his interview, was somewhat disparaging toward Giant, claiming they were too demanding in that they expected the same treatment from the promoter and the venue when they opened as when they co-headlined.  Annie Haslam of Renaissance, while acknowledging that this tension grew as the tour went along, also stated that for the most part, the two bands got along fine.  This PLAYING THE FOOL tour was unique in that the band broke tradition and premiered four songs that they intended for their next studio album, but which had not yet been recorded.  There were also a number of other changes to their stage show.  Besides dropping all material from the INTERVIEW album, Ray's violin solo was missing, as well.  Kerry said in an interview in a Canadian publication at the time that the band had intended to play The Face during this tour, with the violin solo included as part of that song.  Unfortunately, he said that equipment problems of some sort made that impossible.  Actually, the song was rehearsed at Pinewood Studios in January and appears on the "run-through" recording made there.  It also may have been played on the first couple nights of the tour but, if so, it was definitely dropped by the time the group reached Quebec City.
TYPICAL SETLIST  (Feb. - Apr. 1977)
The Runaway/Experience - Beginning the concert, a prerecorded classical piece was played, specifically the final movement of Bach's Brandenburg Concerto #4.  Gary says that whenever he heard this piece begin, he knew he had exactly six minutes to get on stage, although it was actually closer to four and a half.  After this piece, the group used the novel idea of playing a tape of themselves pretending to be tuning their instruments and testing their equipment, followed by a riff, ever increasing in speed, first on guitar and drums, then fading in the keyboards, then bass, then voice.  As each instrument or voice was added to the tape, the band member's face would appear on a rear projection screen.  Finally, John would count in the opening number.          
On Reflection
As Old as You're Young - not yet recorded
Just the Same/Playing the Game - On Playing the Game, Derek played the "shulberry".  This was a simple 3-string instrument invented by the band's keyboard roadie, Phil Freeman.               
Memories of Old Days - not yet recorded.  Kerry played a brief keyboard version of the song Giant as a lead-in.  During the song itself, all five members played one type or another of guitar.                
Winning - not yet recorded.  The arrangement of this song was vastly different from what would eventually be recorded for the group's next studio album.  When performed live, this song featured an electronic drum machine, the only time the band ever toyed with such a device. 
For Nobody - not yet recorded.  Ray often got to introduce this song on stage, though not always.
Funny Ways - John got to showcase his comedic skills as his humorous introduction to this song became a nightly ritual.
So Sincere - For this tour, the beginning of this song was played on vibraphone.
Free Hand
Excerpts from Octopus - This song was the new encore but was not played every night.  It featured a new keyboard bridge section and during the recorder quartet, they did not play their customary version of Yankee Doodle.
<![if !vml]>

<![endif]>
Poster for US tour    early 1977
            On this tour, Giant attempted the use of abundant special effects, perhaps more ambitious in scope than they had tried before.  In addition to standard effects, such as smoke and strobe lights, they also made an early attempt at using projected hologram images.  These were of spinning white balls and were known to appear during On Reflection and Memories of Old Days.   They also continued to use synchronized slides and films, such as one set of slides of hands playing conga drums.  These hands would appear to move faster and faster and were used during the song Winning.  Also, because of the complexity of this particular song, the band played along on stage to an electronic drum machine which provided additional percussion parts.  It's possible they may have used other pre-recorded backing tracks on stage, as well, during some parts of the show, though this is unconfirmed.  During the concerts, white accordion shaped screens were used to hide the amplifiers.
Also, a neon "giant's head", which hung on the back wall, was planned as part of the stage set for this tour.  The intent was to turn it on towards the end of the show, but it was damaged after just the first or second show and was sent out for repairs.  It did not return to service until the Chicago gig on Mar. 4.  A roadie for the band has claimed that on the very next night, after the Akron gig, the road crew inadvertently damaged the head again, to at least some degree, in a parking lot mishap.  This roadie says that they were unwilling to own up to what had happened, so they continued to hang it night after night for the rest of the tour.  If this is true, the damage must have been minimal because he claims that the band never said anything until the soundcheck in Los Angeles on Mar. 31.  At that time, Derek supposedly requested the head not be hung on the tour's final show in Phoenix the next night.  It should be stated that the band members dispute this roadie's interesting recollection of events, although Gary does recall a period of time when only the head's eyes seemed to be functioning.
Feb. 17          Buffalo, New York                        New Century Theatre                As the band arrived in Buffalo, the city was still digging out from one of the worst snowstorms of the century.  Nonetheless, after rehearsing at the venue on Feb. 16, the tour officially began on Feb. 17.  The opening acts were local Buffalo band Rodan, followed by Mr. Big.  Mr. Big was not well received.  Upon being booed after one of their songs, one of the members of the band responded by yelling out an obscenity directed towards Gentle Giant before going into the next song.
<![if !vml]>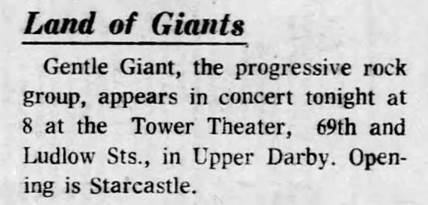 <![endif]>
Buffalo press notice    Feb. 17, 1976
Feb. 18          Cincinnati, Ohio                           Riverfront Coliseum                  Steve Hillage opened this show followed by GG and, in the headlining slot, the Electric Light Orchestra.   Billboard reported just over 8000 in ticket sales for the evening, while the Cincinnati Enquirer placed the size of the crowd at 12,000.  Multiple reports described the crowd as being quite hostile to the openers, especially Giant.  The first problem was that there was a delay of over an hour after Hillage finished before Giant even took the stage.  In addition to having poor sound on this night, they had to endure quite a bit of booing, starting right after their opening number.  Finally, they had had enough and left the stage, cutting their set short.  One of the reports had this occurring after the song On Reflection, when the band looked at each other, stopped the music and bowed simultaneously to the audience.  Derek then said, "thank you very much", and they simply left the stage,  However, this seems too early in the set and a couple other reports had the band stopping in the middle of So Sincere, after which they freely expressed their frustration with the crowd.  Derek, in particular, was far less "polite" in his choice of parting words.  Additional reports single out problems with a teenager seated near the front repeatedly yelling out "let's boogie", and baseball fans in the crowd who objected to John wearing his traditional Oakland A's baseball jersey instead of that of the local Cincinnati Reds.  Regardless, the University of Cincinnati's News Record gave GG an overall positive review, even while mistakenly identifying one of their songs as In Case You Didn't Know Upon Reflection.  This was a festival seating gig.  About two and a half years later, the city of Cincinnati banned all festival seating at concerts after eleven people were killed at a Who concert at this same venue. 
<![if !vml]>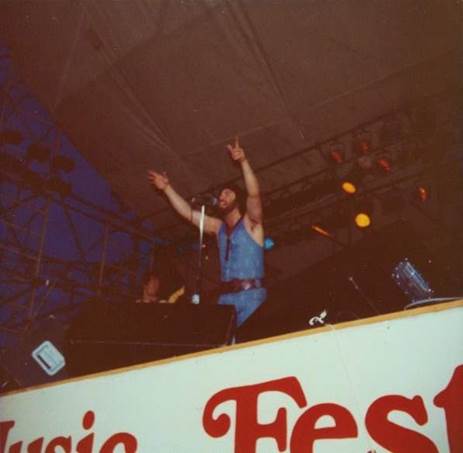 <![endif]>
Cincinnati ad    Feb. 18, 1977
Feb. 20          Quebec City, Quebec                   Centre Municipal des Congress The Quebec area band Et Cetera was the opening act and they were not well received.  A tape exists of this gig.
Feb. 22          Toronto, Ontario                          Maple Leaf Gardens                  A tape exists of this show, for which Montreal trio Symphonic Slam was the opening act.  Half of this hockey arena was closed off to give the venue more of a concert hall atmosphere, although the acoustics were still a bit iffy.
<![if !vml]>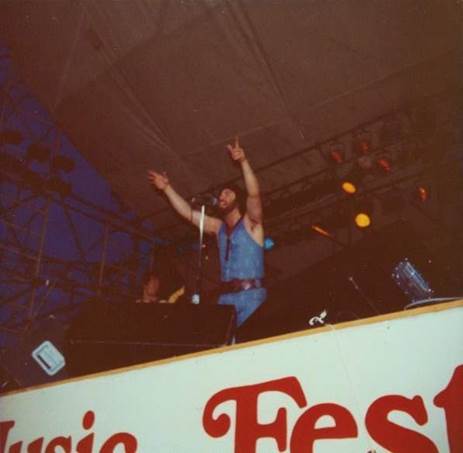 <![endif]>
<![if !vml]>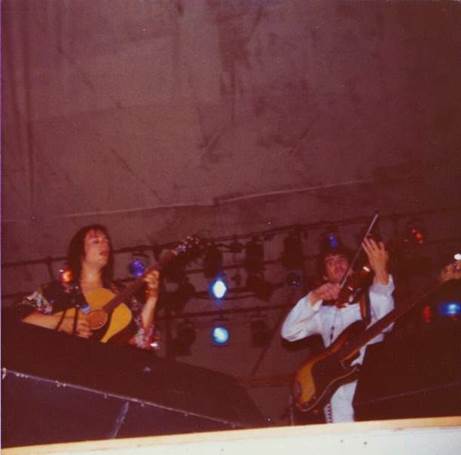 <![endif]>                <![if !vml]>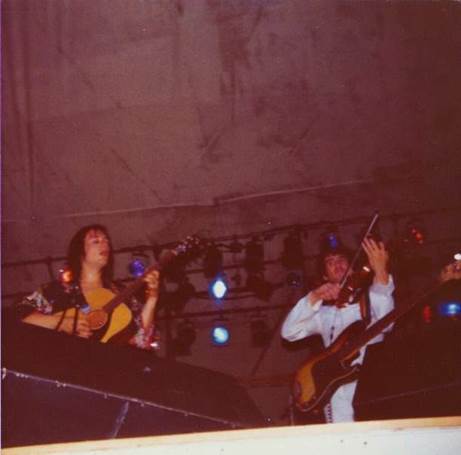 <![endif]>
Toronto    Feb. 22, 1976
Feb. 23          Montreal, Quebec                        Montreal Forum                        A tape of this concert is rumored to exist.  There was some concern whether Giant would be able to play this show, as bad weather in Toronto almost canceled their flight after the previous night's show.  Fortunately, they did arrive, but the show didn't begin until 9:30 PM, causing the crowd to get a bit restless.  Et Cetera again opened and were better received than they were in Quebec City.  About 6000 people were in The Forum to see the show.  While in town, possibly the next morning, John found time to stop in at the city's CHOM radio station for a quick interview. 
Feb. 24          Albany, New York                        Palace Theater                         At this show, Giant opened for Renaissance to a reportedly positive reception.  The venue is estimated to hold 2500-3000 people and was either full or close to it.
Feb. 25          Boston, Massachusetts             Orpheum Theater                        This was a sellout show.  Even though advance promotion of this show had Giant as the headliners, they actually ended up opening for Renaissance.  A tape of the show exists on which Derek, in his opening comments, seems to express frustration with GG having to shorten their planned set to about an hour in length.  Nonetheless, a Boston weekly newspaper, The Real Paper, gave Giant's set a tremendous review, the author even calling them "Britain's best band".  Conversely, though, a local college newspaper gave a bad review to both openers GG and headliners Renaissance.  This review did, however, corroborate the recollection of one fan in attendance who stated that Giant was far better received by the crowd than were the headliners.  After GG's set, the very vocal crowd yelled repeatedly for more, but the cheering was followed by a period of extended booing when Giant did not reappear.  A long set change delay followed, after which some members of the audience were quite rude to Renaissance.
<![if !vml]>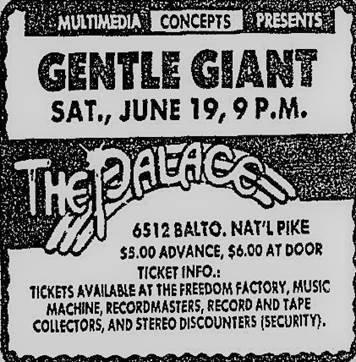 <![endif]>        <![if !vml]>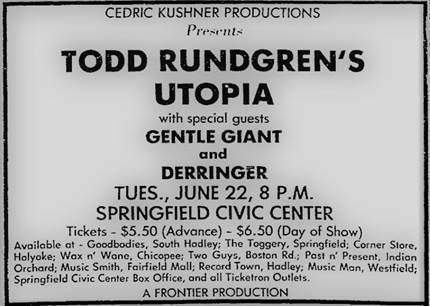 <![endif]>
Boston ad and ticket    Feb. 25, 1977
Feb. 26          Upper Darby, Pennsylvania          Tower Theater                          A tape of this gig exists.  The opening act was Ace and a bit over 3000 tickets were sold, making this a sellout performance.  Renaissance is known to have played at the Palace Theatre in Waterbury, Connecticut on this night and some evidence indicates GG may have originally intended to open for them there.  However, it didn't happen.
Feb. 27          New York, New York                    Avery Fisher Music Hall            A tape also exists of this near sellout gig, held shortly after the hall was renovated to improve its acoustics.  The show was an hour late starting, due to problems getting the stage set up just right.  During much of this hour, the audience was stuck in the lobby, which led to a certain amount of frustration.  When the show finally began, Derek introduced the group as "a smelly old rock band", but this attempt at light-hearted self-deprecation did not appease everyone.  Segments of the crowd were quite annoyed during the opening song, as the volume was apparently set too low for some audience members' taste.    Interestingly, one written review made it a point to comment on John's "off-color" remarks during his brief comedy routine.  Billboard gave a lukewarm review of the gig, at best.  The opening act for this concert, if there was one, is not yet known.  The pre-show music in the hall was from a Frank Zappa album.  Coincidentally, Zappa played in New York around the same time and the pre-show music at his concert was from a Gentle Giant album, Giant being a band he greatly admired.
Feb. 28          Hempstead, New York                 Calderone Concert Hall             During Giant's set, the ever-cheerful John Weathers wore some sort of wig over his balding head before removing it partway through the concert.   A tape exists of this gig, as well.  Ace was the opening act and, according to one report, was booed off the stage after two or three songs.  However, this has been disputed by another fan in attendance.  There was also a rumor at one time that a third band was on the bill, but this does not seem to be the case.
<![if !vml]>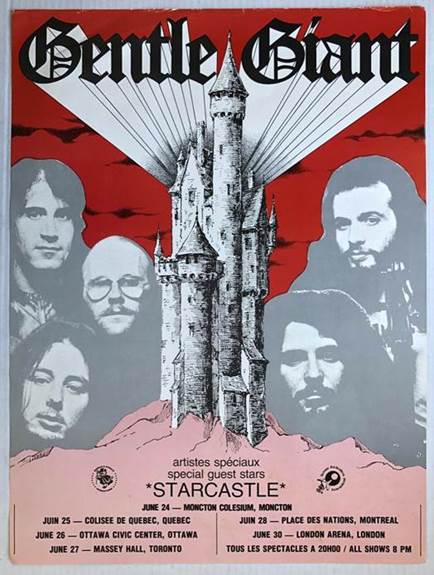 <![endif]>
Hempstead marquee    Feb. 28, 1977
It appears that live segments from this tour were filmed by Belgian TV and shown in that country at some point.  A photo from this broadcast appears in the SCRAPING THE BARREL box set.  In the photo, Derek is holding his shulberry, implying the group at least performed the song Playing the Game, but no other details about this broadcast are yet known.  It is also possible that Giant may have been filmed on this tour for Canadian television, as well.  No other details are known about that broadcast, either.
Mar. 1           Ellicott City, Maryland                  Hollywood Palace                     A band called Zed was the opening act.  It's been estimated that about 300 people were crammed into the club, well over normal capacity.  This date was added to the original tour itinerary.
<![if !vml]>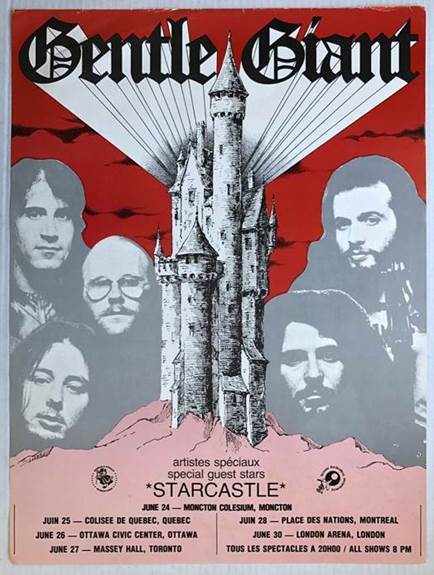 <![endif]>        <![if !vml]>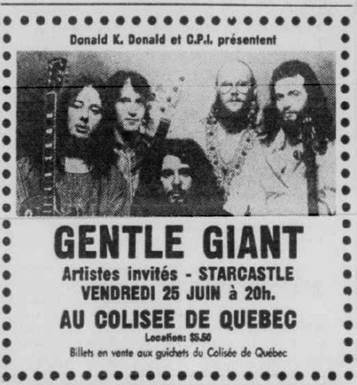 <![endif]>
<![if !vml]>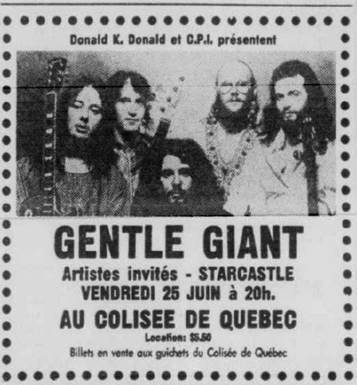 <![endif]>
Ellicott City    Mar. 1, 1977
Mar. 2           Pittsburgh, Pennsylvania              Soldiers and Sailors Hall           This gig was canceled due to booking problems.  It does not appear in the band's pre-tour press release or their own handwritten notes from the tour, but it was advertised at the time by both the Giant and Renaissance camps.  The plan was to play at Soldiers and Sailors Hall but problems arose.  As little as one week before showtime, a local newspaper still advertised the show as "site to be announced".
Mar. 3           It seems a 30-minute news special on Gentle Giant was broadcast over WXFM Radio in Chicago, Illinois on this date.  What this broadcast was comprised of is unknown.
Mar. 4           Chicago, Illinois                           Riviera Theatre                         At this show, Renaissance opened for Giant.  The neon "giant's head" was triumphantly returned to service for this show.
<![if !vml]>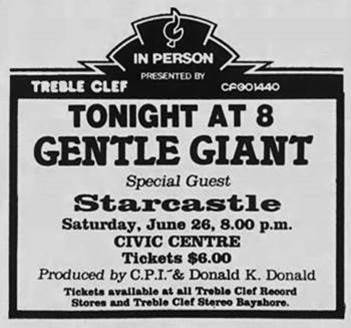 <![endif]>
Chicago ad    Mar. 4, 1977
Mar. 5           Akron, Ohio                                 Civic Theatre                            GG opened for Renaissance.  Mr. Big, who played first, was not well-received.  The fact that the show was almost an hour and a half late could have contributed to the audience's frustration.  Mr. Big also had guitar trouble and is said to have borrowed Gary Green's Les Paul for the show.  The Civic Theater, which was an ornate theater used for film and live stage productions, had a stage designed to simulate the look of a castle, with the lowered drawbridge being the stage itself.  The outline of the castle was backlit on the back wall of the stage.  Additionally, tiny lights in the theater's ceiling gave the impression of an evening's starlit sky, across which the illusion of clouds could also be seen moving.  One interesting report has surfaced from this concert.  Supposedly, at one point during the show, someone was noticed in one of the small side balconies wearing a Giant mask and lit by a spotlight.  It turned out to be John Weathers.  Another unusual report has also surfaced.  A fan in attendance recalls Excerpts from Octopus beginning with its customary coin toss, but not with the use of a prerecorded tape.  He claims that, at this concert, a wooden table the size of a card table was placed center stage.  A microphone stood next to it on a pole with its arm positioned close above the table.  A band member then actually spun a large coin on the table to begin the song.  This is definitely not the way things were normally done, making this report suspicious.  Additionally, another fan in attendance has come forward to refute this claim.  It was after this show that one of the roadies makes the disputed claim that the neon head was damaged again, although he says it continued to be hung at almost all of the gigs that followed.  An early press release listed the venue as the Akron Music Hall.
<![if !vml]>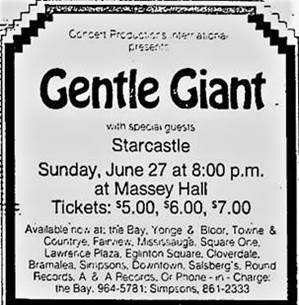 <![endif]>
Akron ad    Mar. 5, 1977
Mar. 6           Detroit, Michigan                         Ford Auditorium                        GG opened for Renaissance, with one report that Ace also performed, taking the stage first.  There is an existing tape of GG's performance.
Mar. 8           Indianapolis, Indiana                    Indiana Theater                         This show, at which Mr. Big went first before Giant and headliners Renaissance, was not sold out by any means, possibly because it may originally have been scheduled for Mar. 7.  The band was extremely well-received, even though Gary played the entire show while not feeling well.  In fact, after Playing the Game, Derek tried to introduce the next song but had to stop, due to the continued applause.  The band appeared genuinely moved by the audience's reaction and did come out for an encore.  Then, after Renaissance started their own set, the members of Giant actually went into the back of the audience and sat together to watch.
Mar. 11          Atlanta, Georgia                           Fox Theater                              Here, Giant played first on the bill before Sea Level and headliners Renaissance, therefore playing what's been reported as a shorter set than usual.  It's been rumored that the Mike Green Band played at the show, as well, though this does not appear to be true.  Published ads show that GG was scheduled originally to appear in Atlanta on both Mar. 10 and 11 but only this Mar. 11 show took place.  Georgia Tech's student newspaper, The Technique, gave a glowing review to Renaissance and a decnt review to Sea Level.  However, they did not like Giant at all, describing their stage presence as "somewhere between Carol Burnett and Idi Amin."
<![if !vml]>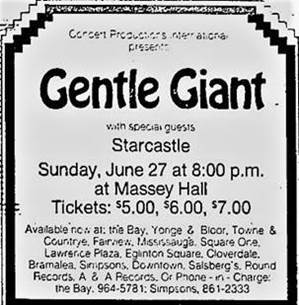 <![endif]>
Atlanta    Mar. 11, 1977
Mar. 12          Tampa, Florida                            University of South Florida        held in the University's basketball gym.  GG opened for Renaissance, although, at one time, it was believed to be the other way around.  As openers, Giant was well received, a standing ovation bringing them back out for an encore.  Derek did seem a bit perplexed as one young lady in the audience kept yelling for him to remove his pants.  He politely declined, to the audience's roar of approval, but the girl persisted, requesting the same of John during his monologue.  An off color response from John ended the interruptions.  Poor ticket sales for previously sponsored concerts had, by this time, put the University under financial strain.  They canceled other upcoming performances but, fortunately, this one went ahead as planned.  In fact, the attendance was good on this evening, totaling around 2200, although quite a few people had left by the time Renaissance reached the end of their set.
Mar. 13          Miami, Florida                              Gusman Cultural Center            Giant opened for Renaissance.  In a Miami News interview, Ray boldly vented his frustration, claiming Renaissance were "afraid" of Gentle Giant.  He claimed the headliners refused to let GG play an encore at Gusman, even though the audience was screaming for one.  He was also upset that, whenever Giant played support, they were not allowed to use their projectors, movie screens and props, having instead to water down their show.  He claimed Giant were "incredibly mad at the way we're being treated".  After this concert, the band enjoyed a few days off during which they apparently soaked up too much Florida sun.
Mar. 18          Austin, Texas                              Armadillo World Headquarters               During Giant's set, a band member announced from the stage that they always enjoyed playing this particular Austin venue, but it's been reported that the crowd this night was not as receptive as they had been at GG's previous Austin gig on July 13, 1976.  At one point, John Weathers had to chastise the audience and one spectator remembers the band struggling to "keep their cool" in front of a rather rowdy audience.  On the other hand, another fan at the show characterizes the evening differently, believing that Giant did win over the crowd by the end.  The Wommack Brothers, a local Austin jazz-rock group, opened this packed show and suitably impressed Giant. GG's management requested tapes and materials from the Wommacks with the intention of helping to publicize them, particularly in England, where they felt there was a need for their kind of music.
<![if !vml]>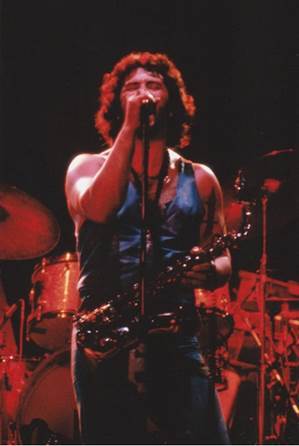 <![endif]>
Austin flyer    Mar. 18, 1977
Mar. 19          Dallas, Texas                              Electric Ballroom                      This was a late show and, although not confirmed, it may have been another in a series of free concerts sponsored by Dallas radio station KZEW, similar to what may have happened at the July 11 gig at the same club.  Prism, a Texas band not to be confused with the Canadian band of the same name, was the opening act at this packed concert.  Interestingly, progressive supergroup Genesis also played a Dallas venue on this same night and their own attendance was disappointing.  Prism has officially released their set from this night on CD and members of Prism have described having Giant watch their set from the wings as one of the highlights of their career.  Their drummer had a cymbal which he made from a metal disc originally used to scoop golf balls from the bottom of ponds.  John Weathers heard this cymbal and liked it very much, so Prism's drummer gave it to him after the show.  It can later be heard on the song Winning on GG's 1977 MISSING PIECE album.  The venue was basically a big barn with a stage at one end and a 100 foot bar running the length of the room.  The SMU Daily Campus, in its review, said GG's sound was horrible and also stated the band was quite cramped on the small stage.  This same review was also riddled with factual errors, such as describing how John Weathers strummed an acoustic guitar during the song Funny Voice from the ACQUIRING THE TASTE album, none of which was accurate.  Ray remembers a gig at a club in Texas where a spectator in the back attempted to steal a rear speaker during his violin solo until apprehended by the tour manager.  It may very well have been this show, as one fan does recall a scuffle taking place in the rear of the club.  A tape exists of a brief portion of GG's soundcheck before this concert, showing them running through For Nobody a couple of times.  These two takes were included on the LIVE IN SANTA MONICA 1975 release on the Glass House label.  Members of Prism, later renamed Hands, have stated that they opened for GG on more than one occasion.  Details as to where and when these other shared bills may have been are not known.
Mar. 20          Tulsa, Oklahoma                         The Wharf                                Point Blank opened the show.  This was a small club and one estimate puts only about 150 people in the audience, despite the fact that the band took the time to do an interview with KMOD Radio while in town.
Mar. 22          Kansas City, Missouri                  Uptown Theater                        Although not part of the band's original tour schedule, one of the roadies for this tour thinks this gig may possibly have been planned at one point and subsequently canceled.
Mar. 25          Portland, Oregon                         Paramount Theater                   Printed evidence shows that this gig, for which Starcastle was slated to open, was more than likely canceled.  However a conflicting report has Starcastle's soundcheck taking longer than usual, pushing the starting time for the show back a bit.  Since the audience was then restless, they were not kind to the opening act. 
Mar. 26          Seattle, Washington                     Paramount Northwest Theater               Starcastle did open for Giant at this festival seating concert, although the Seattle Daily Times claimed the two bands "co-headlined".  That same newspaper gave both groups a poor review, while noting that the theater was less than half full.
Mar. 28          San Jose, California                     San Jose Center for the Performing Arts            A country-rock band named Stallion went first.  This opening band actually had a tumbleweed blow across the stage at one point in their set.  Hometown heroes Pablo Cruise were supposed to headline but, for some reason, they and Giant switched places and Giant went last.  It's been conjectured that this may have been due to the much larger array of instruments GG used on stage, thereby necessitating a more complicated setup.  Because many in attendance came to see local favorites Pablo Cruise, expecting them to headline, the crowd thinned out dramatically before GG's closing set even began, leaving only a couple hundred fans.  Where one may expect an eager crowd to clap their hands in anticipation of the start of a show, many of these diehard Giant fans began snapping their fingers in a rhythm reminiscent of the opening of Just the Same while waiting for their band to take the stage.  This particular gig was not on Giant's original tour schedule, having apparently been added at some later point.                                 
Mar. 30          San Diego, California                   Golden Hall                               Renaissance opened for Giant before 1,300 fans in a hall built for 4,000.  During the show, Derek commented on the poor reception the band received at its previous San Diego appearance on July 18, 1976.  An existing tape of this gig shows that as an encore, they played The Advent of Panurge by itself, instead of playing the entire Excerpts from Octopus, as was usually done on this tour.  John also shortened his humorous introduction to Funny Ways.  Both of these events could be attributed to time constraints.  The crowd wasn't even admitted into the building until 15 minutes after the scheduled start time, the show actually getting under way 50 minutes late.  Intermission between the two acts stretched to a full hour.  Additionally, a buzzing, hissing speaker caused problems throughout the entire concert, growing louder as the evening wore on.
 <![if !vml]>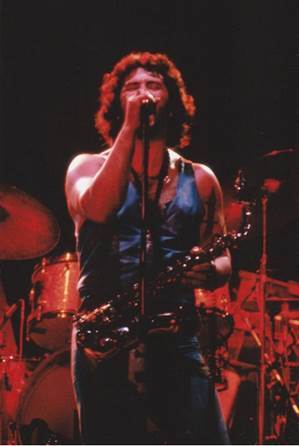 <![endif]>            <![if !vml]>
<![endif]>
San Diego    Mar. 30, 1977
Mar. 31          Los Angeles, California                Shrine Auditorium                     A tape that exists of this concert shows that they played In the Midnight Hour as a surprise second encore.  This occurred, even though the house lights had already come on, after the crowd of around 5000 fans would not stop cheering.  Although it may have happened on other occasions, this is only the second time this song has been verified to have been played, the first being in Hempstead, New York on July 3, 1976.  Gary has fond memories of this show at which Giant headlined.  The show was opened by the Scottish singer-songwriter duo Gallagher and Lyle with Renaissance playing second.  Renaissance suffered from sound and equipment problems but, for the most part, the Giant fans were patient and polite during their set.  In fact, the Los Angeles Times gave Renaissance a better review than they did Giant.  Additionally, Variety gave GG only a lukewarm write up.  One fan in attendance recalls Kerry's vibraphone solo in Funny Ways being particularly well received by the audience on this night.  It was during this evening's soundcheck that a roadie claims the band finally confronted the road crew concerning some damage to the neon head supposedly sustained back in Akron on Mar. 5.  As stated above, this entire chain of events concerning the head has not been corroborated.  The band themselves feel the roadie's recollections are not totally accurate.
Apr. 1            Phoenix, Arizona                          Celebrity Theater                      opened for Renaissance who, reportedly, were much better received.  When Giant started their set, the audience was rather cool, giving them only subdued, polite applause, unlike the enthusiastic applause they gave Renaissance.  One young fan in the audience proudly wore his own homemade Gentle Giant teeshirt to the show, with white iron-on letters on a black shirt.  Derek noticed this well dressed, enthusiastic young man near the front of the crowd and invited him backstage afterwards, where the band treated him quite graciously.  The Celebrity had a rotating, in-the-round stage.  During John's Funny Ways intro, he started walking in circles around the microphone, mimicking the rotation of the stage.  Some silent 8mm film footage of Giant's set is rumored to exist.  A roadie at the time claims the band was not originally planning on playing in Phoenix on this tour, which would imply this date was added at some point after initial plans were made.  If one is to believe the recollections of this same roadie, the neon "giant's head" was not used at this show, supposedly at Derek's request.  Perhaps this was due to potential problems that would have resulted from rigging the head over the revolving stage.
In America, the NBC television network may have filmed a 1977 Giant performance for broadcast at some point during the year, possibly for the Don Kirschner's Rock Concert program.  Details are unknown.  One theory is that the 1976 lip-synched promo film of the song Interview was actually aired on the show, where it was accidentally mislabeled to be the song I'm Turning Around.  A still from this mislabeled film can be seen in the SCRAPING THE BARREL box set.  A similar rumor of NBC filming Giant dates back to October 1976, when Derek referred to possibly being filmed for the Don Kirschner show at that time.  1976 and 1977 performances on this show have never been confirmed, although promotional films of the band did appear on the program in May of 1979.
Go on to   Part Seven
Return home to   Gentle Giant Tour History