Go on to   Part Six
Return home to   Gentle Giant Tour History
Gentle Giant Tour History
*** Part Five ***
*** The Peak of Success ***
(mid - late 1975)
new information will be in RED
???               The American release date for FREE HAND on Capitol is not yet pinned down.  Dates of July 21 and July 28 have been mooted but this is far from confirmed.  In England, it was the first GG album released by Chrysalis and, according to notices in the British press, it was "rush released" in that country in late August.  This calls the US release, a full month earlier, into question.  The first portion of August seems more likely for the American release and it definitely was appearing in US record stores by the first half of August.
Aug. 10         ZDF-TV in Germany broadcast the Belgian film recorded in early January on its Sonntagkonzert program.  It is safe to assume it was also broadcast on RTB, Belgium's French speaking television network, who assisted in the original production of the film.  Additionally, it's known to have broadcast on VARA, the Dutch TV network, on the same day and possibly in other European countries as well.  Rebroadcasts are known to have been aired from time to time in other parts of Europe, possibly including Dutch rebroadcasts in December and perhaps again the following year, as well as French and Belgian broadcasts in 1976.  This concert performance was filmed with high quality 35mm film.  The sound engineer had planned on using an 8 track machine for the audio but, after seeing all the instruments the band planned to use, ended up acquiring a brand new 16 track machine specifically for the occasion.  He was not happy, however, with the final mix done by an inexperienced gentleman in Munich, Germany as he felt the drums, in particular, were not adequately presented.  This entire performance has been officially released, in both audio and video form, on the GIANT ON THE BOX DVD, while the song Proclamation has also been included in the 35th anniversary CD reissue of THE POWER AND THE GLORY.  Coincidentally, this same song from the same performance also appears as an enhanced bonus video track on the 35th anniversary CD reissue of PLAYING THE FOOL.
<![if !vml]>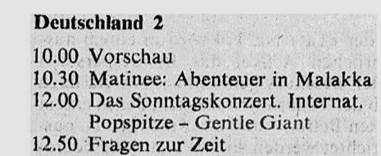 <![endif]>
ZDF-TV "Sonntagkonzert" broadcast notice    Aug. 10, 1975
The band originally had hoped to start their next North American tour in June, but that was pushed back some.  In August, the group put on only a short series of concerts in eastern Canada and the northeastern United States.  However. they did manage to do a number of interviews at this time, so this short swing into North America may have been partly promotional in nature.  As for the few concerts that have been confirmed, the band headlined some of the shows and played as an opening act at others.  A number of changes were also made in their live setlist, including the addition of three songs from the new album and the deletion of Gary Green's guitar solo.  A full scale North American tour didn't finally start until the beginning of October.
TYPICAL SETLIST  (Mid - Late 1975)
Intro/Cogs in Cogs - A new prerecorded original instrumental was now used as the intro.  This new recording can be found on UNDER CONSTRUCTION, mistakenly titled Intro 74.
Proclamation/Funny Ways
The Runaway/Experience - The prerecorded bridge section was no longer used to connect these two songs.
On Reflection
Excerpts from Octopus - This popular medley was rearranged, making it a bit longer.  It now began with a full band arrangement of The Boys in the Band, complete with the "coin toss" recording, before going into the other material.  The acoustic guitar duet was rewritten and included themes from the songs Raconteur, Troubadour and Acquiring the Taste.
So Sincere
Plain Truth - In this time period, most or all of the vocals were omitted.  The song still spun off into Ray's violin solo.
Free Hand
Just the Same - The outro used after this song was a tape loop fashioned from the song's saxophone riff.  It would gradually fade out.
<![if !vml]>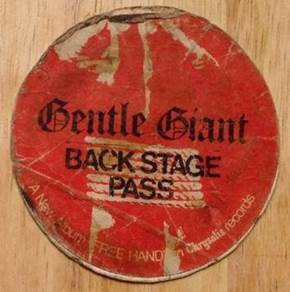 <![endif]>
Backstage pass used on FREE HAND tour    mid to late 1975
Aug. 16         Boston, Massachusetts              Boston Garden                       
                              This was an open seating gig, the last of the so-called "dance concerts" held at this venue.  A tape exists of the show, at which Giant played first, before Peter Frampton and headliners Steppenwolf.  Giant's set had poor attendance with crowd estimates ranging from 250 to 1,000.  A review in Billboard was kinder to Giant than it was to Steppenwolf, although it mentions that both acts had sound problems and it oddly did not mention Frampton at all.  This review also stated that GG's set was rather short and that they were "not allowed an encore".  Before Excerpts from Octopus, a member of Giant's crew made a mistake by playing, instead of the "coin toss" tape, a snippet of the pre-recorded tape loop used as an outro to the song Just the Same.  A very unusual arrangement of Plain Truth was played on this evening.  It consisted only of a brief instrumental portion of the song used as an intro to Free Hand, with the guitar taking over some of the melody line from the violin.  There was a large contingent in the audience from the local chapter of the Hell's Angels, the notorious motorcycle gang that was somewhat associated with Steppenwolf.  One false report had these bikers running security and riding their bikes through the crowd in order to introduce the headliners from the stage.  Although an entertaining notion, this did not actually happen.  It is true, however, that a political group called the Coalition Against Macho-Sexist Music picketed and distributed pamphlets outside the venue, claiming Steppenwolf's songs promoted sexist views against women.
<![if !vml]>
<![endif]>
Boston ad    Aug. 16, 1975
Aug. 17         Toronto, Ontario                         Varsity Stadium                      
                              POSTPONED.  A show was scheduled here on this date, but it was canceled and rescheduled for Sep. 1.  The reasons for this change have not been confirmed, but it may have had something to do with trouble at a Crosby, Stills, Nash and Young concert held earlier in the summer at this same venue.
Aug. 18         Trois-Rivieres, Quebec               Stade de Trois-Rivieres          
                              The stage was set up on two flatbed trucks on second base at the local baseball stadium and the band began quite late.  About 2,500 were in attendance on a fairly cold night, making the place about half full.  Local Quebec-area band Pollen was one of the opening acts.  Triumvirat was also listed on the tickets and posters, but did not play.  Prog/folk singer Raoul Duguay, himself a Quebec-area musician, did play, apparently as a substitute act.
<![if !vml]>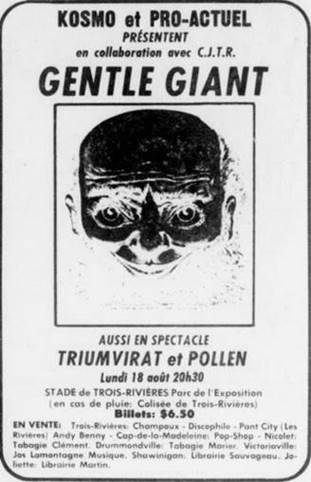 <![endif]>            <![if !vml]>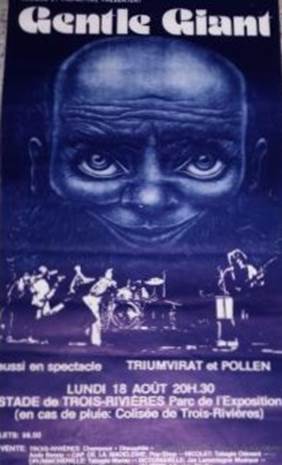 <![endif]>
Trois-Rivieres ad and poster    Aug. 18, 1975
Aug. 21         Quebec City, Quebec                  Colisee                                   
                              Pollen was the opening act at this Quebec City hockey arena and were well received.
<![if !vml]>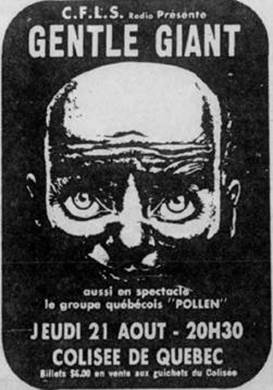 <![endif]>          <![if !vml]>

<![endif]>
Quebec City ad and ticket    Aug. 21, 1975
Aug. 22         Chrysalis definitely rush released FREE HAND in England in late August, probably on Aug. 22.  It went on to become the most commercially successful album Gentle Giant ever made, with songs that were musically challenging, yet accessible.  The album sold very well in most parts of the world and the band began to think their future would be very bright indeed.
Aug. 23         Hempstead, New York                Calderone Concert Hall          
                              This is the band's first performance at this Long Island venue, an old refurbished movie theater, but they returned there several times more in later years.  Ray remembers a very odd bill with Giant actually playing with heavy metal favorites Kiss.  This is almost correct.  Both bands did play there on Aug. 23 but in two completely separate gigs.  Kiss played at 8:00 P.M. while Giant was scheduled to perform at 11:30 P.M.  Ticket sales were quite reasonable for Giant's concert, especially considering there had only been one week's promotion for the show.  Kiss' show ran over and it ended up taking longer than expected to tear down their equipment, so Giant's show started quite late, actually closer to 1:30 A.M.  A tape of GG's performance does exist, however. 
<![if !vml]>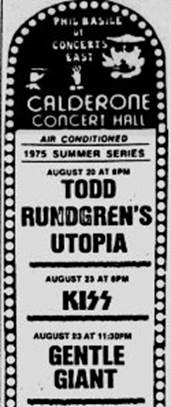 <![endif]>          <![if !vml]>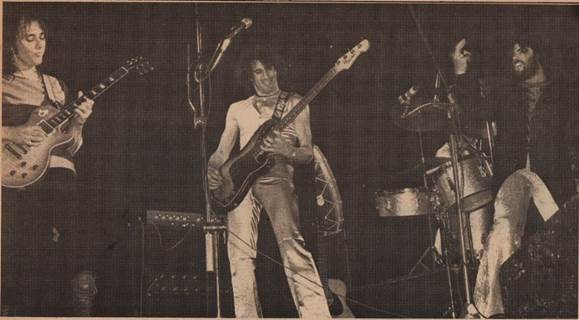 <![endif]>
Hempstead - late show after Kiss concert    Aug. 23, 1975
Aug. 25         Northampton, Pennsylvania       Roxy Theater                          
                              P.F. and the Flyers were the opening act.  In an interview held on Aug. 22, Derek stated that this show was planned for two days later, namely Aug. 24.  That may have been the original plan but, more recently, printed documentation indicates the concert actually took place on Aug. 25.  This old vaudeville theater only seated 550, but it was sold out and the acoustics were reportedly very good.
Aug. ?           Rochester, New York                                                                 
                              UNCONFIRMED.  In a different interview held at the time, Derek indicated there may have been a gig scheduled in Rochester, but it seems he was probably mistaken.  No contemporary Rochester press coverage has come to light to confirm such a concert.
Aug. 30         Montreal, Quebec                        Autostade                               
                              This was an outdoor gig that Giant headlined but it was plagued by bad luck.  It was actually scheduled for Aug. 29 but that was a rainy day, so the concert was moved to the planned rain date of the following night.  Unfortunately, it was also cold and rainy on Aug. 30.  More significantly, most of Quebec Province suffered a power blackout that day, the power not returning until shortly before showtime.  The concert began at least an hour and a half late and there ended up being no time for proper soundchecks though, fortunately, the crowd was well-behaved during this delay.  The opening act, Weather Report, had to endure very poor sound and suffered some equipment difficulties which forced them to end several of their songs abruptly.  Giant's set at least sounded somewhat better.  One unsubstantiated report had the power going completely out again briefly during Giant's set, at which time the band is said to have continued playing some acoustic music while awaiting the return of the electricity.  Another fan at the show disputes this claim and offers the possibility that the first fan was misremembering or misinterpreting one of the naturally quiet portions of the show.  Regardless, it was not one of Montreal's best concert events.  The venue held 45,000 but only 12,000 tickets were reported to have been sold.  Compounding the problem, there was also a transportation strike in progress at the time and the result was that only a portion of the ticket holders showed up at all, with estimates ranging between 5,000 and 8,000.  In an attempt to overcome this transportation problem, volunteers working out of Place Ville-Marie, a nearby office complex, were recruited to pick up and transport fans to the venue.  All who volunteered for this duty were rewarded with a free ticket.  Pollen was also supposed to have been on the bill, but they did not play.  A tape of this show, taped by an audience member, existed at one time, but it is now believed lost.  Additionally, published ads for the concert noted that it was recorded and "soon to be broadcast" by Montreal's CKVL radio.  If so, the fate of this radio recording is not known.
<![if !vml]>
<![endif]>                <![if !vml]>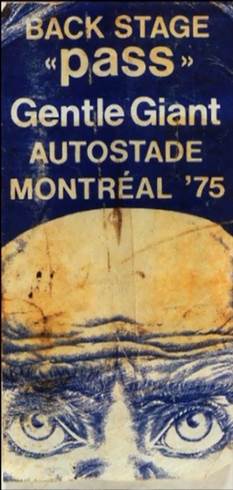 <![endif]>
Montreal ad and backstage pass   Aug. 30, 1975
Sep. 1           Toronto, Ontario                         Maple Leaf Gardens               
                              This was the rescheduled concert from Aug. 17, and was a festival seating gig, with Giant and the J. Geils Band both opening for Jefferson Starship.  There had been some confusion as to which of the two support acts actually played first, as fan recollections, advertisements, and even newspaper reviews conflicted.  However, the preponderance of evidence now makes it fairly certain that Giant took the stage first.  Regardless, one newspaper reviewer wrote that, after the exciting sets played by Giant and J. Geils, many in the audience found Starship's more low-key approach a bit too lethargic.  In contrast, another newspaper account had Giant struggling to gain audience acceptance.  Existing backstage passes and posters from this rescheduled date indicate it was supposed to take place as an outdoor gig at Varsity Stadium, but it was changed right on the day of the concert to nearby Maple Leaf Gardens because of the threat of inclement weather.  Festival seating had recently caused problems at the 40,000 seat Varsity Stadium, so the original plan called for only 25,000 tickets to be made available, a number intended to make the audience more "comfortable".  Total sales ended up well below that, with published attendance figures at Maple Leaf Gardens ranging anywhere between 5,000 and 10,000.  Because of this, the promoters lost a significant amount of money.  There were no chairs on the bare concrete floor of the Gardens, but the smaller crowd did indeed make it more comfortable for those in attendance to spread out and enjoy themselves, and there were reportedly no significant problems.  Radio announcements were used in an attempt to notify fans of the last-minute change in venue, while signs were posted and personnel were assigned to Varsity Stadium to inform all who showed up there of what was happening.  The show itself ended up starting a little late, also due to the venue change.  During the J. Geils set, Gary was seen jumping around and playing wild air guitar backstage.
<![if !vml]>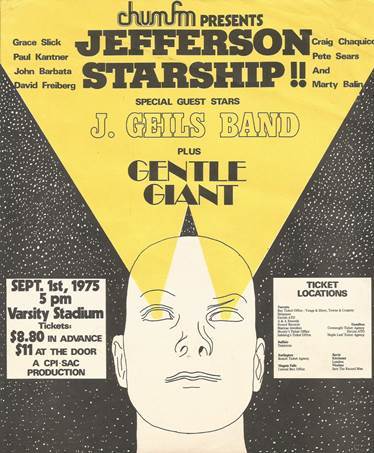 <![endif]>        <![if !vml]>

<![endif]>
Toronto flyer and bumper sticker    Sep. 1, 1975
Sep. 10         San Diego, California                 Golden Hall                            
                              CANCELED.  They were set to share a bill with Procol Harum, with Procol probably headlining, but the show was canceled.  Press reports listed three southern California shows involving these two bands being scrapped, allegedly because of the "English tax situation".  Included were a Sept. 11 Procol show in Santa Monica and the Sept. 12 Los Angeles Gentle Giant show listed below.  The promoter for all three shows claimed neither band would return to the United States until 1976, but both did end up returning within a month.  GG played San Diego on Nov. 2.
<![if !vml]>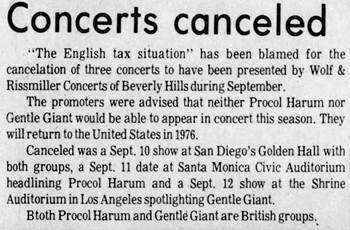 <![endif]>
Canceled California shows    Sep. 1975
Sep. 12         Los Angeles, California              Shrine Auditorium                  
                              CANCELED.  As explained above, Giant was set to headline a show here, but it was postponed, supposedly because of the "English tax situation".  The band subsequently didn't arrive in Los Angeles until November 1.  The scheduled Sept. 12 opening act is not known.
Sep. 16         On this date, in London, the band recorded their eleventh BBC studio session, consisting of Just the Same, Free Hand and On Reflection, all songs from the newly-recorded FREE HAND album.  It was recorded at Maida Vale Studio 4 and broadcast on Oct. 13.  After this, the band took a break from recording sessions for the BBC, as Chrysalis no longer considered the BBC helpful in the band's promotion.  This entire session appears on the OUT OF THE WOODS  and TOTALLY OUT OF THE WOODS albums.
            In the fall of 1975, Giant began another round of full-scale worldwide touring to support their new album.  Their stage set was, by now, even more visually elaborate, utilizing slide presentations synchronized to the music.  The group seemed to be operating at the peak of their commercial and creative abilities.  As a whole, the band was a force with which to be reckoned.  Their live shows were tight, brilliantly arranged and performed, and usually very well received.  However, in North America, they still at times found themselves serving as an opening act, most notably for the Strawbs and Rick Wakeman.
Sep. 21        London, England                           New Victoria Theatre              
                              This was supposedly a very long concert and has also been described as a "comeback gig", since the band had not played England in quite a while.  The sound in the hall, packed with about 2,000 fans, was reported in the press to be less than ideal.  Nevertheless, the group's excitement at being back in their homeland was apparent to the audience, a fact which did not stop Derek from complaining a bit onstage about the band's poor reputation in England up to that point.  Michael Moore played in support of Giant, as he would on many occasions during the band's full English tour coming up in December.  At one point early on, this show was erroneously reported in the music press as being scheduled for Victoria Palace, later corrected to New Victoria Hall.  However, tickets for the show properly listed the venue as New Victoria Theatre.
<![if !vml]>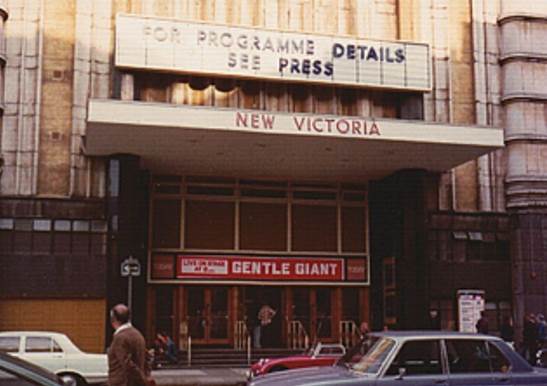 <![endif]>        <![if !vml]>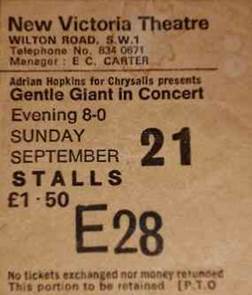 <![endif]>
London - New Victoria Theatre - marquee and ticket    Sep. 21, 1975
Sep. 23         Rotterdam, Holland                    De Doelen                               
                              This was in a venue described as having excellent acoustics.  The concert was late beginning, but the crowd of 1,500 - 2,000 fans was quiet and respectful.  It's been stated that members of the band Kayak were among these attendees.  An advertisement in the Dutch music magazine Oor mentioned the addition of a support act but did not name the act.  Several fans in attendance actually recall there being no opener at all.  One critic in attendance absolutely hated the performance and gave it a scathing negative review in the Dutch press.
<![if !vml]>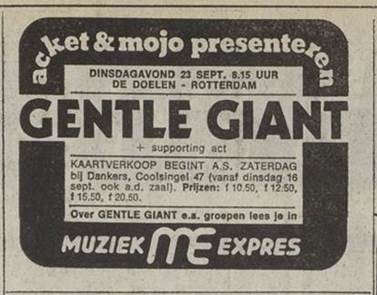 <![endif]>          <![if !vml]>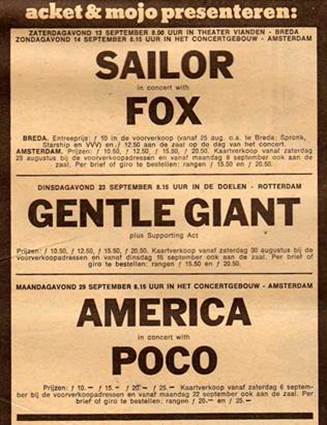 <![endif]>
<![if !vml]>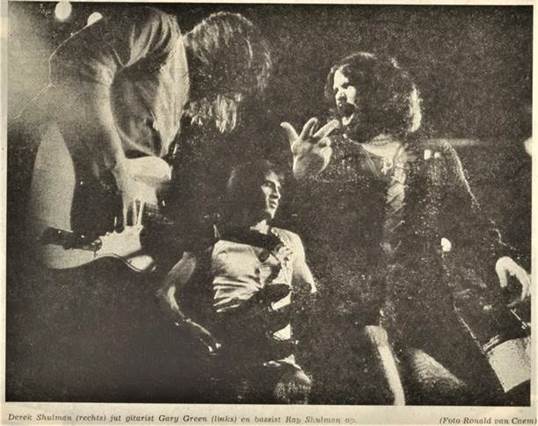 <![endif]>
Rotterdam    Sep. 23, 1975
Sep. 24         Frankfurt, Germany                    Jahrhunderthalle                    
                              A tape exists of this gig.  After the encore, the crowd continued to applaud wildly.  Derek eventually came back out and thanked them but the band did not play again.  Some evidence suggested the possibility that the venue was changed at the last minute to Festhalle Messgelande, but the fan who originally taped the performance confirms it was indeed held at Jahrhunderthalle.  There may not have been an opening act at this show.
<![if !vml]>

<![endif]>          <![if !vml]>

<![endif]>
Frankfurt ad and ticket   Sep. 24, 1975
Sep. 28         A small amount of music recorded in New York City on Jan. 18 was broadcast by King Biscuit Radio, in quadrophonic sound, on a program that also featured Aerosmith.  Giant played two shows on that January night and it had been believed the broadcast was taken from the second one, but this is no longer certain.  Only Intro/Cogs In Cogs and The Runaway/Experience were aired.  The broadcast was officially released by Glass House in 2004 as part of the PLAYING THE CLEVELAND CD.  Oddly, that CD incorrectly lists this performance as having been recorded on Nov. 5, 1975.  The Runaway/Experience from this same broadcast was also included on the official KING BISCUIT PRESENTS GENTLE GIANT album, but Intro/Cogs In Cogs was not.
<![if !vml]>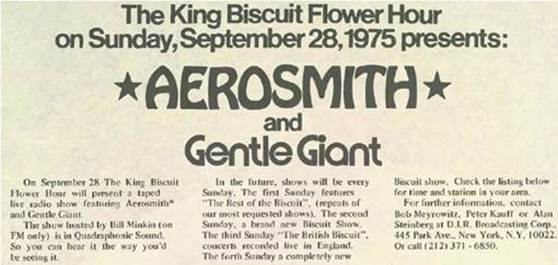 <![endif]>
"King Biscuit" radio broadcast notice    Sep. 28, 1975
Oct. 1            Hilversum 3, Dutch Public Radio, broadcast a special on Gentle Giant during the "Theo Stokkink Show".  Ray is heard during the broadcast thanking the Dutch people for giving the band such a "great time last week", referring back to the Sept. 23 Rotterdam concert.
<![if !vml]>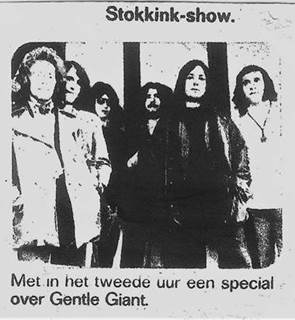 <![endif]>
"Theo Stokkink Show" Dutch radio special    Oct. 1, 1975
Oct. 1            Largo, Maryland                         Capitol Center                        
                              Once again, Giant opened for old friends Jethro Tull in front of a good 15,000 fans.  A few reports through the years have hinted at the possibility of additional pairings of Tull and Giant around this same time period, though that is not confirmed at all.  There is also a rumor, based on an old, mislabeled bootleg record, that Giant played the Hollywood Palace in nearby Ellicott City, Maryland around this time but that is unlikely.  At this Largo show, although most of the crowd was kind to Giant, there was apparently a small portion of the crowd who were quite vocal in their displeasure with having to sit through the opening set.  A partial tape of Tull's set exists and there is a rumor that Giant's set may also have been recorded but, if so, it has not surfaced.
<![if !vml]>

<![endif]>
Largo ad    Oct. 1, 1975
Oct. 3            White Plains, New York               White Plains Music Hall          
                              Giant was the first act to perform at this brand new concert venue, along with Gary Wright as their support act, and attendance is said to have been very poor.  The band endured a few technical glitches at this show.  During the clavinet introduction to Experience, Kerry is reported to have found his instrument to be out of tune.  Using a tuning wrench, he quickly opened the lid and tuned it, then went on as if nothing had happened.   Also, Ray is said to have broken not only one of his bass strings but also a drum head that he was playing upon during the So Sincere drum bash.  A tape exists, allegedly recorded at this concert, although questions have arisen as to whether this tape may actually have been made at a different show.  On the recording, the intro tape leading into Cogs in Cogs at the beginning of the show didn't work, nor did the "breaking glass" tape normally used to lead into The Runaway.  However, at least three fans in attendance recall both tapes working fine at the actual concert.  Additionally, the recording includes the instrumental Plain Truth intro before Ray's violin solo, but one of these same fans remembers Ray jokingly trying to start to play without his instrument, then retrieving it and beginning his solo without the rest of the band.  Regardless of the tape's origin, the complete performance was released on the Glass House ENDLESS LIFE CD in 2002.  On Reflection and Proclamation from it have also been included in the 2013 compilation album MEMORIES OF OLD DAYS.
<![if !vml]>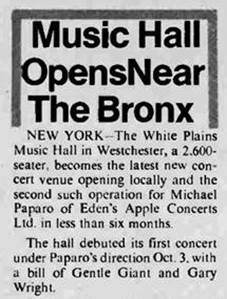 <![endif]>          <![if !vml]>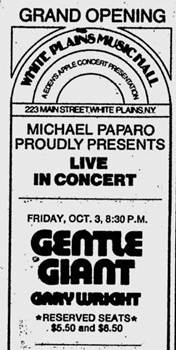 <![endif]>          <![if !vml]>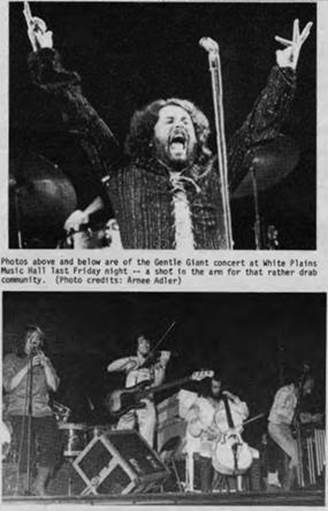 <![endif]>
White Plains    Oct. 3, 1975
Oct. 4            Boston, Massachusetts               Orpheum Theater                   
                              Opening this show which the Brown Daily Herald described as a "near sellout", was a blues act from the Boston area, the James Montgomery Band.  Harmonica player James Cotton sat in on a few songs with the opening band.  A tape of Giant's performance exists.  The crowd was so supportive on this night, that they continued to yell and cheer for quite a while after the show was over, even after the house lights had been turned up and half the band's gear had been torn down.  The band's female tour manager finally had to take the stage and politely ask the audience to go home, explaining that the band was "too exhausted to play any more".
<![if !vml]>
<![endif]>          <![if !vml]>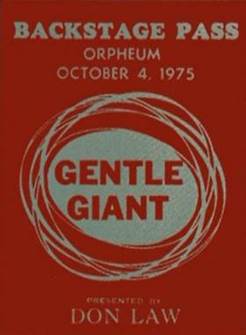 <![endif]>
Boston ad and backstage pass   Oct. 4, 1975
Oct. 5            Buffalo, New York                        New Century Theatre              
                              Brian Augur's Oblivion Express went first, followed by Gary Wright, both opening for Giant.  One fan in the front row recalls Wright having a lot of glitter in his hair, lit by bright white lights.  After frequently shaking his head during his set, the front row ended up covered in glitter.  Then, during GG's set, one lucky fan was rewarded with a vibraphone mallet that Kerry threw into the crowd after his Funny Ways solo.   This was reportedly a long gig, ending after 1:00 A.M.  One fan claims it ran long because it was late getting started, but this is not clear.  While in town, Ray and John were interviewed on local radio station WBUF.
<![if !vml]>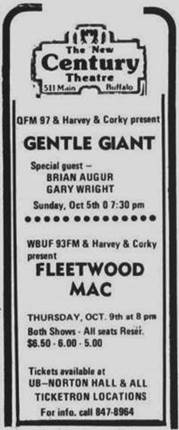 <![endif]>          <![if !vml]>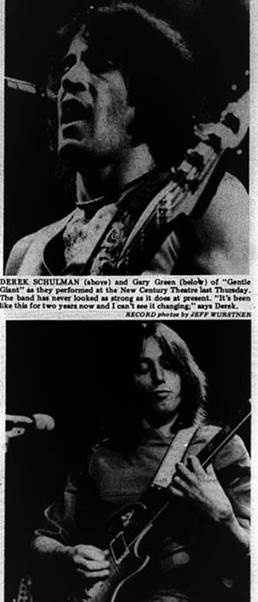 <![endif]>
Buffalo    Oct. 5, 1975
Oct. 6            With a night off before their Hempstead, NY radio broadcast described below, the band took the opportunity to see a concert of their own, all five attending a Weather Report show at the famous New York City nightclub, the Bottom Line.  Miles Davis was also in the audience.
Oct. 7            In Hempstead, New York at Ultrasonic Recording Studios, Giant performed in front of a studio audience of less than 100 people.  The room was the size of a small gymnasium with the band set up on one end with no stage and no special lighting effects.  The fans sat on the floor.  The concert was broadcast live as it happened over New York City's WLIR radio, itself located in Hempstead on Long Island, just outside of the city proper.  Since the Fall of 1971, WLIR, which positioned itself as a progressive rock radio station, had been broadcasting live concerts every Tuesday night from the nearby Ultrasonic Studios and this was part of that regular Tuesday series.  Generally, acts were given about an hour of airtime but this performance ran a little long, so WLIR kept them on the air for an extra 10-15 minutes.  Approximately two thirds of the broadcast saw official release in 2005 on LIVE IN NEW YORK 1975 on the Glass House label.  Intro/Cogs in Cogs, So Sincere, Free Hand and Just the Same from this concert were also broadcast over American radio on a July 14, 1976 episode of the syndicated program BBC Rock Hour.
<![if !vml]>

<![endif]>
Hempstead - brief review of live radio broadcast    Oct. 7, 1975
Oct. 8            Lowell, Massachusetts               University of Lowell               
                              GIANT DID NOT PLAY.  On this night, Giant was scheduled to open, for the first time, for Rick Wakeman and they did indeed arrive in town.  However, according to a review in The Connector, the college newspaper, the ever extravagant Wakeman's equipment took up so much space on the stage that Giant had no room for their own gear and decided not to play.  There may have been more to the story but, whatever the case, Wakeman played alone to a sparse audience and lost the University over $2,000 in the process.  The Connector stated that, had Giant performed, the event would've lost an additional $1,500.  Derek and Kerry did manage to record an interview for the college radio station which was broadcast on November 18.
<![if !vml]>

<![endif]>        <![if !vml]>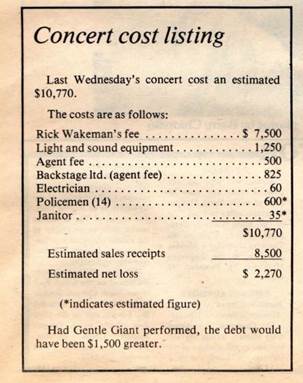 <![endif]>
Lowell - Wakeman lost money and Giant was unable to perform    Oct. 8, 1975
Oct. 9            Waterbury, Connecticut              Palace Theater                        
                              opened for Rick Wakeman.  A tape of this concert exists.  Oddly, although the band did play the song Experience at this gig, they did not play The Runaway which usually led into it.  Curiously, Wakeman and Giant were also confirmed by a local promoter to play on this very same evening at the Allen P. Kirby Field House at Lafayette College in Easton, Pennsylvania.  However, when the schedule conflict became apparent, the two acts fulfilled the earlier Waterbury commitment.  The Wakeman camp did offer Lafayette College a replacement date of Dec. 2, with Manfred Mann's Earth Band in support, but that gig also was canceled, mainly due to poor ticket sales.
<![if !vml]>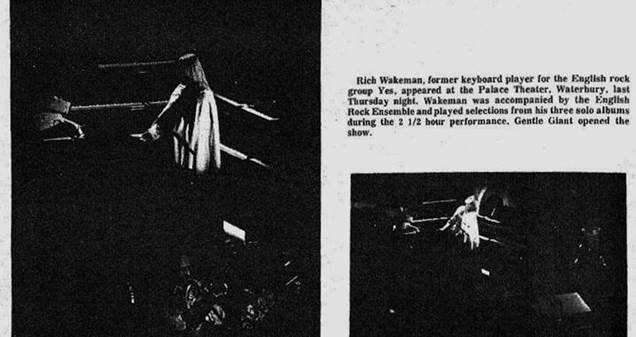 <![endif]>
Waterbury    Oct. 9, 1975
Oct. 10          Philadelphia, Pennsylvania         Spectrum                                
                              preceded by Larry Coryell and his band the Eleventh House and followed by Rick Wakeman.  A tape exists of this show and was officially released by Glass House on their PROLOGUE CD.  Surprisingly, this was the very first time the group ever played in Philadelphia, a fact Derek confirmed from the stage.  The concert was not well attended with only 7,500 fans in a venue capable of holding many more.  Two of these fans recall a good number of Giant fans leaving before Wakeman's set.  In its review, the Villanova University newspaper The Villanovan ran the headline "Giant Outshines Wakeman at Spectrum".  A 1976 Philadelphia Inquirer article referred back to this show, stating that the boomy acoustics of the large Spectrum were not favorable for GG's delicate interplay of instruments.  The bill for this show was not firm until close to the day of the show.  GG's participation was initially listed as "tentative" while Italian band PFM was at one point advertised as being involved instead of Larry Coryell.  Gary was impressed by the friendliness and outgoing nature of Larry Coryell who, prior to the show, knocked on Giant's door backstage and asked if the guys wanted to come and jam with him, most likely during his soundcheck.  Giant did not take him up on the offer but Gary nonetheless appreciated the gesture.
<![if !vml]>

<![endif]>        <![if !vml]>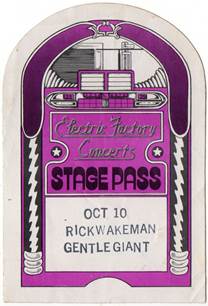 <![endif]>        <![if !vml]>

<![endif]>
Philadelphia - includes glowing headline    Oct. 10, 1975
Oct. 11          New York, New York                    Academy of Music                  
                              This gig was described as "near Standing Room Only" with a total turnout of 2,828.  White Lightnin' was the opening act and had to endure quite a bit of booing from the audience.  There were some technical difficulties at this show with some of the slides being shown at wrong times.  Two separate audience tapes of this show are known to exist.  One of them is mostly complete and the other, while incomplete, does include a few bits and pieces not found on the first tape.  During Giant's time in the New York City metropolitan area, they took the opportunity to do some interviews, including one for New York radio station WRNW.  During another press interview held on Oct. 12, band members were complimented on the quality of this particular Academy performance.  When asked for an explanation, Ray joked that it must have been because Gary was wearing "new shoelaces".
<![if !vml]>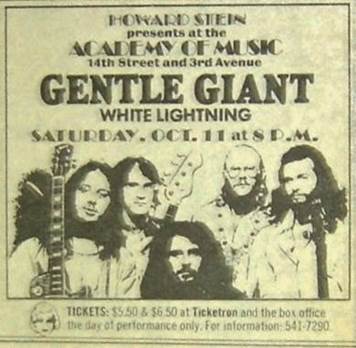 <![endif]>
New York's Academy of Music ad    Oct. 11, 1975
Oct. 13          Gentle Giant's eleventh BBC session, recorded on Sept. 16, was broadcast on the John Peel Show, hosted by John Peel, of course.  Other musicians with sessions on the program are not known.
Oct. 14          Kalamazoo, Michigan                 Old Central High School - Chenery Auditorium                       
                              CANCELED.  This gig was canceled one day before showtime, due to only 250 tickets being sold.  Premier Talent, the talent agency handling this tour for Giant, apparently did not deliver a signed contract to the show's promoter until one week before the show.  This simply did not allow the rightfully angry promoter enough time to advertise sufficiently.  Interestingly, copies of the Power and the Glory single were meant to be given away to all who purchased a ticket, but even this promotional gimmick came too late to save the show.  Boxes of singles remained undistributed.  Originally, Gary Wright was planned as the opening act but at the last minute, Premier Talent substituted White Lightnin'.
<![if !vml]>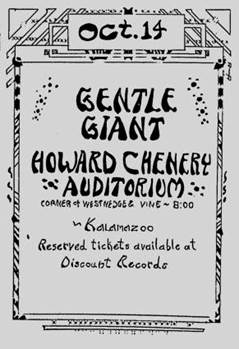 <![endif]>
Kalamazoo - concert canceled at last minute    Oct. 14, 1975
Oct. 16          Chicago, Illinois                           Auditorium Theater                
                              This was a poorly attended show with about 1,300 fans, making the hall only half full, a fact that Derek commented on from the stage, thanking those that did attend.  Nonetheless, Gary does recall the band playing fairly well this night.  Gary Wright opened and Giant headlined.  A tape of this concert exists.
<![if !vml]>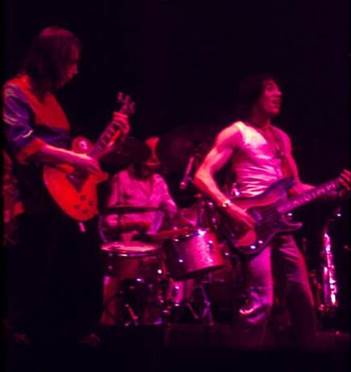 <![endif]>          <![if !vml]>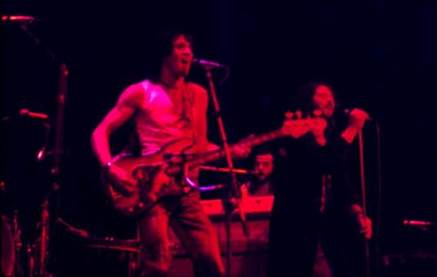 <![endif]>
Chicago    Oct. 16, 1975
Oct. 17          Detroit, Michigan                        Cobo Hall                               
                              In a hall that was half filled at best, Giant was preceded by Gary Wright with Rick Wakeman the headliner.  One report has GG being poorly treated by the Wakeman audience, reinforcing the reservations Kerry expressed in an interview the previous November about the band's misfortunes when playing in Detroit.  After Giant finished their set, there were a few seconds of silence, then a gentleman in the balcony yelled loudly "that band was weird!"  However, a Detroit area college newspaper review stated that Giant did play an encore while, curiously, Wakeman did not.  It's rumored once more that Giant played River at this gig.  Similar rumors concerning this song have circulated around a few gigs from earlier years, as well, though all remain unconfirmed.
<![if !vml]>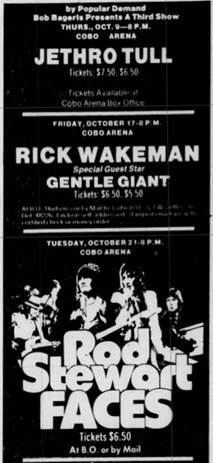 <![endif]>
Detroit ad    Oct. 17, 1975
Oct. 18          Cincinnati, Ohio                          Riverfront Coliseum               
                              The venue seats over 17,000 but on this night, a large curtain was hung so as to divide the space and provide a smaller, more intimate concert experience.  In fact, this was the first major concert attraction to use this "Riverfront Theater" setup.  Unfortunately, the large curtain did not help the acoustics which were quite poor and full of echoes throughout the evening.  7,500 tickets were put on sale, out of which only 5,600 were sold, with bad weather possibly inhibiting ticket sales.  Giant opened for Rick Wakeman.  Procol Harum was supposed to appear second on the bill but was unable to, due to their equipment truck breaking down in West Virginia.  Giant agreed to let Procol use their equipment, but Wakeman vetoed the idea.  Procol may have also asked to play last to give their equipment time to arrive, but Wakeman was not keen on that idea, either.   Whatever the case, this all led to a nasty scene backstage between Wakeman's road crew and members of Procol Harum.  After Giant's set, Procol band member Keith Reid tried to take the stage and announce to the crowd why they weren't playing, but Wakeman's crew stopped him.  In fact, no announcement at all about Procol was made until the end of the evening, at which time several hundred Procol fans stayed in their seats, chanting for their band to come out and play.  After the show, the battle went public as Procol's Reid and Gary Brooker took to the airwaves over Cincinnati's WEBN radio to complain about the situation.  Wakeman himself heard this broadcast and phoned in to rebut against what he called "lies".  This whole bizarre situation ended up making headlines in the national rock music press.  A local newspaper, in its review of the show, described GG's performance as "lackluster", an assessment shared by at least some of the crowd who were heard booing during their set.  Another review claimed that GG's music was too delicate for a venue this size, although the audience did eventually warm up to them.  They did not come out for an encore, however.  A fan reports that Ray broke a string or two during his violin solo.  However, this is not apparent on a tape that exists of the show.  Possibly, the fan actually witnessed the unraveling of some of the horsehair on Ray's bow.  An early ad listed Peter Frampton as being second on the bill, but that was quickly changed in later advertising to Procol Harum. 
<![if !vml]>
<![endif]>            <![if !vml]>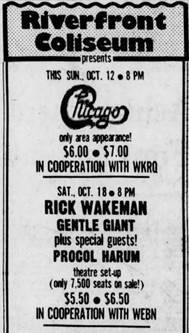 <![endif]>
Cincinnati - ads with original lineup and final lineup    Oct. 18, 1975
Oct. 19          Indiana, Pennsylvania                Indiana University of Pennsylvania - Fisher Auditorium            
                              opened for Procol Harum before a near-capacity crowd during the university's Homecoming Weekend festivities.  It had been previously assumed that this show was held in Indianapolis, Indiana, possibly at the Fairgrounds Coliseum.  However, the concert map on the inside cover of Giant's 1977 live album, PLAYING THE FOOL, shows the band leaving Cincinnati after Oct. 18 and heading east, away from the state of Indiana.  Whereas this album cover lists all other concerts by city, the Oct. 19 concert east of Cincinnati is listed as being held in "Indiana", not "Indianapolis", and geographically, it is positioned in the vicinity of Pittsburgh, Pennsylvania.  There is indeed a small college town near Pittsburgh called Indiana and it has been confirmed that it was there that the band performed.  The show was quite late starting, due to a couple of reasons.  First, crews could not begin setting up until late, due to another Homecoming event already taking place in the Auditorium.  Second, a vital piece of electrical equipment arrived late to the Pittsburgh Airport and did not make it on campus until well after the concert was already scheduled to begin.  Giant finally took the stage at 10:05 P.M. but, although the crowd was already a bit restless by that point, they were very welcoming to the band who played a rousing set and still were called out for an encore.  Procol Harum was not so fortunate as they didn't begin playing until nearly 11:30.  As they played, many in the crowd chose to call it a night and wander away.
<![if !vml]>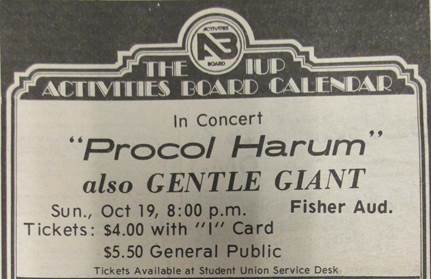 <![endif]>
Indiana, Pennsylvania ad    Oct. 19, 1975
In an interview on Oct. 12, members of the band said they were considering taping an appearance for the American television show, Don Kirshner's Rock Concert a week later, but they had not yet committed to the idea, as they were concerned over retaining control over the final mix.  It looks like this filming never took place.
Oct. 21          Milwaukee, Wisconsin                Riverside Theatre                   
                              Gary Wright began the proceedings and was a full hour late taking the stage.  After a fairly long interval, Giant played second.  Headliner Peter Frampton finally played after that, having only arrived at the venue a few minutes beforehand.  The audience was afforded no explanation as for the lateness of the show.  An earlier erroneous report had Giant opening for Golden Earring and Aerosmith on this night.  The Riverside was an ornate 1920's movie house that seated in the neighborhood of 4,000 people, but only about 1,500 witnessed this concert.
<![if !vml]>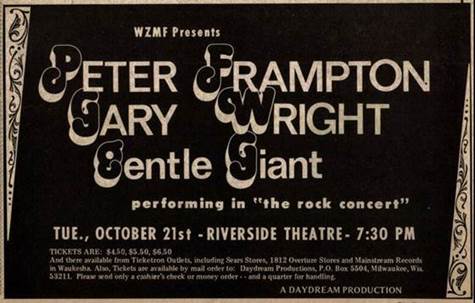 <![endif]>
Milwaukee ad    Oct. 21, 1975
Oct. 22          St. Louis, Missouri                     Kiel Opera House                   
                              opened for Rick Wakeman.  During the Excerpts from Octopus medley, the band had some brief technical difficulties right before breaking into The Advent of Panurge.  Derek subsequently missed his vocal entrance, leaving Kerry to sing the opening line of the song alone.  A tape of the gig exists. 
<![if !vml]>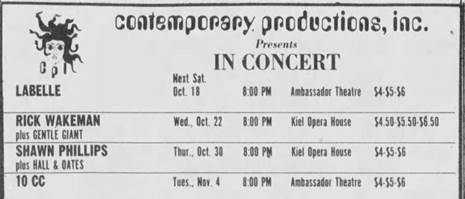 <![endif]>
St. Louis ad    Oct. 22, 1975
Oct. 23          Vancouver, British Columbia     Commodore Cabaret Ballroom           
                              Here, GG was supposed to open for Status Quo but, due to illness, Status Quo canceled before the scheduled date.  REO Speedwagon was brought in as a replacement, still in the headliner slot.  This dancehall venue held approximately 1,000 people.  It had a low stage and was set up in such a way that the front of the audience could be right up next to the performers.  The crowd at this gig cheered for quite a while after GG played, hoping they would be rewarded with an encore, but to no avail.  According to a review in the Vancouver Sun, half the crowd then proceeded to leave before REO even took the stage.  One fan at the show actually thinks the percentage of people who left after Giant's set was as high as 80 percent.
<![if !vml]>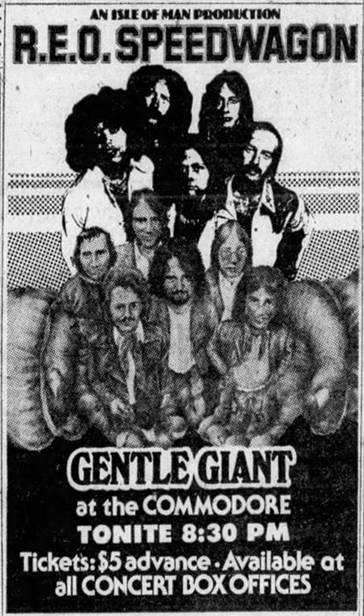 <![endif]>
Vancouver ad    Oct. 13, 1975
Oct. 24          Portland, Oregon                        Paramount Theatre                
                              CANCELED.  scheduled to open for the Strawbs, but canceled due to poor ticket sales.  A tour ad in Billboard originally listed this date as Oct. 26.
<![if !vml]>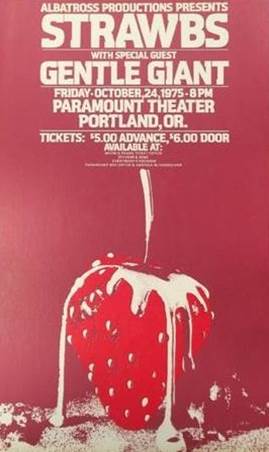 <![endif]>
Portland - poster for canceled show    Oct. 24, 1975
Oct. 25          Seattle, Washington                    Moore Egyptian Theater         
                              Starting the show was a piano player/folk singer named Bette White, followed by Giant and the Strawbs as headliners in this quite intimate theater setting.  The house was half full and many in the audience were apparently there to see Giant, as two thirds of the crowd were reported to have left by the Strawbs' third song.  Even the Strawbs' Dave Cousins, when recently recalling this particular gig, commented that Giant blew his own band away.  The Seattle Daily Times agreed with this assessment, pointing out that Giant seemed quite pleased at how knowledgeable the crowd was about their music.  Cousins has also claimed that Giant was the only band he ever shared a stage with that intimidated him.  Billboard originally listed this show as taking place on Oct. 24. 
<![if !vml]>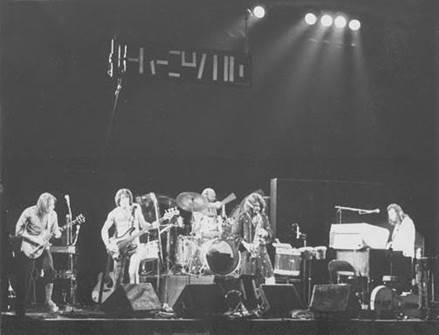 <![endif]>
Seattle    Oct. 25, 1975
Oct. 28          Berkeley, California                     Community Theater                
                              This show took place in front of what the San Francisco Examiner described as a small crowd of about 1,000, many of them noisy and a bit unruly.  This was not helped by the excessive number of delays throughout the evening, as stage crews worked to fix repeated technical equipment glitches.  As had happened the previous night in Seattle, folk singer Bette White played first and GG played a 50-minute set second, both opening for the Strawbs.  Of the three acts, the review was actually kindest to Bette White, although it was noted the crowd paid little attention to her.  A mostly complete tape of this gig exists and has been released on the Glass House ENDLESS LIFE CD while.Free Hand from it appears in the MEMORIES OF OLD DAYS compilation.  Berkeley is adjacent to the city of Oakland and it may have been on this date that John Weathers first appeared on stage wearing his famous Oakland A's baseball jersey.  He had fallen in love with it after watching the A's play on television earlier on, so he asked Capitol Records to secure him one.  No clear live photos of John have surfaced from this Berkeley gig, but all earlier photos show him wearing something else. The next known live photos of John are from Los Angeles four days later and he is indeed wearing the jersey at that time.  Debuting the jersey in Oakland would certainly have been logical, the A's being the local baseball heroes, and John does recall that when he first wore it, the crowd roared their approval.  Unfortunately, the recording of this gig is missing the section when band members would have been introduced, so definitive proof that Berkeley was where he first wore the uniform is still missing.  As it turned out, John ended up wearing this uniform for the remainder of his time with the band.
<![if !vml]>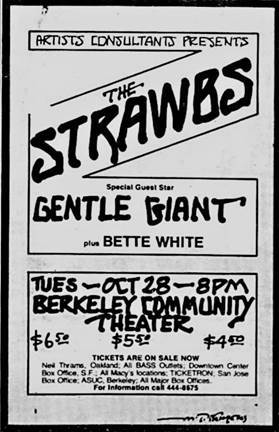 <![endif]>
Berkeley ad    Oct. 28, 1975
Oct. 30          Phoenix, Arizona                        Celebrity Theatre                    
                              opened for the Strawbs.  This was an in-the-round theater with a rotating stage.  The farthest seats from the stage were only 75 feet away.
<![if !vml]>

<![endif]>
Phoenix - cover of concert program    Oct. 30, 1975
Oct. 31          A phone interview with Gentle Giant was broadcast on a late-night Canadian radio program called Major Progression.  Although not certain, this may have been broadcast in many places across Canada, as ads have been located as far apart as Montreal and Regina.  It is also not known if it was a live interview or if it was pre-recorded.
Nov. 1            Los Angeles, California               Shrine Auditorium                  
                              Gary remembers there being problems with the lights at this show.  There is a strong possibility that the Strawbs were again scheduled to headline before canceling.  As it turned out, Giant headlined while a singer/keyboard player by the name of Tom Snow had the bad fortune of opening the show and being heavily booed.  One report has him cutting his set short, as a result.  The Shrine seated around 6,400 but published reviews disagree on whether this gig was sold out.
<![if !vml]>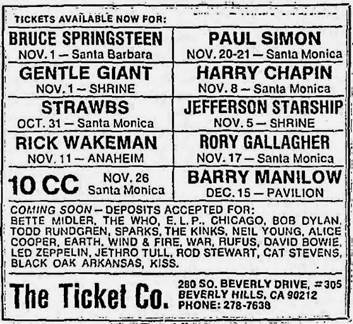 <![endif]>        <![if !vml]>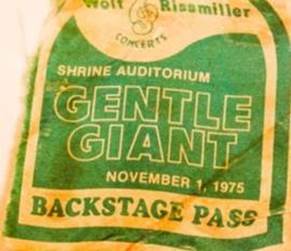 <![endif]>        <![if !vml]>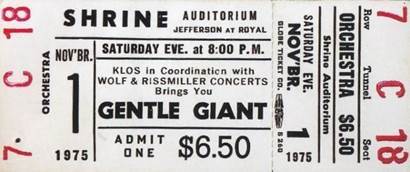 <![endif]>
Los Angeles    Nov. 1, 1975
Nov. 2            San Diego, California                  Golden Hall                            
                              GG opened for the Strawbs who were said to have had an off night, due to equipment problems and poor sound.  There had long been confusion over the exact venue of this concert, even though all pre-show written information proves that it was scheduled for Golden Hall.  This includes newspaper articles, backstage passes and advertisements, right up to the day of the show.  The confusion came from fan recollections that it was moved at the last minute to the Civic Theatre which is actually adjacent to Golden Hall, just across an open concourse.  Throngs of fans were seen trekking from one venue to the other on the night of the show.  However, this could be easily explained.  Even though advertising listed Golden Hall as the venue, this same advertising stated that the tickets were to be purchased at the Civic Theatre box office.  The migration of fans between buildings could be explained as simple confusion among concertgoers, or by those purchasing tickets at one venue then walking to the actual show at the other.  Besides, reviews published in the Triton Times and Walrus! magazine both clearly stated the gig was indeed held at Golden Hall.  This concert unfortunately had a fairly low turnout, but those in attendance reacted much more positively to Giant and continued to cheer even after their encore.
<![if !vml]>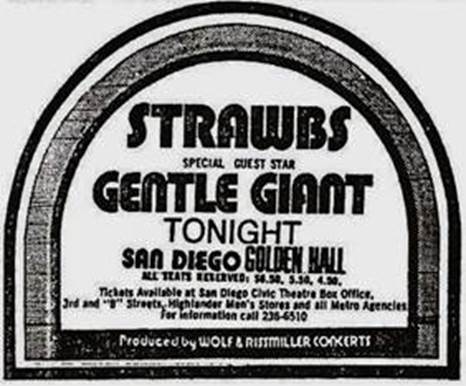 <![endif]>          <![if !vml]>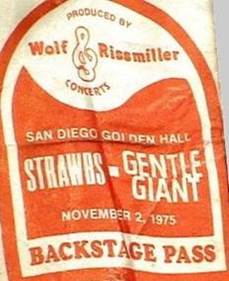 <![endif]>
San Diego - planned for Golden Hall with tickets sold at Civic Theatre    Nov. 2, 1975
Nov. 5            New York, New York                    Academy of Music                  
                              UNCONFIRMED.  This is a totally unsubstantiated date that has been postulated for a long while but has always been questionable.  More recently, a couple different eyewitnesses have recalled a date at the Academy of Music from around this time when Giant shared a bill with the Strawbs, the Pretty Things and Spooky Tooth though, again, no hard evidence has surfaced.  More than likely, the Nov. 2 San Diego gig was the band's last engagement of the North American tour.
Nov. 7           Detroit, Michigan                                                                       
                              GIANT DID NOT PLAY.  A Detroit gig on Nov. 7, 1975 is listed in the inside gatefold of the 1977 PLAYING THE FOOL live album, but it seems to be in error.  This date certainly did not appear on any advertised tour schedule.  One rumor had Cobo Hall as the site of this alleged gig, but It's known that Little Feat opened for Dave Mason at Cobo Hall on Nov. 7 and no information about a GG show at any other Detroit venue has ever been located.
???               Dallas, Texas                              Electric Ballroom                   
                              UNCONFIRMED.  A fan who saw the band at the Oct. 16 Chicago Auditorium gig with Gary Wright specifically recalls seeing them again at this Dallas venue a few weeks later.  The claim gains further legitimacy when considering a rumor that's surfaced that Giant did in fact play that city five times in their career while, so far, only four have been accounted for.  Although no confirmation of this concert has yet surfaced, the fan does remember a largely uninterested audience with only about ten rows of enthusiastic listeners and the rest of the crowd not paying attention or milling about in back.
Nov. 10          Oslo, Norway                               Chateau Neuf                          
                              Chateau Neuf was affiliated with the University of Oslo and run by their student organization.  It housed a moderately sized concert hall seating around 1,200.  One report has the hall being full on this night but the Aftenposten newspaper claimed only about 700 were in attendance.
<![if !vml]>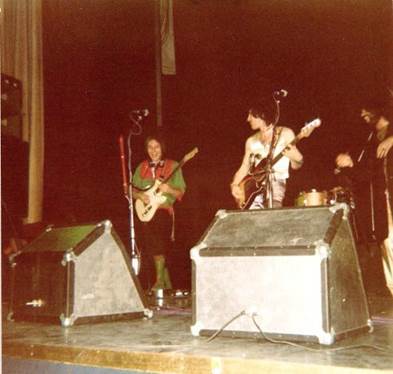 <![endif]>        <![if !vml]>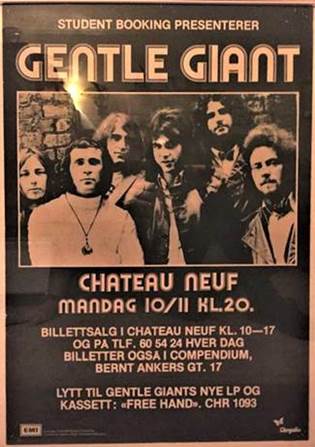 <![endif]>
Oslo    Nov. 10, 1975
Nov. 12          Stockholm, Sweden                   Karen                                      
                              Karen, or Karhuset, as it was sometimes referred to, was not technically part of Stockholm University but was operated by the faculty of that University as a Student Union.  For this concert, it was privately rented by one of the University's students who then booked Giant.  On occasions like this, the hall was renamed "Club Karen", as it was whenever a concert or dance night took place.  One report had the show attended by approximately 2,000 fans, while another had an estimate of just 900.  The gig was recorded by Sweden's Radio 3 and then broadcast in edited form at a later date, possibly a week later.  This edited broadcast version had been heavily bootlegged through the years, but now has been officially released on the LIVE IN STOCKHOLM '75 CD, produced from Swedish Radio's master tape.  This show was also rebroadcast in January of 1976 as part of the Swedish Radio Tonkraft program.  The original producer at Radio 3 attempted to locate any remaining portions of the concert that were not broadcast and therefore not released, but was unsuccessful and now believes they no longer exist.  However, a newspaper review confirms that Excerpts From Octopus was indeed performed, although it was not included in the broadcast.
<![if !vml]>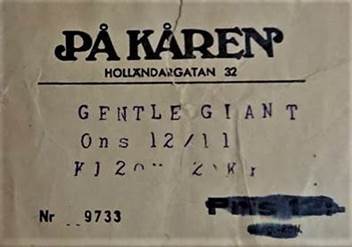 <![endif]>
Stockholm ticket    Nov. 12, 1975
Nov. 13         Copenhagen, Denmark               Hard Rock Cafe                      
                              CANCELED.  This concert was scheduled and advertised, but ultimately canceled.  Supposedly, the stage at the venue was too small, so the band pulled out at the last minute.  A notice was pinned to the door of the venue informing the arriving fans of the sudden cancelation.  One rumor floating at the time was that, upon canceling the show, the band drove off to somewhere in Scandinavia.  Perhaps another gig was scheduled there for the next night, but this is pure conjecture.
<![if !vml]>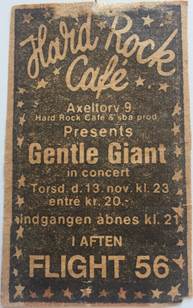 <![endif]>
Copenhagen - ad for canceled show    Nov. 13, 1975
Nov. 14         It is believed that this was the official release date for the band's first compilation album, entitled GIANT STEPS, although there are indications that some record shops had the album by Nov. 1.  It included songs from the band's first six studio albums and also included the song Power and the Glory, previously only available as a single.  Although the fifth and sixth albums were on WWA in England, the band remained signed to Vertigo in many countries in continental Europe, and it was Vertigo who released this compilation in England and at least part of Europe.  It was not released in the United States.
<![if !vml]>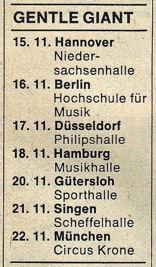 <![endif]>
German tour ad    Nov. 1975
Nov. 15          Hannover, Germany                   Niedersachsenhalle
<![if !vml]>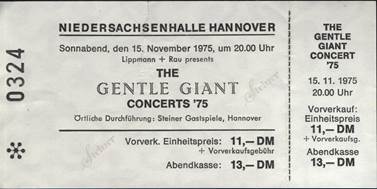 <![endif]>
Hannover ticket    Nov. 15, 1975
Nov. 16          Berlin, Germany                          Hochschule der Kunste          
                              This concert at Berlin's University of the Arts took place in a hall normally used for more "serious" concerts.  Therefore, the atmosphere was more sophisticated than that of a typical rock concert.  A contributing factor to this could have been the stage's neat, clean appearance since, at the time, all of Giant's amplifiers and equipment were hidden behind wooden frames covered in fabric.  These frames also held the twinkling white lights which flashed during the 5-man drum bash.  The University consisted of four separate colleges, one being for Music, as noted in the tour ad pictured above.
<![if !vml]>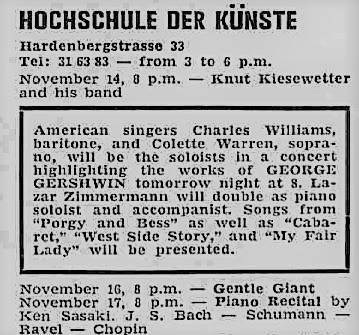 <![endif]>
Berlin press notice    Nov. 16, 1975
Nov. 17          Dusseldorf, Germany                 Philipshalle                            
                              A tape of this show exists.
Nov. 18          Hamburg, Germany                    Musikhalle                              
                              There may have been no support act at this show.  In fact, very few support acts are known from this time period, so Giant may have frequently played alone.  The band was very well received and attendance was said to be much better on this night than it was at their previous appearance at Hamburg's Musikhalle on Apr. 10, 1974.
<![if !vml]>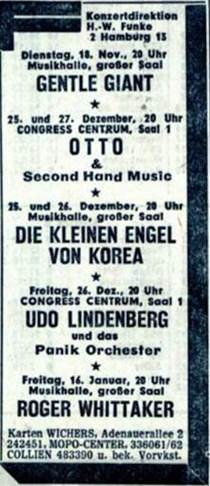 <![endif]>        <![if !vml]>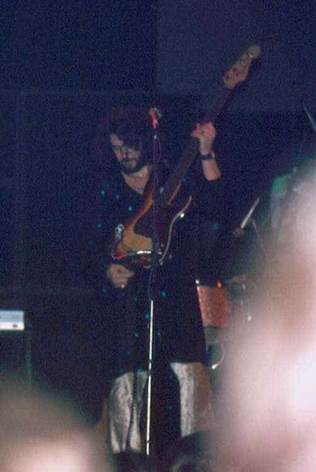 <![endif]>        <![if !vml]>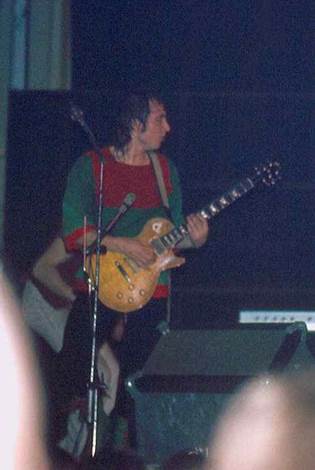 <![endif]>        
Hamburg    Nov. 18, 1975
Nov. 18         WLTI-FM, the college radio station of Lowell University in Lowell, Massachusetts, broadcast their interview with Derek and Kerry that had been recorded while the band was in town on October 8.
<![if !vml]>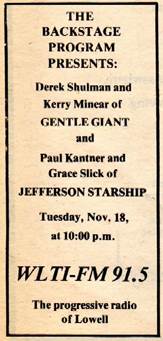 <![endif]>
Lowell - band member interview broadcast over college radio    Nov. 18, 1975
Nov. 20          Gutersloh, Germany                   Sporthalle                               
                              The hall here was rather small, as was the crowd.  A fan at the show estimates about 300 in attendance.
Nov. 21          Germany                                                                                    
                              The tour ad shown above announced this concert as being held at Scheffelhalle in Singen, in southern Germany.  However, an early version of a concert poster has been located which had the band in Rhein-Main-Halle in Wiesbaden farther north, outside of Frankfurt.  The Singen show seems more likely, but confirmation has yet to be found.
<![if !vml]>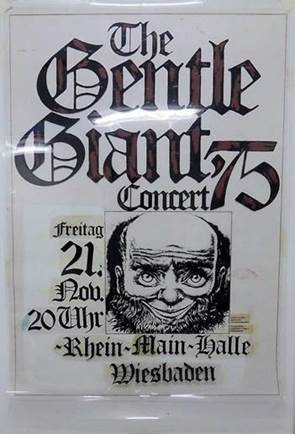 <![endif]>
early poster for possible Wiesbaden gig    Nov. 21, 1975
Nov. 22          Munich, Germany                        Circus Krone Building
                              Backstage after the show, several band members expressed concern that ticket prices were too high for this gig.  Prices ranged between 14 and 16 DM.  A tape of this concert exists.
<![if !vml]>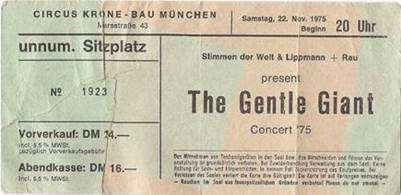 <![endif]>
Munich ticket    Nov. 22, 1975
Nov. 23         KMET Radio in Los Angeles, California broadcast a live Gentle Giant set at 6:00 P.M. on Sunday, Nov. 23.  Cash Box announced that the set had been recorded a month earlier in "Gotham", a common nickname for New York City.  The band could have recorded something specifically for KMET while they were in the New York area on or around Oct. 11, similar to what they had done on Feb. 13 right in Los Angeles.  Alternatively, the radio station could have simply arranged to rebroadcast the Oct. 7 studio session from Hempstead, New York.  More specifics are unknown at this time.
<![if !vml]>
<![endif]>
Cash Box notice about Los Angeles radio broadcast    Nov. 23, 1975
Nov. 24          Basel, Switzerland                       Festsaal Mustermesse            
                              A complete tape of this concert exists.  The majority of the show, but not all of it, saw official release when it was included in the UNBURIED TREASURE boxset.
<![if !vml]>
<![endif]>
Basel flyer    Nov. 24, 1975
Nov. 25          Karlsruhe, Germany                   Stadthalle
                              A newspaper review called Giant's music the "music of the future" but noted the band was fighting with a persistent humming in their amplification, as well as the hall's traditionally "miserable" acoustics.
<![if !vml]>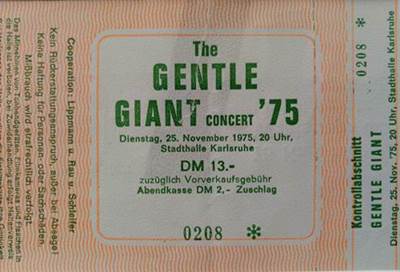 <![endif]>
Karlsruhe ticket    Nov. 25, 1975
Nov. 26          Mannheim, Germany                  Rosengarten Mozartsall
<![if !vml]>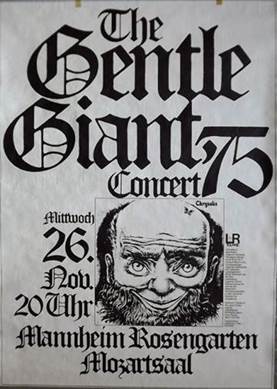 <![endif]>
Mannheim poster    Nov. 26, 1975
Nov. 27          Zurich, Switzerland                    Volkshaus                               
                              There is an existing tape of this gig.
<![if !vml]>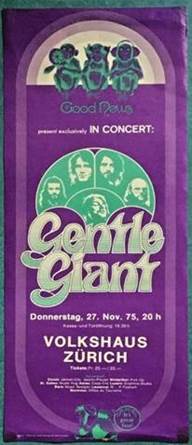 <![endif]>
Zurich flyer    Nov. 27, 1975
Nov. 28         Metz, France                               Palais des Sports
                              The venue for this concert, although very popular for rock concerts at the time, has not been confirmed.                                             
Nov. 29          Paris, France                               Olympia                                  
                              A portion of this concert was broadcast over AM radio in Paris, but it is uncertain whether it was broadcast live or at some point after the concert took place.  During the broadcast, a French announcer translated all of Derek's English introductions.  A gig had been previously advertised at Turfschip in Breda, Holland on this date.
<![if !vml]>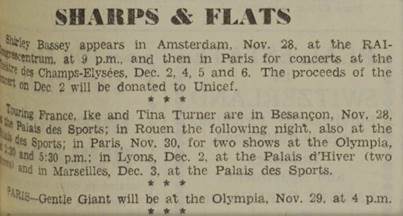 <![endif]>
Paris press notice    Nov. 29, 1975
Nov. 30          Brussels, Belgium                      Ancienne Belgique                 
<![if !vml]>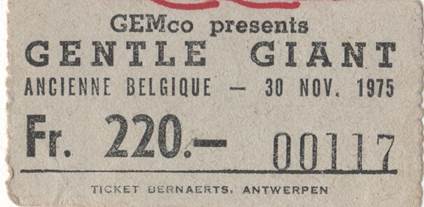 <![endif]>
Brussels ticket    Nov. 30, 1975
Dec. 1            Amsterdam, Holland                   Carre Theatre                         
                              Mike McClintock opened for GG at this show.  A tape of this show was once in the hands of a fan but, unfortunately, it no longer exists.  This venue has been described as an intimate "circus theatre", with very steep seating.  It's been reported that there was a loud, irritating buzz in at least one audience speaker during Ray's quadrophonic violin solo, possibly caused by bad grounding.  Still, about 2,000 fans enjoyed this sold out show, but influential Dutch pop critic Elly de Waard hated it.
<![if !vml]>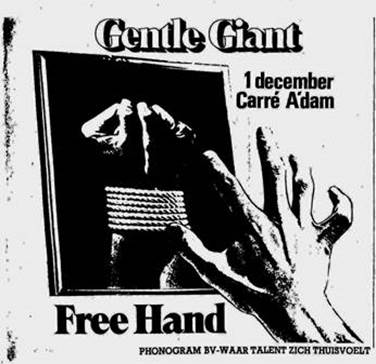 <![endif]>        <![if !vml]>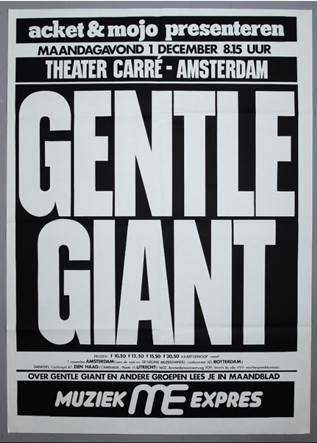 <![endif]>        <![if !vml]>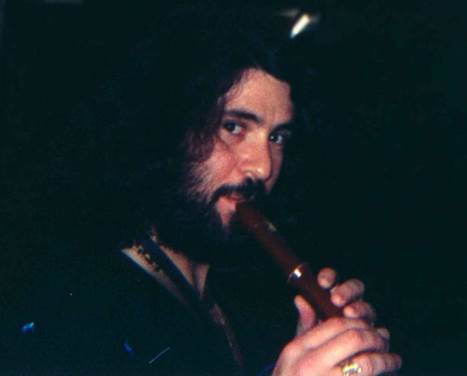 <![endif]>
Amsterdam    Dec. 1, 1975
Dec. 2           Rotterdam, Holland                    De Doelen                               
                              UNCONFIRMED
Dec. ?           A rumor has been floated that the band was filmed around this time for Dutch VARA TV.  Specifically, it's been suggested this filming may have taken place on Dec. 2, possibly at the above listed alleged Rotterdam concert, but this is far from clear.  So far, no evidence to confirm any new filming has surfaced.  December could very well have simply been when VARA rebroadcast the German ZDF-TV Sonntagkonzert first aired on Aug. 10.  On the other hand, Dutch TV did broadcast some sort of Gentle Giant concert on June 26, 1976.  More information is needed.
            In December, Giant finally brought a tour to England, making up for the canceled tour from the previous December.  It was their first regular British tour since spring 1974.  Unfortunately, even though they were at the height of their success in most countries, the band still did not receive the fan support at home that they felt they deserved.  It is also not known if they made any changes to their setlist at this time, since no recordings from this tour have surfaced.  Scheduled to open on this tour was the guitarist and singer/songwriter Michael Moore who, by that time, was starting to make a name for himself in English folk music circles.
<![if !vml]>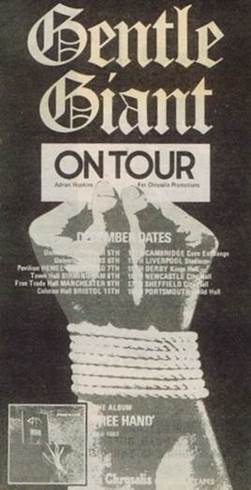 <![endif]>
UK tour ad    Dec. 1975
Dec. 5            Norwich, England                        University of East Anglia                    
                              One fan who managed to meet the band backstage saw them playing a word game which Ray told him they sometimes did to alleviate the boredom of being on the road.  For instance, Ray presented the phrase "an abundance of prehensile extremities lessens the onerous burden" while his bandmates had to guess the simpler translation of "many hands make light work".  It's believed that Michael Moore was scheduled to open.
Dec. 6            Leeds, England                            Leeds University - Refectory  
                              Michael Moore was the opening act.  The Refectory is a well-known music venue right on the University campus, adjacent to the Student Union.
<![if !vml]>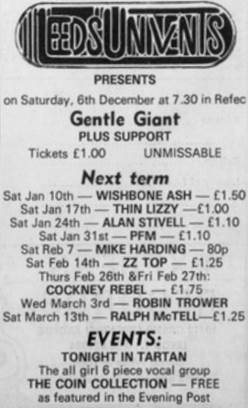 <![endif]>
Leeds ad    Dec. 6, 1975
Dec. 7            Hemel Hempstead, England       Pavilion                                              
                              Michael Moore was the opening act.  The Pavilion was a somewhat small, modern hall and although, by one account, GG was well received, one fan does remember them as being too loud for such a small venue.  However, a reviewer in Sounds said the sound quality was excellent.  Incidentally, this review was one of very few reviews the UK press even bothered to publish about this particular homeland tour.
<![if !vml]>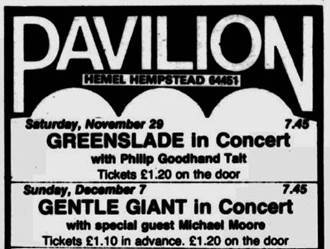 <![endif]>
Hemel Hempstead ad    Dec. 7. 1975
Dec. 8            Birmingham, England                  Town Hall                               
                              Michael Moore was the opening act.
<![if !vml]>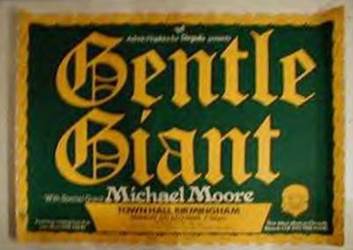 <![endif]>
Birmingham poster    Dec. 8, 1975
Dec. 9           The BBC rebroadcast the band's Sep. 16 session as part of the John Peel Show.  No other acts had live sessions included in this particular program.  After playing GG's final song, Free Hand, Peel mistakenly introduced the band as Supertramp, before quickly correcting himself.  Shortly after this, Peel lost interest in many of the progressive bands of the day.  He soon became a champion of the emerging punk scene.
Dec. 9            Manchester, England                  Free Trade Hall                       
                              Michael Moore was the opening act.
<![if !vml]>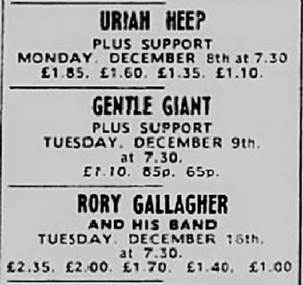 <![endif]>          <![if !vml]>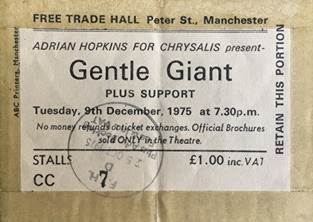 <![endif]>
Manchester ad and ticket    Dec. 9, 1975
Dec. 11          Bristol, England                           Colston Hall                           
                              Michael Moore was the opening act.  Ticket sales were not strong, with the hall reportedly being only half full, so all who did attend were encouraged to come forward and sit in the front sections.
Dec. 12          Cambridge, England                    Corn Exchange                       
                              Michael Moore was the opening act.  There were no seats installed in the Corn Exchange at the time, so the crowd had to stand or sit on the floor.  One group of drunken audience members caused problems right from the start, causing Moore a great deal of trouble.  They continued their poor behavior right into Giant's set.  When the band played Funny Ways, they chose to loudly and inappropriately criticize Kerry for what he was wearing.  This greatly irritated Derek who, after the song, called out the offending drunks for their obnoxious behavior, eliciting applause from others in the hall.  There were no further disruptions after that, fortunately.
<![if !vml]>

<![endif]>
Cambridge ad    Dec. 12, 1975
Dec. 13          Liverpool, England                      Liverpool Stadium                  
                              The crowd was large and appreciative.  Michael Moore was the opening act.
<![if !vml]>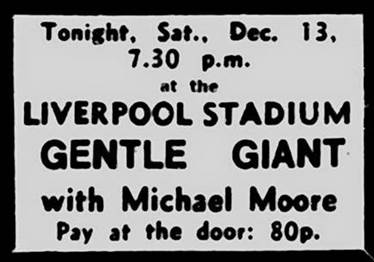 <![endif]>
Liverpool ad    Dec. 13, 1975
Dec. 15          Derby, England                            King's Hall                              
                              This gig was a late addition to the tour and was originally advertised for Dec. 18 while later ads listed the correct date of Dec. 15.  Michael Moore was the opening act.  A reviewer in the Derby Evening Telegraph described the hall as "bursting at the seams" while lamenting the lack of fire and passion in the performance before a passive, fidgety crowd.
<![if !vml]>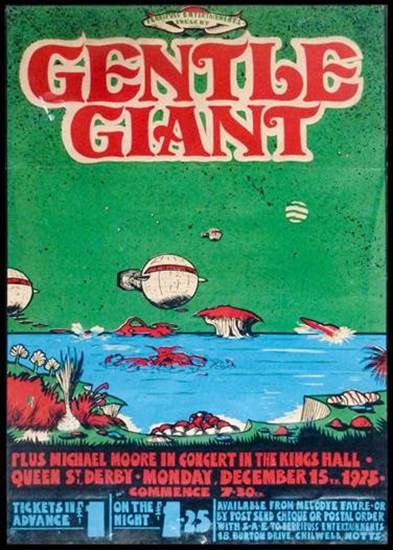 <![endif]>        <![if !vml]>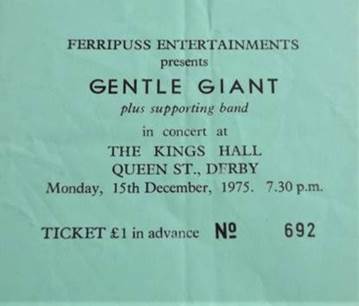 <![endif]>
Derby poster and ticket    Dec. 15, 1975
Dec. 16          Newcastle, England                     City Hall                                  
                              Michael Moore was the opening act.  This concert was not terribly well attended.
<![if !vml]>

<![endif]>
Newcastle ad    Dec. 16, 1975
Dec. 17          Sheffield, England                       City Hall                                  
                              Michael Moore was the opening act.
Dec. 19          Portsmouth, England                  Guildhall                                 
                              Michael Moore was the opening act.  After the gig, a party was held in a nearby hotel and it's known that Phil Shulman, who had not seen much of the band or his brothers since leaving in early 1973, was in attendance.
<![if !vml]>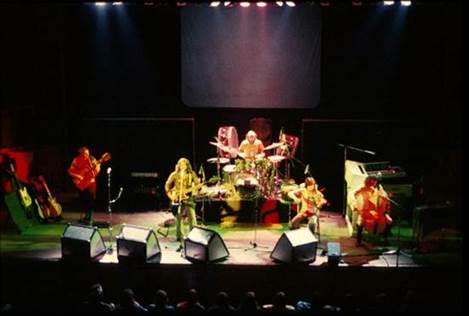 <![endif]>        <![if !vml]>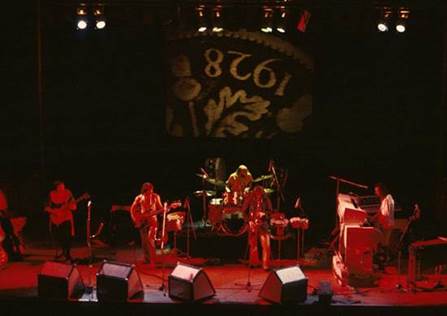 <![endif]>
Portsmouth    Dec. 19, 1975
Dec. 22         Plymouth, England                     Guildhall                                 
                              UNCONFIRMED.  Michael Moore was scheduled as the opening act, but a reliable source has claimed this concert was canceled.  An existing flyer advertised this engagement as a "Christmas Concert".
<![if !vml]>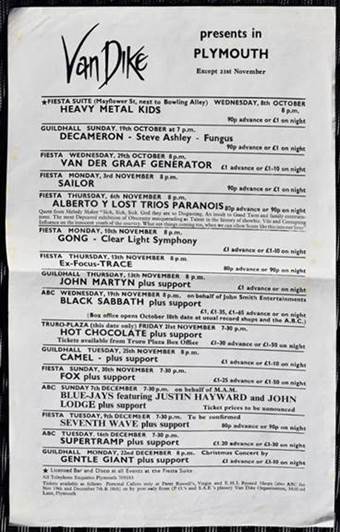 <![endif]>
flyer for unconfirmed Plymouth show    Dec. 22, 1975
Dec. ?           Chatham, England                      Central Hall                            
                              UNCONFIRMED.  There is some evidence that Giant played a gig in Chatham during this tour, again possibly with Michael Moore.
Go on to   Part Six
Return home to   Gentle Giant Tour History